The Family Coppola Acquires Vista Hills Vineyard in Oregon's Dundee Hills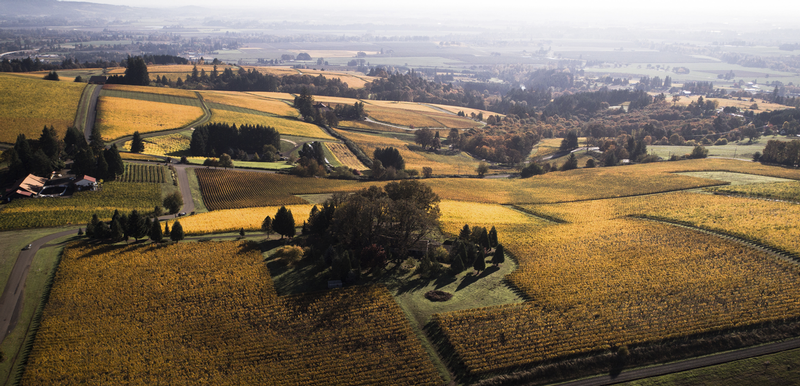 The Family Coppola has closed on the purchase of Vista Hills Vineyard in Dundee Hills, Oregon, a landmark acquisition that allies two respected wine families, expands borders, and underscores the company's commitment to crafting world-class Burgundy-style wines.
"Quite honestly, we've been looking in Oregon for many years," Corey Beck, The Family Coppola CEO and Chief Winemaker said. "We didn't just want to get into it just to get into it," Beck said. "It had to be the right fit. The McDaniel and McClintock families truly care about the land, and the people - and that's exactly who we are as a company as well. You could not have drawn this one up any better."
Established in 1997, Vista Hills Vineyard straddles the Jory-rich hills of Dundee, featuring a Treehouse Tasting Room that offers expansive views of the Willamette Valley, and a pristine, 42-acre LIVE Certified and Salmon Safe vineyard planted to Pinot Noir, Chardonnay and Pinot Gris. "The first time we saw the property, I fell in love with it," Beck said. "In terms of the soil, the way that the vineyards have been cared for, you can tell there was a lot of thought [behind it.] They worked with the best in Oregon to plant, in my opinion, one of the premier properties in the region."
Aside from superior farming practices, another attribute of the potential acquisition caught Beck's interest:

"It was one of the first ones that didn't have a brand. Our philosophy has always been to look for things that don't have brands, because Francis is one of the most creative people in the world. We can create and establish our own brands. This opportunity had no brand attached, and that made it very appealing."
The Family Coppola engaged financial advisors Zepponi & Company to steward the agreement, which will employ existing staff and partners after the sale to ensure a smooth transition. Vista Hills Vineyard General Manager and winemaker Dave Petterson will maintain his current roles through the transition, reporting directly to Beck. Ongoing custom crush partnerships in the Willamette Valley will continue. Founders John and Nancy McClintock will retain their house on the vineyard property. The McClintocks will also continue to administer their Clint Foundation, a scholarship program supporting working students, separately post-acquisition. The Family Coppola, in turn, will continue to sustain their own pre-established, community-oriented philanthropic programs, many which center around wildfire relief.
Beck dismissed plans for drastic changes to the existing vineyard or production but said he does envision eventually evolving the hospitality component, which will provide an avenue to honor the work of film director Francis Ford Coppola. "We're not about coming up here and making a bunch of changes," Beck said. "It's about working with our partners. Of course, the hospitality part is very important to Francis, so we want to make sure we can showcase some of his work that he's done - because he did have another life prior to winemaking."
As in Sonoma County, The Family Coppola intends to immerse themselves in the Oregon wine community through active involvement on local boards, in charity auctions, and at industry events. "Part of who we are as a company is not just about making great wine. That is a benefit," Beck emphasized: "It's also about giving back. That's something we've done wherever we go. To me, that's just as important."
Beck credited Francis Ford Coppola's long-time fascination with Burgundy wines as another catalyst for the company's investment in California and Oregon. "Many years ago, Francis was introduced to Burgundy wines through different people that he met," Beck said. "Over the years, and throughout his successes, Burgundy wines have always been something that he's gravitated towards."
In addition to Vista Hills Vineyard in Oregon, The Family Coppola entertains a portfolio of wine, spirits and hospitality interests worldwide, including Francis Ford Coppola Winery and Virginia Dare Winery in Sonoma County, Great Women Spirits, The Family Coppola Hideaways, Mammarella Foods, San Francisco's Cafe Zoetrope, Zoetrope: All-Story literary magazine, and American Zoetrope film production company.
The Family Coppola joins a growing list of outside investors drawn to Oregon, including Jackson Family Wines, The Crimson Group, and Huneeus Vintners LLC. Asked about future expansion plans in Oregon, Beck pointed out that the United States is an emerging wine market, with grapes now grown in nearly every state. "Who knows?" he says, "Right now, my goal is to not to disturb the property, to be engrossed in the local community, and to be good stewards of the land - and the community. That's what's most important."