Willamette wineries to produce "Solidarity" wines to help Rogue Valley growers whose fruit was rejected by Copper Cane
Oregon Solidarity will be available in 2019
Willamette wineries are coming to the rescue of growers in southern Oregon after vintner Joe Wagner's Copper Cane LLC abruptly rejected about 2,000 tons of their fruit worth an estimated $4 million, according to growers and others.
Napa Valley-based Copper Cane blamed the risk of smoke taint for breaking the contracts, a claim the Rogue Valley grapegrowers have soundly rejected, according to news reports.
King Estate Winery and Willamette Valley Vineyards have purchased 140 tons of grapes from six growers at full price value – about $323,750, according to a statement the wineries issued Thursday.
Winemakers at the two wineries are collaborating with colleagues at The Eyrie Vineyards and Silvan Ridge Winery to produce 7,000 cases of "Oregon Solidarity" wines, including a Pinot Noir, a Chardonnay and a Rose.
The fruit, which has been tested independently, is "in excellent condition," said Jim Bernau, founder and owner of Willamette Valley Vineyard.
Net proceeds from the wine sales will in turn help growers of the Rogue Valley, Bernau said. He estimated 15 to 17 grape growers have had fruit rejected by Copper Cane.
"It's going to devastate some of these family farms," Bernau said.
"People up here are furious," Bernau said.
The fruit was rejected after Oregon growers, along with state regulators and representatives alleged Copper Cane mislabeled its brands "Elouan" and "The Willametter Journal."
Members of the Oregon delegation in Washington, D.C., recently asked federal regulators to investigate Wagner's company for allegedly unfairly misrepresenting "Elouan" and "The Willametter Journal" as wines from federally approved American Viticulture areas in Oregon, according to the letter signed on Oct. 9.
The letter US senators Ron Wyden and Jeff Merkley, D-Oregon, and three US representatives, including a Republican, alleged Copper Cane purchases fruit and bulk wine produced in Oregon before vinifying and bottling the product in California, according to the letter.
Bernau on Thursday said one challenge was picking the fruit on such short notice.
He and others drove to Rogue Valley to pick the fruit recently. The pickers included David Gomberg, an Oregon state representative from Salem, who came out of sense of solidarity.
Gomberg, a wine lover, in September requested the Oregon Department of Justice to investigate Copper Cane for alleged deception in mislabeling "Elouan" and "The Willametter Journal."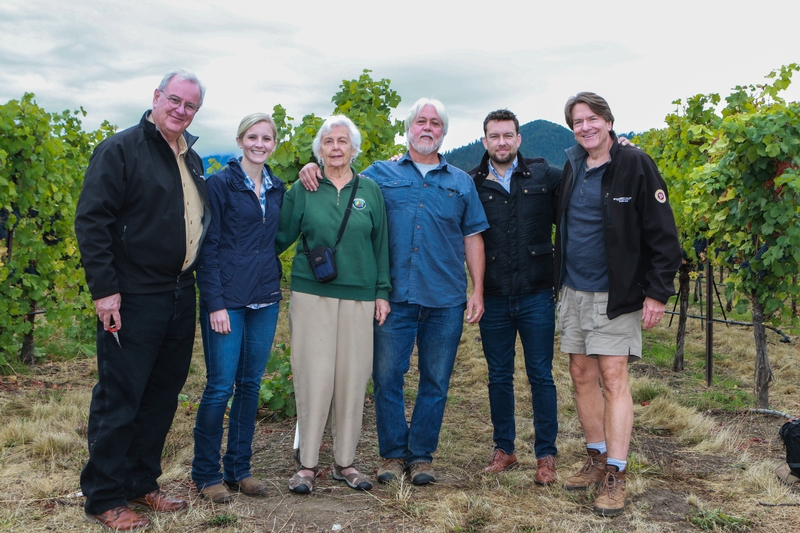 Oregon state Rep. David Gomberg, D-Salem, left; Willamette Valley Vinyeards winery director Christine Clair; southern Oregon winegrowers Traute and Michael Moore; national sales manager at King Estate Winery Justing King; and owner/founder of Willamette Valley Vineyards Jim Bernau (right) picked fruit on Oct. 4 at the Moores' Bayliss Vineyard near Ashland. The fruit is going into Oregon Solidarity wines. Photo courtesy of Pam Danielle.
Grower Michael Moore said Copper Cane rejected 100 tons of Chardonnay and Pinot Noir. He was among the six growers whose fruit was purchased for "Solidarity."
"It's a huge help," Moore said.
Moore, whose family farms about 420 acres near Ashland, said he would have farmed at a loss this year. "I'm deeply, deeply grateful," Moore said.
Yet he does not want to lose sight of the fact that other Rogue Valley growers remain in dire financial straits.
What Copper Cane did, Moore said, was "reprehensible."
None of Moore's other 38 clients rejected fruit, Moore said.
Moore said he has one more year left on his three-year contract with Copper Cane. After that, Moore never wants to do business again with Copper Cane, he said.
Moore could not discuss prices per ton because of provisions in his contract with the California winery.
Generally speaking a ton of Pinot Noir from that region cost $2,400 to $2,600 a ton, he said.
A Copper Cane representative could not be reached to comment for this article Thursday.
Solidarity wines are expected to be available for sale in 2019.