Elyse Winery is sold to local investors
New owners plan to continue to produce Elyse along with new wines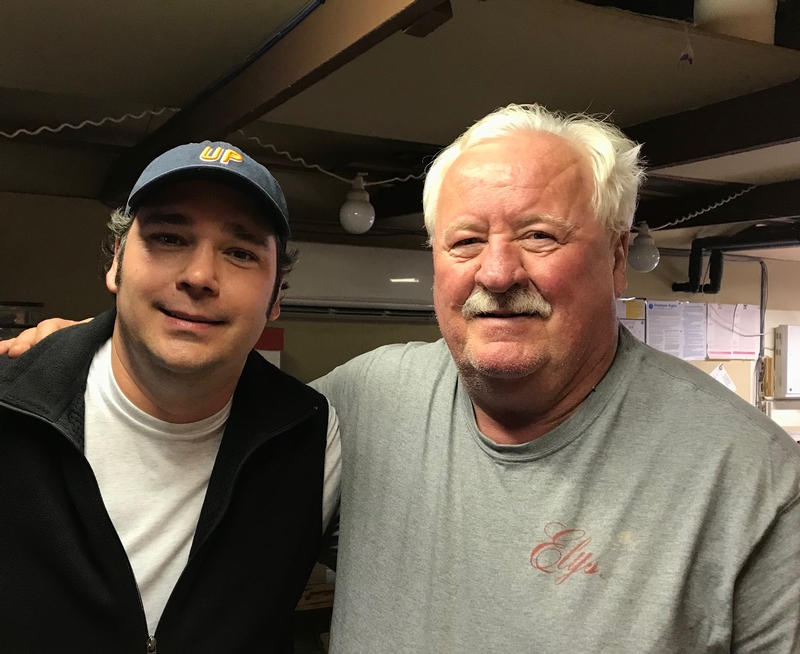 Josh Peeples with Ray Coursen
Longtime Napa Valley vintners Ray and Nancy Coursen have sold Elyse Winery to two Yountville residents.

The sales price was not disclosed.
The new owners, Josh Peeples and Cheryl Foil are taking over the winery, the inventory, a two-bedroom cottage and about 1 acre of vineyards off Hoffman Lane near Yountville.
"Basically, we've got some young blood coming in now. I think it's a real positive change for the winery," Ray Coursen said Tuesday.
He and his former wife and business partner, Nancy Coursen, plan to retire after running the winery for more than 20 years. They started the label, Elyse, in 1987 and another label, Jacob Franklin, in 1988 – well before purchasing the winery.
Ray Coursen was busy Tuesday announcing the sales to distributors while Nancy Coursen sent emails to clients and customers.
"We're got a really nice response from our wine club and general customers wishing us the best in retirement," Nancy Coursen said during a break.
Peeples said he had been looking to find a permanent home for wine labels.
Discussions to sell Elyse started about eight months ago when Ray Coursen mentioned during a chat he was ready to retire. Coursen turned 70 this year.
"It's really is a very smooth transition for both sides," said Peeples Tuesday after moving barrels at the winery.
He and Foil will continue to produce Elyse, a wine Peeples has known since moving to the Napa Valley in 1999.
"We'll definitely keep making Elyse label and we're adding some new projects to this facility since we have some extra space," Peeples said.
He and Foil plan to maintain Elyse's traditions.
"It's definitely a brand we've always respected and enjoyed," said Peeples, 41.
The winery, which can produce up to 25,000 cases a year, will be a permanent home for the existing label Addax under winemaker Russell Bevan. Peeples and Foil also plan to produce a new label, Institution.
Elyse will have five employees, including longtime Elyse winemaker Mike Trotta. An associate winemaker, Nate Reeves, joins the team, said Peeples, Elyse's new chief executive officer.
Foil, whose background is in computers and venture capitalism, is new to the wine industry. She did the fundraising to put together the deal to buy Elyse., she said. "This will be my first rodeo," added Foil, who declined to say how many investors are involved in the transaction.
Foil plans to focus on digital marketing, noting Elyse offers "fantastic" price point for millennials.
"It's so rare to find authentic vineyard-designate wine in Napa at this price point. And I really think that a better digital marketing presence will enhance the brand," Foil said.
But she will leave winemaking-related decisions to Peeples.
In the meantime, Nancy Coursen said she wants to travel more.
Ray Coursen said he plans to visit Mexico City and Point Reyes. He also wants continue to work on Jacob Franklin, a wine label with a production of 600 cases.