Signorello Rebuilding: Construction on Residence and Tasting Room Starting Soon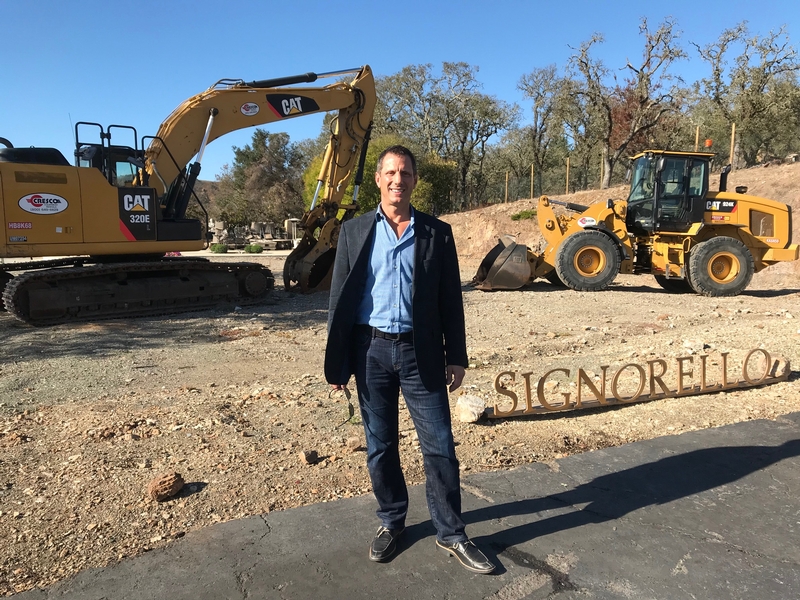 Ray Signorello plans to rebuild the winery by 2020. He hosted on Tuesday a ceremonial groundbreaking at Signorello Estate. Photo by Kerana Todorov

Ray Signorello was all smiles Tuesday, a year and one day after his family's winery burned to the ground during last year's devastating October fires.

Two years from now, Signorello and his team plan to open a brand new facility among the estate vineyards spared during the blaze that started during the night of Oct. 8, 2017.

The flames somehow rushed past the crush pad and left the steel building on top of the hill that serves as the barrel room intact.

"We're going to build everything we can, as quickly as we can," Signorello said. That's the silver lining, he said during a groundbreaking ceremony at the Signorello property off the Silverado Trail.

"Now I'm taking something from the ground up," Signorello said. He spoke before guests toasted the project with a glass of 2017 Padrone, a wine that honors Signorello's father, the late Ray Signorello Sr., a businessman who purchased the hillside property four decades ago.

Padrone, which is still in barrel, is expected to be released in 2020 – when Ray Signorello anticipates to complete construction.

Do not expect to see the same Italian-style winery building torched Oct. 8, 2017.

Architect Tom Taylor of Taylor Lombardo Architects, who has designed dozens of wineries, including nearby Cakebread Cellars, has drafted a new two-story residence/tasting room building contemporary in style.

The plans also show a new 9,600 square-foot fermentation building and 10,000 square-foot cave with two portals.

Construction on the residence/tasting room building is expected to start soon. The other projects will be staged.

Signorello, 55, wants to build a legacy winery for his children. A self-described perfectionist, Signorello plans to build a well laid-out winery primarily constructed in steel and concrete.

"Ease of use is important," Signorello said.

Ray Signorello, a native San Franciscan, is based near Vancouver, where he grew up and now owns Evolution Fine Wines, a distributorship for western Canada. He was in Canada the night of Oct. 8.

His wife, Tanya, was in the Napa Valley that night, alerted him. She grabbed a few belongings and fled. Ray Signorello then called longtime winemaker Pierre Birebent in St. Helena.

Birebent and two employees tried to hose the building with water but were forced to retreat to the road because of the intense smoke. Birebent recalled soaking the tank pad with water before leaving the property.

He and Signorello returned to the site with a CNN crew a few days later.

"We didn't know what we had left here," Signorello said Tuesday.

As it turns out, the 2017 vintage was still there – in tanks on the tank pad and in the barrel room up the hill. The 2017 harvest came early.

"And because of that, which already played into our favor, we had already picked, fermented and pressed everything. And it was sitting in those tanks," Signorello said.

None of the 42 acres of planted estate vines were lost.

Also left intact, somehow, was a barn that housed Signorello's father's 1955 Cadillac Coupe deVille.

Signorello, who lost two vintages in 2005 during an arson fire on Mare Island, still had wine to sell. He also had good insurance.

He was able to keep all his employees at the exception of the chef. In July, the company opened a temporary tasting room in a modular building on the site.

Birebent now is in the middle of the harvest.

Signorello said the death of his parents in the 1990s and losing 15,000 cases of wine in the arson fire in 2005, prepared him for what happened last year.

"Once you go through that, the rest is easy, to be honest with you. That's the way I look at it," Signorello said.

"It gave us the ability to create a new vision for our property and for me and for our family," he said, referring to the 2017 fire.

Tuesday's guests include Linda Reiff, president and chief executive officer, Napa Valley Vintners; Napa County Supervisor Alfredo Pedroza; Clay Gregory, president and chief executive officer, Visit Napa Valley; and Craig Nordby, owner of Nordby Construction Co.

Napa County Fire Chief Barry Biermann, incident commander on the Atlas Peak Fire last October, stopped by. "It's nice to see the rebuilding going on" Biermann said.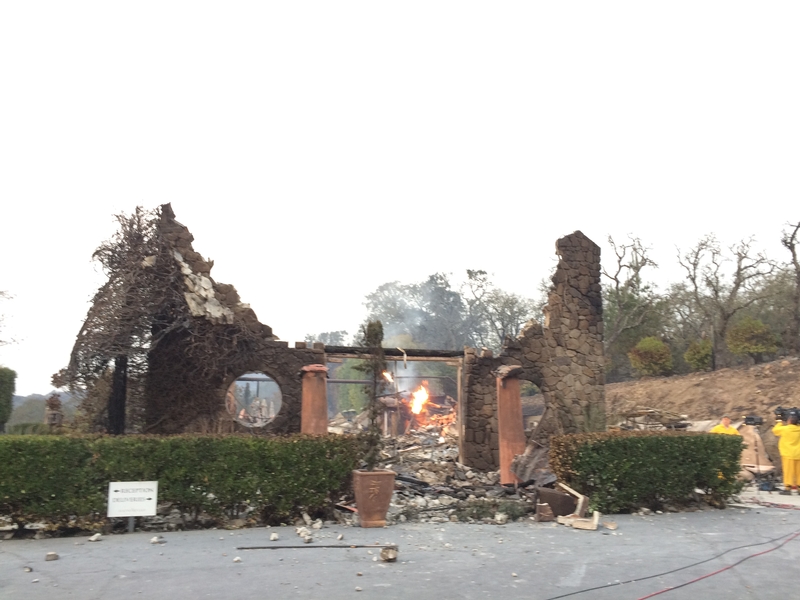 Signorello Estate burned to the ground during the Wine Country fires of October 2017. The winery plans to rebuild the residence and tasting and add a fermentation building and caves. Photo by Kerana Todorov