International Conference of Wine Attorneys Brings 150 to Napa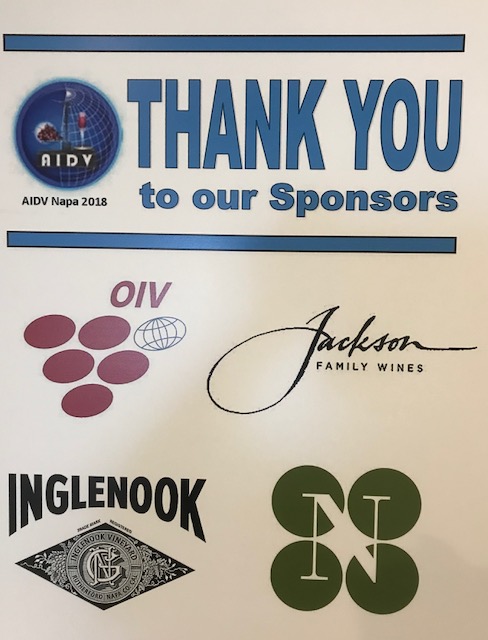 About 150 attorneys specializing in wine law, and other experts, gathered in Napa this week to discuss climate change, trade and other topics.

The International Wine Law Association's annual conference had not been held in Napa since 1991, said attorney Richard Mendelson, of counsel at Dickenson Peatman and Fogarty in Napa. "It was time to come back to the Napa Valley" said Mendelson, co-founder of the Paris-based wine law organization.

The Napa conference, which started Monday and ended Wednesday, for the first time included presentations on climate change.

"I think it's a very important topic," Mendelson said. "People have been adjusting all over the world," he said.

"They're doing it in the Napa Valley They're doing it all over the world because they have to."

One of the speakers was Ethan Elkind, director, Climate Program at the University of California School of Law in Berkeley.

"We're not going to meet our climate goals unless we have laws and policies that are encouraging businesses to grow that are part of the solution," Elkind said after his talk at the CIA at Copia in Napa.

"It's unfortunate that the US government is retreating at this point from climate leadership," he said, referring to the Trump administration withdrawal from the 2016 Paris Agreement on climate change and other decisions.

"But California can do a lot on its own. Even cities can do a lot," Elkind added.

The wine industry also plays a role, including helping shape land-use patterns, using renewable energy, constructing energy-efficient buildings and irrigation systems, Elkind said.

Attendees noted new wine grape varieties are being developed in France.

The Napa Valley has an agricultural preserve while the industry participates in sustainability programs.

"We never dealt with it as a topic in our international wine law conferences and we're doing so much in the Napa Valley that we want to hear what the rest of the world is doing and we want to learn and we want to tell people what we're doing," Mendelson said.

Other topics discussed during the conference included trade.

Speakers noted the new trade agreement reached Sunday between the United States, Canada and Mexico.
The United States-Mexico-Canada agreement – or USMCA - replaces the North American Free Trade Agreement – or NAFTA.

It brings "very little change," said attorney Gary Horlick of Washington, D.C.

"My clients refer to it as 'NAFTA 0.5,'" Horlicks said. "It's more fairly "NAFTA 1.1," he added. "They didn't change much," Horlick said.

President Trump campaigned to blow up NAFTA. Then reality set in, Horlick said. "We just spent 1 ½ year of unnecessary angst."

Bernard O'Connor, equity partner at NCTM based in Milan, Italy, said trade barriers come "in all shapes and sizes."

There are legitimate policy objectives to set health and safety and consumer protection standards, or to regulate the behavior of players in different markets, O'Connor said. "These are very legitimate policy objectives, and therefore governments do it all the time."

Some trade barriers, though, favor domestic goods over imported goods, O'Connor said. "And that's where things begin to go a bit wrong."

Greg Hodson, president, FIVS, a global trade federation for the alcohol beverage industry, also spoke.

"Many people think of trade as a big yawn but when you've got a new agreement called the USMCA, I'm thinking of "YMCA,'" Hodson said tongue-in-cheek as the audience laughed. On a more serious note, Hodson described FIVS' work in removing trade barriers.

"We are trying to create an industry that operates in a climate free from trade distorting factors of all kind. And trade barriers are certainly trade distorting factors," Hodson said.

"There is more and more wine moving around the globe all the time and that creates an environment that is absolutely ripe for trade barriers."

Chris Wilson, partner, Norton Rose Fulbright, in Vancouver, discussed Canada's alcohol policies, including those that have drawn the ire from Australia and the United States.

Under USMCA, British Columbia grocery stores no longer can build stores within the store to sell imported wines as of Nov. 1, 2019. USMCA settles the case the United States had brought before the World Trade Organization to protest British Columbia's rule.

"We're seeing a lot of changes in Canada right now around the treatment of alcohol," Wilson said.
Foreign governments are putting pressure on Canada, Wilson said.

"As Canada's wine industry has matured, there seems to be less and less the need to try to support these small industries," Wilson said.

"We're doing our best," Wilson concluded.

Later in the day, David Pearson, chief executive officer at Opus One in Oakville, recalled his experience two decades earlier as Robert Mondavi's lead person in France.

The Mondavi project in the Languedoc ended in 2001 after the company battled regulatory, cultural and media wars.

Pearson, who represented a multi-national corporation, faced a barrage of media. He was described as "le diable," – the devil.

The development of a total of 120 acres on a hill in the Languedoc drew the ire the late Aime Guibert, founder of Mas de Daumas Gassac.

Guibert actually had wanted to develop the same massif – communal land near the village of Aniane.

In the end, the mayor who had backed the project lost his re-election bid. The new mayor, a communist, rejected the Mondavi project. "This was never about France and the US. It was local politics," Pearson said.

The 350-member association is also known as the "Association Internationale des Juristes du Droit de la Vigne et du Vin" – or AIDV.