Wines of the Czech Republic: Searching for a Signature Product
The Czech Republic has been making wine since the 13th century, yet most global consumers only know the country for its beer. So now the more than 1,200 commercial wineries in the country are grappling with the issue of whether or not to select a signature variety or wine style in order to gain clearer global recognition.
Surrounded by the very successful international wine countries of Germany, who has laid claim to the Riesling grape, and Austria, who proudly hails Grüner Veltliner as their iconic grape variety, the Czech Republic is not yet sure if they should select a flagship wine. The fact that they grow many of the same grape varieties as Austria complicates this issue, and after emerging from 40 years of Soviet rule, where many of their ancient vineyards were torn out to grow wheat and corn, there is a spirit of fierce independence and entrepreneurship among young winemakers who want the freedom to experiment and not be tied to a signature wine product.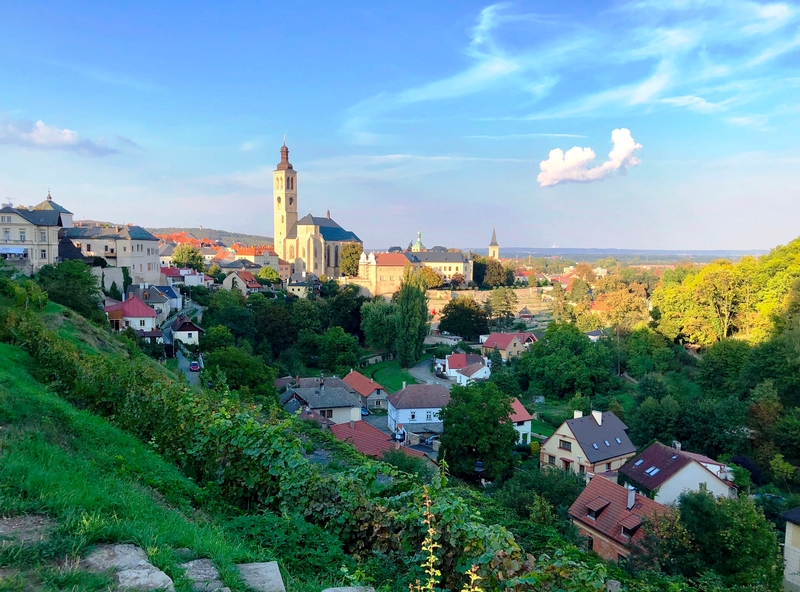 Hillside Vineyard in the Czech Republic / Photo by Liz Thach
Wine Marketing Research Recommends an Iconic Wine Product
Most wine marketing research highlights the need to select an iconic product in order for consumers to be able to differentiate and recognize the region (see references). It doesn't have to be a grape variety, like Pinot Noir and Chardonnay for Burgundy: but could be a blend, like Bordeaux wines; a wine style, such as sparkling or Rosé; or even a unique winemaking/viticulture technique, like the qvevri of Georgia or the 500-year-old nest vines of Santorini.
Many winemakers worry that selecting an iconic wine product will limit them, but this is not usually the case. Instead the iconic product serves as a means to attract consumers to a region, such as Napa Valley's famous Cabernet Sauvignon, which consumers recognize globally and flock to the valley to taste. However, when they arrive they can also discover the many other varietals and wine styles that are available, such as Chardonnay, Sauvignon Blanc, Zinfandel, Syrah, Charbono, red blends, Rosé, and delicious Napa Valley sparkling wines.
Possible Signature Wine Products in the Czech Republic
According to Euromonitor, in 2017 the Czech Republic produced 225 million liters of wine, an increase of 4 percent over the previous year. The Czech people are also drinking more wine, and spending more money on higher quality wine. For the past 5 years, total wine sales, including imports, have risen from 22,990 million to 30,294 million Czech Korunas ($1.3 billion U.S.)–an increase of 25 percent.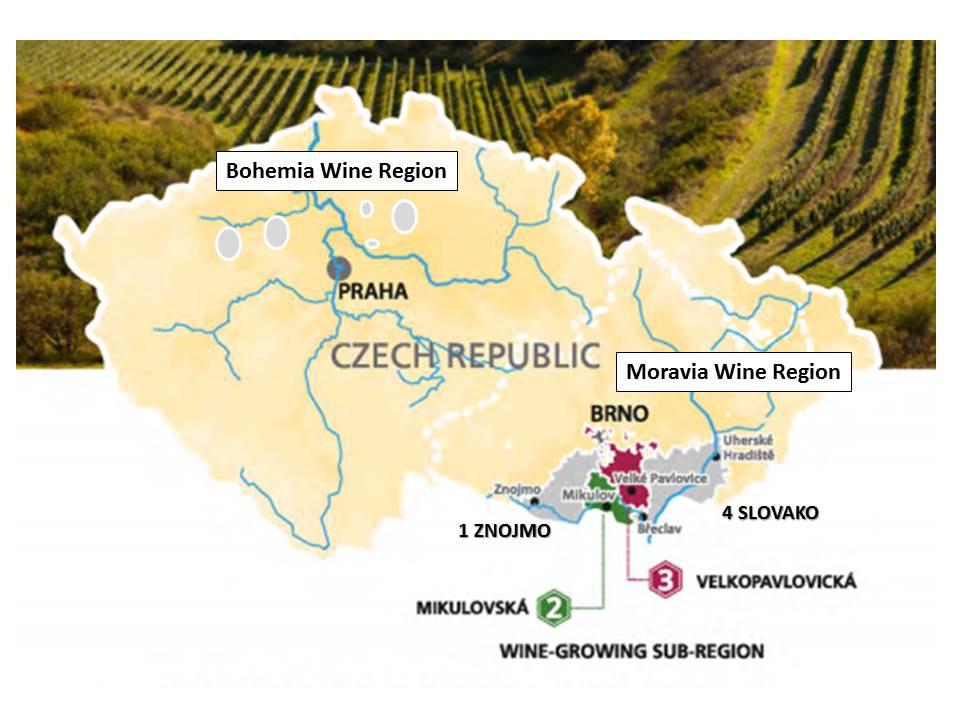 Map of Czech Republic Wine Regions / Photo: Wines of Czech
The most popular selling wine style is "still white wine." This corresponds with the message of the Wines of the Czech Republic Association, stating that due to their cool climate, they primarily excel at producing "light to medium bodied aromatic white wine varietals." At the same time, they have begun to establish an appellation system; called VOC (Vina Originalni Certifikase), where each region has identified the main varietals they produce. The country is divided into two wine-growing regions: 1) Bohemia, which is smaller and located in the north of the country closer to Prague, and 2) Moravia, which is located in the south of the Czech Republic near the Austrian border. Here, around the city of Brno, is where 90 percent of the wine is produced. Moravia is further divided into four sub-regions where the VOCs are primarily located: Znojmo, Mikulov, Velke Pavlovice, and Slovako.
In an analysis of Czech wines that have won the most awards and/or are unique and distinctive, there are currently several contenders for "Signature Wine Product of the Czech Republic":
Czech Riesling: Even though Germany and Austria produce a lot of Riesling, this variety is a good contender for flagship wine because Czech Riesling has a distinct taste of being "dry with high acid, intense dried apricot, and a hint of salinity." It is also produced in the majority of the Czech wine regions, ages very well, and has received multiple awards at international wine competitions. It should be mentioned that the Czech refer to this varietal as "Rhine Riesling (from Germany)" to differentiate it from Welshriesling.
Welshriesling: Also known as Italian Riesling, this is a different grape from Rhine Riesling, and produces a wine with more honey, floral and exotic fruit notes, without the telltale diesel of its German cousin. Generally produced as a simple easy-drinking bulk wine, on the limestone slopes of Moravia, Welshriesling takes on some intense savory notes with wet stone, salt and green apple. It also develops more character as it ages, producing complex, textured wines with personality. Some excellent examples are produced by Kolby Winery, which specializes in single-vineyard Welshrieslings.
Palava: Perhaps one of the most unique Czech wine varieties, the Palava grape was actually born in the Czech Republic and approved as a registered variety in 1977. It is a cross between Gewürztraminer and Müller Thurgau, taking on the best qualities of both grapes to produce a highly aromatic, medium-bodied white wine with notes of honeysuckle and apricot with crisp acidity. It is made in dry, semi-dry, and sweet styles, and is very enticing. A sweet Palava, produced by Czech winery Sonberk, using the straw method to dry the grapes, achieved 96 points at the 2018 Decanter World Wine Awards. The other positive of this grape is the fact that it has a name that is easy for consumers to pronounce.
Andre: Though the Czech Republic does produce some delicious light-bodied red wines made from Pinot Noir, Zweigelt and other varieties, perhaps the most unique is a grape variety called "Andre." Developed in the Czech Republic as a cross between St. Laurent and Blaufränkisch (also called Lemberger, Kekfrankos and Frankovka), the Andre grape produces soft-bodied aromatic red wines with notes of mixed red berries, rose and spice. It is produced in dry and semi-dry styles with minimal oak. Unfortunately it is not produced by many wineries, and its name, Andre, is already claimed by a large famous global wine brand. The most well-known producer of Andre is Slechtitelska Stanice Winery.
Czech Sparkling Wine: Given that the location of the majority of Czech vineyards are alongside the 49th parallel, the same as the Champagne region, it should not be a surprise that the country produces a large quantity of sparkling wine. Its largest winery, Bohemia Sekt, specializes in the category, with 9 percent of total country volume share, according to Euromonitor. Czech sparkling ranges from high-end traditional method wines made from Chardonnay and Pinot Noir, to innovative blends of Pinot Blanc, Riesling, and Pinot Gris, made in the charmant method at affordable prices. Currently more small high-end producers, such as Proqin Winery, are producing award-winning Czech sparklers.
The Jury is Out
Given the fact that there are so many options available to Czech Republic wine producers, and the current culture of re-establishing grape-growing independence is so strong, it may take some time before the country will come to agreement on a signature wine product. It is possible that the individual regions and VOC system will help to bring some type of clarity to what they do best. However, they can also choose to do nothing, and let the international wine judging world and consumers decide. It is basically a decision of wine marketing strategy.

References:
• Bruwer, J. and Johnson, R., 2010. Place-based marketing and regional branding strategy perspectives in the California wine industry. Journal of Consumer Marketing, 27(1), pp.5-16.
• Charters, S., Menival, D., Senaux, B. and Serdukov, S., 2013. Value in the territorial brand: the case of champagne. British Food Journal, 115(10), pp.1505-1517.
• Charters, S., Mitchell, R. and Menival, D., 2011, June. The territorial brand in wine. In 6th Academy of Wine Business Research Conference.
• Euromonitor (2018). Wine in the Czech Republic. Available at: https://www.euromonitor.com/wine-in-the-czech-republic/report
• Národní Vina?ské Centrum. (2017). Wine Salon of the Czech Republic. Available at: http://www.vinarskecentrum.cz/en/salon-vin/salon-vin-ceske-republiky/
• Orth, U.R., Lockshin, L. and d'Hauteville, F., 2007. The global wine business as a research field. International Journal of Wine Business Research, 19(1), pp.5-13.
• Rocchi, B. and Gabbai, M., 2013. Territorial identity as a competitive advantage in wine marketing: a case study. Journal of wine research, 24(4), pp.291-310.
• Wines of Czech Republic (2017). The Czech Republic: A Long Wine-Growing History. Available at: http://www.wineofczech.cz/
by Dr. Liz Thach, MW, Sonoma State University Wine Business Institute
Dr. Liz Thach, MW (Liz@lizthach.com) is the Distinguished Professor of Wine & Management at Sonoma State University in the Wine Business Institute. She has just returned from a trip to the Czech Republic to visit the winegrowing regions and teach wine business classes at Mendel University.