Western Grapeleaf Skeletonizer Spotted in Napa Valley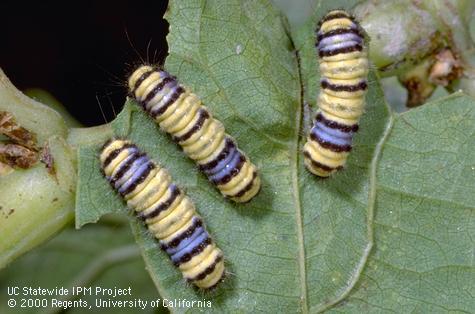 Harrisina brillians, photo courtesy of UC Statewide IPM Project

A bug that devours vine leaves was recently found in a vineyard in Calistoga, according to the Napa County Agricultural Commissioner.

The single adult male western grapeleaf skeletonizer was discovered on June 22 in a bug trap in the vineyard off Tubbs Lane, according to the newsletter from the Napa County Agricultural Commissioner. The insect is also known as Harrisina brillians, according to the University of California Agricultural and Natural Resources' Statewide Integrated Pest Management Program.

"The Western Grapeleaf Skeletonizer (WGLS) is a significant and destructive winegrape pest not known to be established in Napa County," according to the newsletter.

"All larval life stages are voracious feeders that cause extensive leaf damage, including partial or complete defoliation of grapevines, especially on young vines. Excessive and uncontrolled feeding can damage fruit and lead to secondary fungal damage and rot of winegrape clusters."

Pest management guidelines from the University of California indicate granulosis virus keeps populations of the insect below economically damaging levels. The insect is easily controlled with insecticides that are also effective on other insects.

Napa County Agricultural Commissioner's staff placed 25 trapes per square mile a mile from the spot Calistoga where the insect was found. The traps contain a western grapeleaf skeletonizer sex attractant pheromone that draws male skeletonizers to the trap, according to the Napa County Agricultural Commissioner's newsletter. More traps will be installed in 2019.

The insect damages other plants, including wild grapes, backyard grapes, Boston Ivy, and Virginia creeper, according to the brief.

The presence of the western grapeleaf skeletonizer was last reported in Napa County in 2015. It has been present in California since the 1940s.

No western grapeleaf skeletonizer has been reported either in vineyards in Mendocino or Lake counties, according to Glenn McGourty, University of California Cooperative Extension farm advisor for Mendocino and Lake counties.

McGourty remembers seeing the insect in Las Vegas, where he worked in the 1980s. "They look evil," he said.

Sonoma County Assistant Agricultural Commissioner Sue Ostrom said Thursday in an email that no known population of the Western Grapeleaf Skeletonizer is in Sonoma County.

The larval stage of the western grapeleaf skeletonizer "may cause significant damage to grapevines as it feeds on the leaves," Ostrom said. "If established in a grape growing area it could be a significant pest," she added.

Sonoma reported a single specimen in 2001 in the Santa Rosa area, according to the Sonoma County's assistant agricultural commissioner.

Ken Daane, cooperative extension specialist at the Kearney Agricultural Research and Education Center in Parlier, said western grapeleaf skeletonizer was an important pest in San Joaquin Valley in the 70s and 80s. Since then it is hard to find it because of insecticides and the virus that is spread to control the western grapeleaf skeletonizer. Daane said. But it's still there. He saw one recently.