Using Malolactic Fermentations to influence Red Wine Style
ASEV Seminar Explores Effects of Bacteria Strains on Wine Color, Flavor, Complexity
Malolactic fermentation, the conversion of malic acid to lactic acid most commonly using a strain of the bacteria Oenococcus oeni, is traditionally used to reduce wine acidity while also enhancing qualities such as flavor and mouthfeel. An industry seminar at the annual meeting of the American Society for Enology and Viticulture (ASEV) in Monterey, California June 20, "Using Malolactic Fermentation as a Driver of Red Wine Style," explored current science, practices and new possibilities for using malolactic fermentation (MLF) bacteria to manage and enhance wine style.
Dr. Nichola Hall, technical consultant with Scott Laboratories in California and ASEV immediate past president, moderated the seminar that highlighted current and emerging industry practices. Hall said: "We are focusing more on using bacteria strains to give us our wine style profiles. We encourage you to think about using different strains to drive varietal characteristics and flavors, and as a tool we can use to build complexity and balance in wines."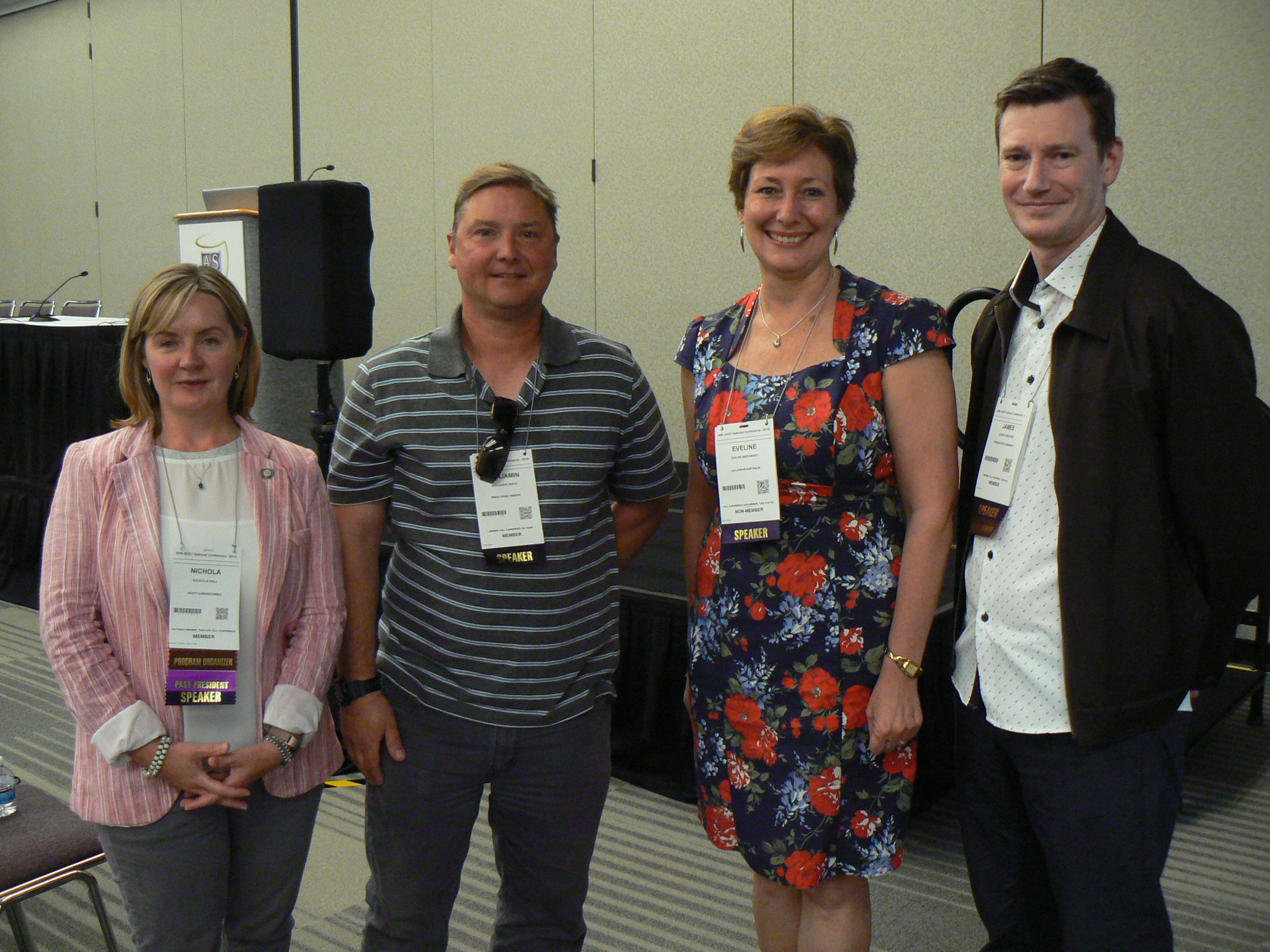 ASEV seminar panelists who discussed MLF and Red Wine Style (L-R): Nichola Hall, Scott Laboratories; Ben Mayo, winemaker, Riboli Family Winery, Paso Robles; Eveline Bartkowsky, Lallemand, Australia; and James Osborne, Oregon State University. Photo:Ted Rieger

MLF and Wine Color
Dr. James Osborne of Oregon State University said, "It's important to look at MLF and bacteria inoculations beyond just a process of deacidification." He discussed his research on the influence of MLF on red wine color, based on anecdotal reports of reduced color in red wines after MLF. "It's important to understand what MLF is doing to influence wine color, and what we can do as practitioners to potentially minimize that," Osborne said.
Experiments were conducted with Willamette Valley sourced Pinot Noir and Merlot using VQ-15 as the yeast for alcoholic fermentation. Three different strains of MLF bacteria were evaluated with the wines and compared for color differences with control wines that did not go through MLF. The control wines retained higher color levels than the MLF wines and had higher amounts of polymeric pigments that contribute to red wine color. The MLF wines had higher amounts of monomeric anthocyanins that have less color stability.
The experiments evaluated several suspected reasons why red wine color may be reduced after MLF: whether a shift in pH from the degradation of malic acid influences anthocyanin; and whether MLF impacts compounds such as acetaldehyde, pyruvic acid and hydroxycinnamic acid that are involved with the formation of larger polymeric pigments in red wine and contribute to color stability.
Osborne summarized: Loss of color in Pinot Noir and Merlot resulting from MLF was not related to pH; no significant differences were observed due to differences from the bacteria strains used in this experiment; loss of color was driven by reductions in polymeric pigment formation due to acetaldehyde degradation by Oenococcus oeni. Color loss was not driven by degradation of pyruvic acid or hydroxycinnamic acid due to MLF in these experiments.
The experiment also evaluated whether adding back color enhancing compounds could improve color levels and stability. Adding back acetaldehyde provided some improvement, but the wines did not reach the full levels of the control wines. Adding back pyruvic acid resulted in no color improvement. Osborne suggested future work is needed to investigate the influences of a wider range of lactic acid bacteria, and to look at potential influences of different types of yeast used in primary fermentations.
MLF and Wine Aroma and Flavor
Dr. Eveline Bartkowsky, with Lallemand in Australia and a former researcher with the Australian Wine Institute (AWRI), discussed the influence of different MLF bacteria species and strains on wine flavor. Diacetyl is well-known as a compound resulting from MLF that can add "buttery and nutty" characteristics to both white and red wines.
She focused on esters that can enhance berry fruit flavor characteristics in red wines and how different bacteria strains and other factors can influence ester levels and fruity characters. The timing of bacteria inoculation, and the use of co-inoculations (starting alcoholic fermentations with yeast followed by MLF bacteria inoculation 24 hours later) can result in different amounts and concentrations of esters and more fruit driven wines. Wine composition, pH and temperature are also factors that influence types and levels of fruit characteristics produced from MLF bacteria.
Lactobacillus plantarum is a lactic acid bacteria increasingly being used in winemaking that can positively enhance esters and fruity characters in red wines. This bacteria species has yet to be approved for use in the U.S. but has been used successfully for several years by Australian wineries and is approved for use in Canada and the European Union.
Bacteria strains also influence enzymatic activity, notably glycosidase activity that affects the ability to release oak lactone compounds from oak wood during barrel aging. Bartkowsky said some MLF bacteria can be used to reduce vegetal character in wines caused by methoxypyrazines by degrading certain types of aldehydes to enhance fruity aromas and flavors.
Bartkowsky suggested winemakers think about what wine style they are looking for, and work with yeast and MLF bacteria suppliers to evaluate products to achieve the desired style.
Riboli Family Winery, based in Paso Robles produces about 150,000 cases per year. Winemaker Ben Mayo regularly uses three different strains of MLF bacteria—VP 41, PN 4, and ALPHA for production of Pinot Noir and Cabernet Sauvignon. ALPHA can enhance mouthfeel in Pinot Noir. VP 41 and ALPHA are used with Cabernet Sauvignon. "If we use different types of ML bacteria at different times with different lots we can create a bigger spice box for blending," Mayo said.
Mayo has also used co-inoculation for 14 years in which wines are inoculated with yeast to start alcoholic fermentation, then after 24 hours inoculated with MLF bacteria. Co-inoculation is commonly used with Paso Robles Cabernet Sauvignon picked near the end of harvest to improve fruit characters. Mayo said it is important to keep the wines clean and timing of MLF is important to achieve desired results.