Napa's Measure C remains statistical tie with updated vote tally expected today
Napa County Registrar of Voters John Tuteur said updated results will be released today, Tuesday and maybe Wednesday. Tuteur has a month to certify the June 5 election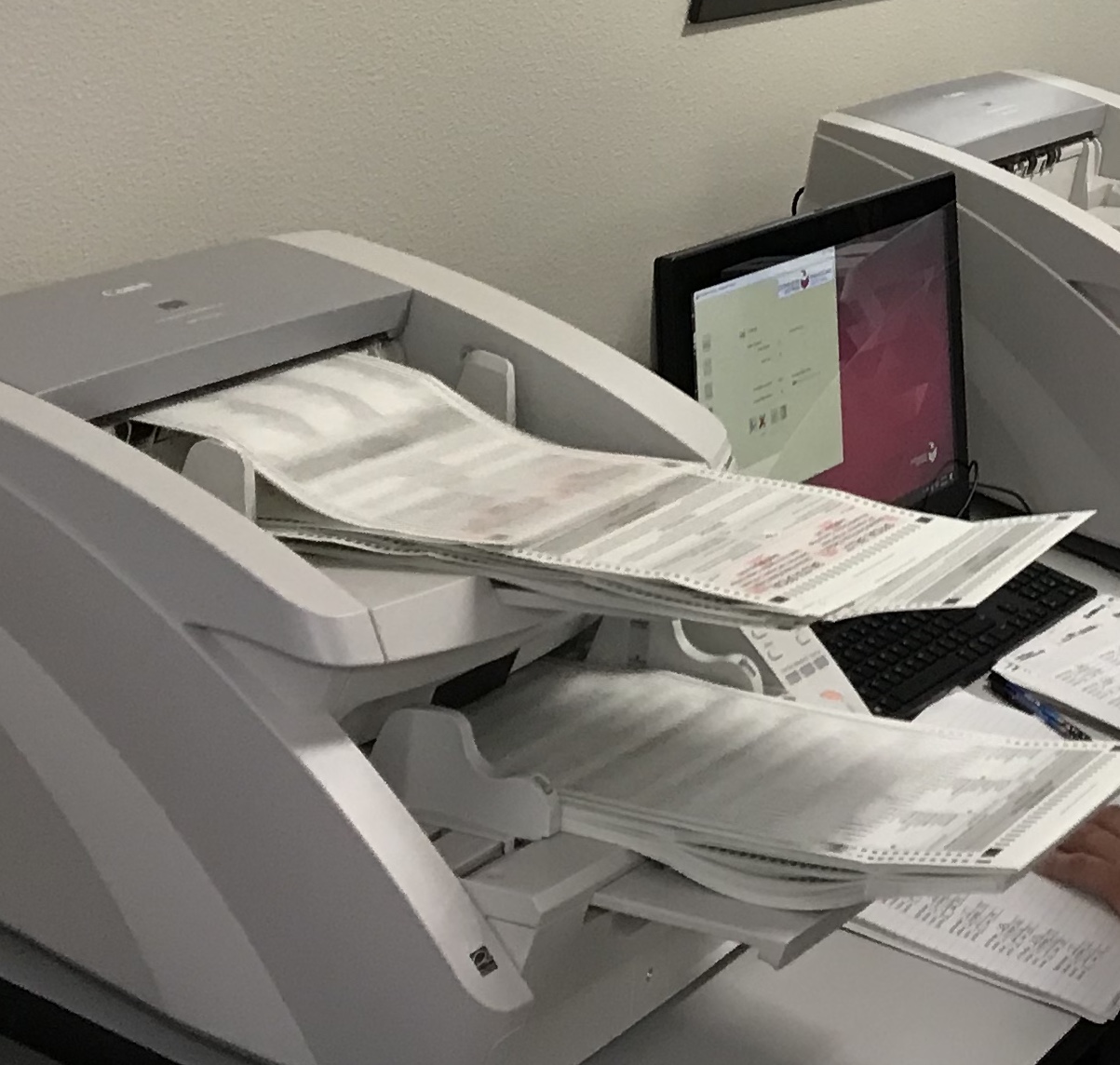 Two machines tally ballots at the Napa County Elections Office on Friday. Updated results in the June 5 elections are expected to be released today. Photo by Kerana Todorov
The fate of the ballot measure that could limit future vineyard development in the hillside above the Napa Valley floor remains at a statistical dead heat as of Friday, with another 15,000 to 20,000 ballots yet to be counted.

"Yes" on Measure C had a mere 33-vote lead over "No on C" as of Friday afternoon, according to the Napa County Elections Office. Supporters of the watershed and oak woodland protection measure had cast 7,995 "Yes" votes; those who want the measure defeated had 7,962 "No" votes.

Napa County Registrar of Voters John Tuteur said updated results will be released today, Tuesday and maybe Wednesday. Tuteur has a month to certify the June 5 election.

Ryan Klobas, policy director at Napa County Farm Bureau, which strongly opposed Measure C, remained confident about the outcome. "All we can do is wait at this point," he also said.

Friday's count included 1,671 additional ballots to Tuesday's preliminary results, according to the Napa County Elections Office. The results are coming in "faster than usual," Tuteur said.

The vote comes after months of debate over the fate of Measure C which was placed on the ballot after an initiative campaign.

Opponents of the measure include the Napa County Farm Bureau, the Napa Valley Grapegrowers and Napa County Vintners.

Backers of Measure C said the measure would protect the quality and quantity of the county's water source. Supporters included Napa Vision 2050, the Sierra Club and other environmentalists as well as members of the wine industry including grapegrower Andy Beckstoffer and Stag's Leap founder Warren Winiarski.

If approved, Measure C would allow the removal of up to 795 woodland acres before restrictions are set in place. Other provisions include setting buffer zones of 25 to 125 feet along streams and 150 feet near wetlands.

No on Measure C raised about $646,000 though mid-May to defeat the ballot measure, according to campaign finance reports filed in May. During the same time period, Yes on Measure C campaign raised more than $211,500 for its campaign.