Laser Repellent Helps Grapegrowers' Battle Against Birds
Very little bird damage seen in 2017, farmer says
For years, Joan and Jim Griffin tried to protect their Petaluma Gap vineyard with nets, but to no avail. Birds managed to peck on the Griffins' Pinot Noir and Syrah fruit through the nets.
So a year ago, the Griffins invested about $40,000 on four automated lasers programmed to shoot green laser beams in their 21-acre Lair vineyards to scare birds. Flocks of linnets, finches and starlings still landed in the Griffins' Lair Vineyards after veraison to feast on the fruit, but laser beams shooed them away.
The fruit damage in 2017, Jim Griffin said, was "significantly less" than in previous years when he and his wife netted the vines. They spent at least $20,000 a year from veraison through harvest to place and remove the nets.
The laser beams do not hurt the birds, Griffin stressed, they just fly away. "They just don't have time to eat much."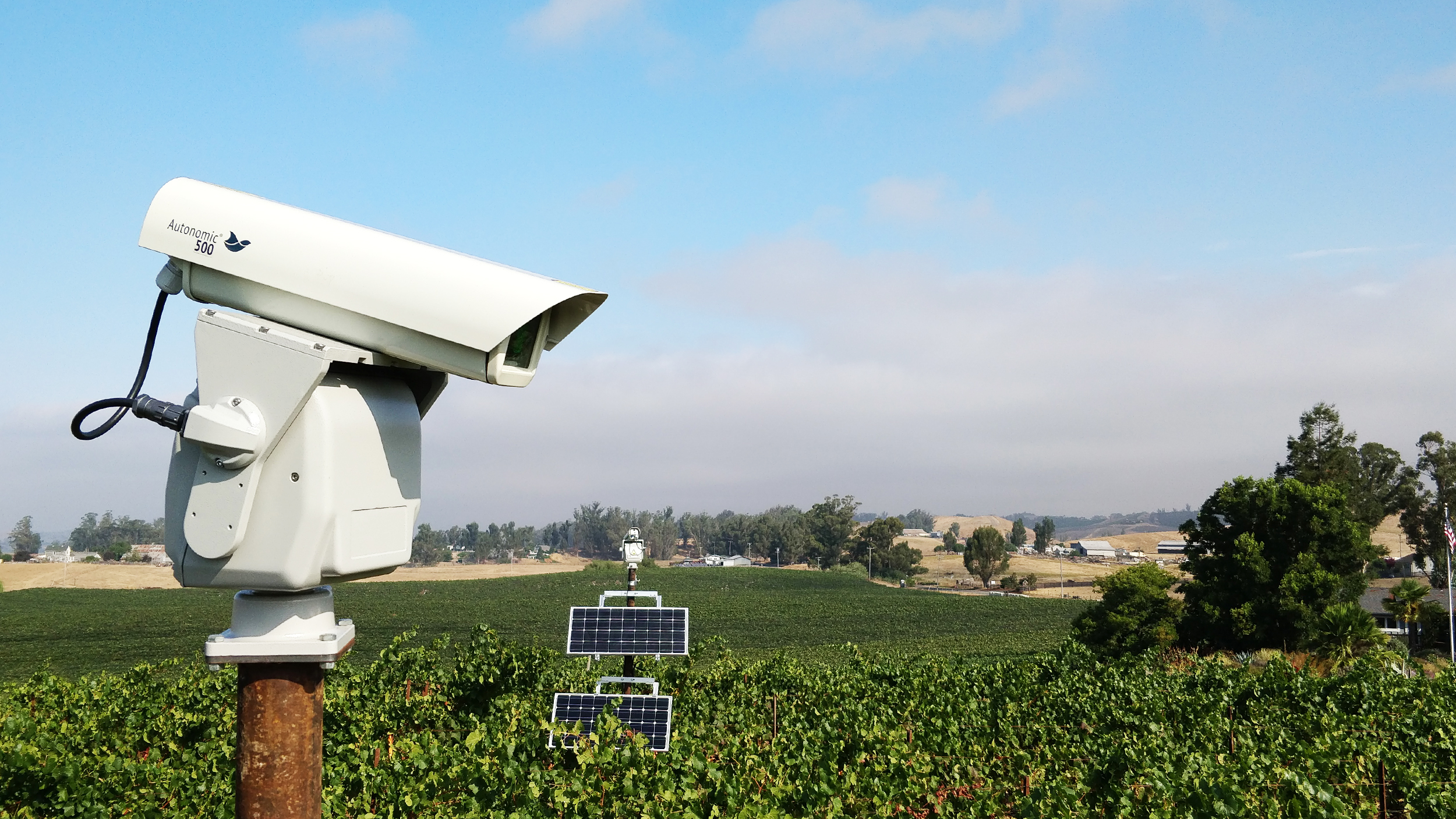 Automated laser bird repellent at Griffin's Lair Vineyards in Sonoma County. Photo courtesy of JSC Agricultural Supply.

Bird Control Group, the Dutch company that sells the Autonomic technology was among the vendors who greeted attendees at a recent seminar the Napa County Agricultural Commissioner coordinated at Napa Valley College a bird control strategy seminar.
Napa County Agricultural Commissioner Greg Clark said the goal of the seminar was to develop "best management practices" in lieu of possible new laws. Solano County, for instance, regulates the use of bird cannons.
Sara Kross, an assistant professor at California State University, Sacramento, was one of the speakers. Kross presented the pros and cons of various methods to control birds, including laser technology, propane sound cannons, scarecrows, balloons, honking horns, netting and high-intensity sounds. Falconry can be effective but costly, Kross said. Using a falcon as a deterrent, for example, costs about $650 a day to cover up to 1,000 acres, she said.
Deterrents are ineffectual when birds become habituated, which Kross said can be the biggest problem. "They are smart – smarter than you think and they are hungry," she said.
Not all birds are "bad," Kross reminded her audience. Some, like raptors, control pests which can be helpful.
Which method would Kross recommend? "I can't answer that question. There is no silver bullet. There is no single method that I know of that will solve all the problems," she said, noting that there has not been enough scientific research done on any one given method, and almost no independent scientific study.
While she admits laser beams can work, she warned that birds "are really determined--or stubborn."
Farmers have to be careful when they control bird population, officials said at the seminar. Birds such as the American Robin, the Cedar Waxwing and the Yellow-headed Blackbird are protected under the federal Migratory Bird Treaty Act.
In the meantime, Griffin estimates the lasers he bought from Bird Control Group will last about five years. The company, which has offices in Oregon, programmed the lasers so that the beams only hit the Griffin's hilly vineyard – and not the nearby roadway or the sky, explained Griffin, who did not attend the May 16 seminar. The laser technology has drawn the attention of fellow farmers. "Everybody is interested," Griffin said.