New Warehouses Under Construction in South Napa County
Brokers say the market for warehouse space is very tight
The developer behind the newest warehouse development in south Napa County is set to fill every building under construction--after all, he says, the market for warehouse space in Napa County remain very tight, with brokers reporting the vacancy rate for warehouse space hovering at less than 2 percent.
The future Napa Commerce Center near the Highway 12/29 intersection includes six buildings; three warehouses and other light industrial buildings totaling about 388,000 square feet of leasing space. There is also a gas station/car wash. The first building, an 81,663-square foot warehouse, is under construction and expected to be completed in the fall.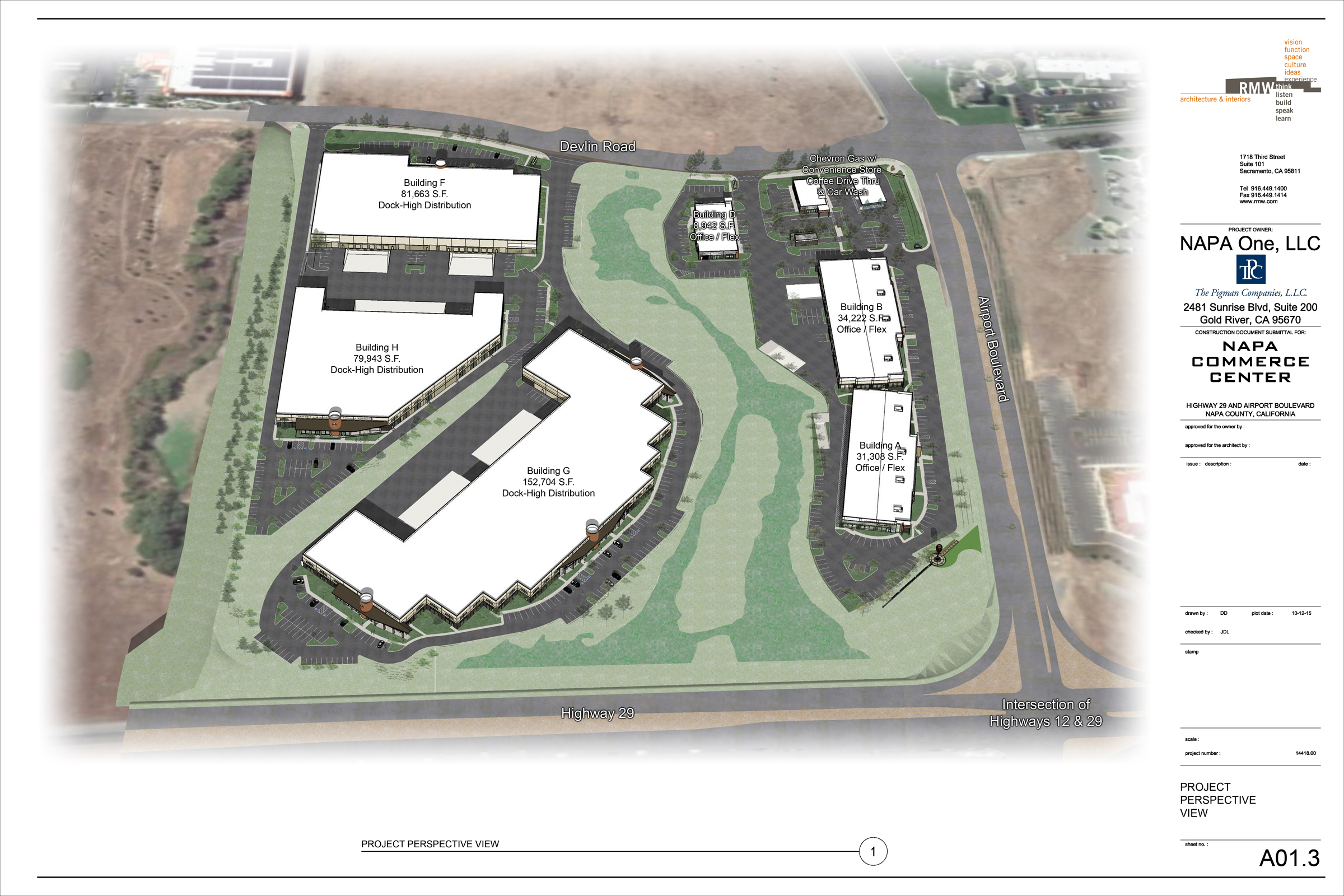 Sketch of the future Napa Commerce Center near Napa County Airport.
Graphics submitted courtesy of Jll and The Pigman Companies LLC.
"It looks good," said developer Kristen "Kris" Pigman Thursday, as he waited for his partners, Brett Albrecht of Kraemer Land Co. of Anaheim and David Seidner, of Cardinal Development Co., a real estate management and development company based in Costa Mesa to fly into Napa County Airport from Southern California to take part in a ceremonial groundbreaking of the future complex on Thursday.
Pigman expects 90 percent of the tenants at Napa Commerce Center to be directly tied to the wine industry. "The activity that we've had to date has all been wine related," he said.
There are about 14 million square-feet of warehouse space in south Napa County, brokers said Thursday. However, finding warehouse space available is not easy. Rents now range from $0.75 to $1 gross per square foot.
The demand for warehouse space is strong and there is not much land to buy for development, said William Kampton, senior vice president at Colliers International, one of the brokers who stopped by Thursday's groundbreaking.
Others agreed the market is very tight.
"There is tremendous at demand out there that's gobbling up any existing space," said Glen Dowling, managing director at JLL, a brokerage firm seeking tenants for Napa Commerce Center.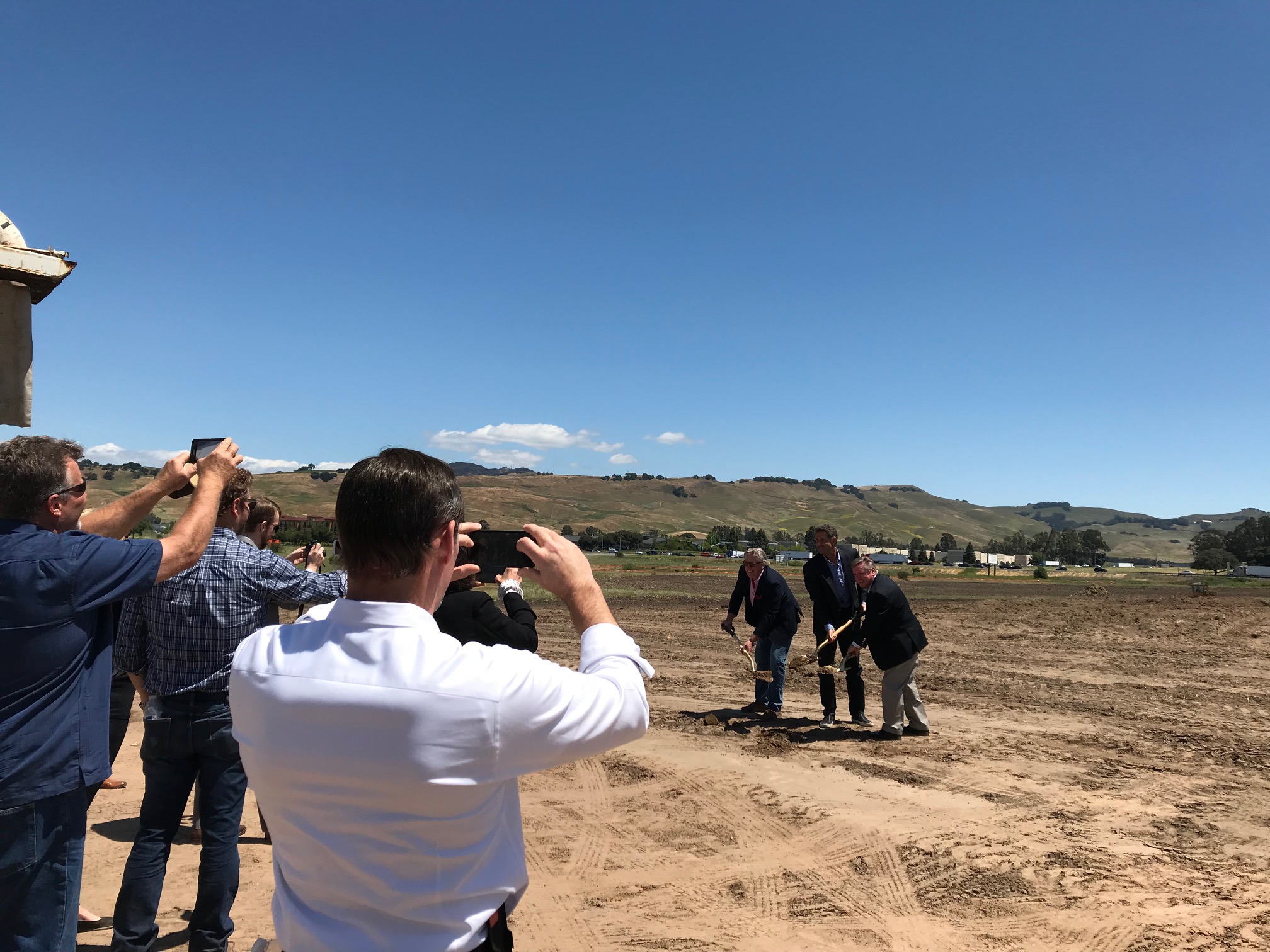 Development of the Center
The development of Napa Commerce Center took years. Pigman first considered developing the site, former cattle ranchland, more than a decade ago when George W. Bush was president.
Along the way, the recession hit and brought development to a halt. The property was landlocked. With no development in sight, Pigman handed the keys back to the bank. The land was bank-owned for a few years before a section of Devlin Road was built, giving access to the site and other properties.
Pigman bought the site back and sought entitlements for the unincorporated property. Kraemer and Cardinal joined the project earlier this year after Pigman's business partner decided to retire. In the meantime, construction costs increased by 20 percent.
Still, Pigman said his efforts have been worth it. "There is a need that's not being filled," he said, referring to the lack of available industrial space in south Napa County. The Napa Commerce Center site offers unobstructed visibility at the intersection of Highway 12 and 29, the most traveled intersection in Napa County, about 6 miles from Interstate 80.
"This is clearly the best in Napa," he said unequivocally.
A handful of warehouses under construction besides the first building at Napa Commerce Center, including Buzz Oates' 120,000-square-foot warehouse in American Canyon and Portocork's new 55,000 square-foot distribution center are a short drive from the future Napa Commerce Center.
Ikea leases a 646,000 square-foot distribution center at Napa Logistics Park on the northern edge of the city limits. The city has approved Napa Logistics Park's second phase--about 2.3 million square feet of industrial development south of Napa County Airport, according to the city of American Canyon.
In addition, 261,541 square feet of warehouse buildings on a 47.5 acres near Napa County Airport have been proposed, according to the city of American Canyon.
Other pending projects in south Napa County include:
A 71,246-square-foot building, including 61,809 square-foot warehouse, a 6,868-square-foot office on Gateway Road East near Napa County Airport.
A 49,110-square foot warehouse designed for wine storage on a 12.5-acre site on the Napa-Vallejo Highway just south of Napa.