Friends and Colleagues mourn David Stevens, longtime Napa Valley winemaker
Stevens taught part-time at Napa Valley College and UC Davis Extension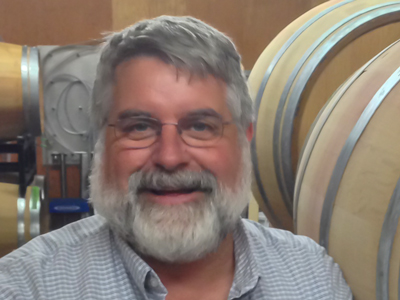 David Stevens. Photo submitted by Napa Valley College
Friends and colleagues of Napa Valley winemaker David Stevens this week mourned a man known for his knowledge of the wine industry, his kindness to those around him and his sense of humor.

Stevens, 57, died Tuesday at home in Carneros of natural causes, Napa County Sheriff's Capt. Steven Blower said Thursday.

Stevens, who grew up in Walla Walla in Washington State, worked in various management and winemaking positions in the Napa Valley, including Bouchaine Vineyards, Domaine Chandon and Freemark Abbey, according to Napa Valley College.

An economics major at Williams College, Stevens later earned a master's degree in food science and enology at UC Davis. Years ago, he started teaching part-time at UC Davis Extension and Napa Valley College. Stevens worked as a consultant for various companies over the years, including Booz Allen Hamilton, according to Napa Valley College. He was an expert in ethyl carbamate formation in wine.

Friends and colleagues on Thursday described Stevens as very bright, knowledgeable, kind and unassuming.

Jean Jacote, who met Stevens in 1997 when he was assistant winemaker at Domaine Chandon, said Stevens was a "great winemaker, a die-hard baseball fan and absolutely devoted to his wife and two daughters."

"He was a wonderful, kind, brilliant, friendly man with a totally goofy sense of humor," said Jacote, partner at Big Bang Wine. "He was a pure delight."

James Caudill, director, marketing communications at Treasury Wine Estates, also met Stevens years ago at a wine competition, where both were judges. They frequently judged wine competitions together over the years and became friends.

"Where we are often surrounded by hyperbole and hubris, David was genuine, a reliable barometer of reality and what was truly important, family, friendship and sharing," Caudill said Thursday. "It was a privilege and honor to know him and spend time with him. He will truly be missed."

James Lapsley, retired continuing educator at UC Davis Extension and an adjunct associate professor in the Department of Viticulture and Enology at UC Davis, knew Stevens for 20 years. Stevens and another consultant, Christian Miller, planned to once again coordinate this summer's Organisation Internationale de la Vigne et du Vin (OIV) wine marketing program at UC Davis Extension.

Stevens was very bright and unassuming, Lapsley recalled Thursday. "He was down to earth and very kind."

Paul Wagner, retired founder at Balzac Communications and Marketing in Napa, also knew Stevens for about 20 years. They judged wine competitions together and taught part- time at Napa Valley College.

"David Stevens was a remarkable man: warm and witty, always very appreciative of those around him," Wagner said in an email. "He was one of the best wine tasters I have ever known on my 35 years in the business. Most of all, he was encouraging to anyone who came to him with a good idea – whether they were students or faculty, winemakers or consumers," Wagner said.

"We have lost an amazing man and a tremendous valuable resource," Wagner added.

Plata Wine Partners Winemaker Alison Crowe met Stevens about 10 years ago while judging wine. Stevens was especially valued for his skill assessing sparkling wines and Pinot Noir, she said. "His wit, humor and kind attitude were unequaled. He made a young, inexperienced judge like me feel comfortable and helped me learn the ropes without making me feel intimidated," Crowe said.

She will always picture Stevens around a wine judging table, glasses fanned out in front of him and turning to crack up at a neighbor's joke or telling a hilarious story, she said.

"His laugh was infectious. He touched a lot of people and will be greatly missed," Crowe said.

Stevens was teaching this semester at Napa Valley College's Viticulture and Winery Technology program. Stevens' students were told Wednesday that he had died.

"David's death will be felt deeply in the VWT program. His knowledge and expertise will certainly be missed. But, his friendship, collegiality, and his warm humor will be remembered and missed all the more," Dianna Chiabotti, dean at Napa Valley College, wrote in an email to the staff at the two-year school.

Stevens leaves behind his wife, Dr. Susan Stevens, an endocrinologist, and two daughters.