CAWG Members Lobby in Sacramento
Labor and Water Issues Top the Agenda
Purple folders in hand, four-dozen members of the California Association of Winegrape Growers on Wednesday headed to the State Capitol in Sacramento to discuss labor and water legislation.

The 2018 CAWG Winegrape Day in the Capitol, an annual event, took place two days after China imposed a 15 percent tariff on US wines in retaliation for the Trump administration's decision to impose tariffs on $60 billion worth of Chinese goods. The US wine industry may lose market shares to competitors, observers said.

"We don't know specifically how that's going to affect wine. We just know that trade disputes generally are not good for our industry," CAWG president John Aguirre said. "We'd rather see markets open through negotiation."

But Wednesday's discussions at The Sutter Club and later with state legislators and their aides zeroed on state labor and water issues and costly state regulations facing winegrape growers.

Earlier in the day, speakers addressed a roomful of CAWG members at The Sutter Club across the street from the state Capitol.

Travis Allen, a Republican assemblyman from Orange County who is running for Governor this year, said the Legislature has become increasingly "progressive" and unfriendly to business since 2012.

"If you're a tech company, a green tech company in Silicon Valley, life is great at the moment," Allen said.

"If you're anybody else, especially somebody that deals with labor issues or natural resource issues such as water, you're going to have a difficult time in California – and it's only getting worse," said Allen, who supports President Trump. "I'd like to change this."

Another speaker, Assembly Republican Leader Brian Dahle, a farmer from Lassen County, addressed the cost of regulations on California farming.

"We're at a tipping point for California ag because we're going to be outcompeted from other countries and it's because of our regulatory environment," Dahle said.

Another speaker was Republican consultant Mike Madrid, principal at GrassrootsLab, who is working on Democrat Antonio Villaraigosa's race for governor. Madrid addressed the need to address school reform and core economic issues.

"We've got to get back to policies and solutions that create the opportunities for people without college degrees to have a middle class, reasonable, comfortable living that used to be the promise of California," Madrid said.

As CAWG prepared to leave The Sutter Club for the Capitol, where they spent a few hours chatting for 20 minutes at a time with legislators and their aides, CAWG chair Bill Berryhill of BB Vineyards in Ceres said he hoped that bringing real growers to the Capitol leads to greater understanding of the issues.

"My hope is that maybe we can create that understanding — maybe I'm an idealist — but I believe they just don't really understand," said Berryhill, a former Republican assemblyman.

CAWG's key issues this year deal with labor and water, including a shrinking workforce, rising labor costs and immigration issues. The trade association also supports the construction of water storage projects.

Michael Miiller, CAWG director of government relations, advised the CAWG members to be themselves, take notes and leave business cards. The CAWG members were divided in eight groups before they headed to the Capitol.

Altogether, about 40 Assembly and Senate legislators or their aides welcomed CAWG members in their offices Wednesday afternoon. During the visits, which averaged 20 minutes, CAWG members left a folder with the list of bills CAWG supports and opposes.
Among the bills CAWG supports are:
AB 1885 by Assembly members Eduardo Garcia, D-Coachella, Anna Caballero, D-Salinas, and Devon Mathis, R-Visalia. The bill would collect data for a report to formally request that the federal government provide undocumented agricultural workers with work permits in California. This would boost the number of immigrant workers in California, according to CAWG.
AB 2875 by Assemblyman Devon Mathis, R-Visalia. The bill, sponsored by CAWG, would clarify the definition of an agricultural worker in the new Overtime for Agricultural Workers Act of 2016, which phases in overtime requirements from 2019 to 2022.
Proposition 1 - CAWG and other agricultural trade associations supported the Proposition 1 to fund the construction of surface water storage projects such as reservoirs. "Surface storage has to be part of a big long-term statewide plan," Miller said.
AB 2649 by Assemblyman Joaquin Arambula, D-Fresno. The bill would allow officials to promptly issue temporary permits to capture rain water. CAWG supports the bill because it would be an additional source of water, according to Miiller.
The bills CAWG opposes include:
AB 1913 by Assemblyman Ash Kalra, D-San Jose. This bill would require foreign labor contractors who recruit agricultural workers to register with the California Labor Commissioner. The bill is duplicative of federal law and would create additional costs to employers and provide no benefit to workers, according to CAWG.
AB 2069 by Assemblyman Rob Bonta, D – Oakland. The bill would protect cannabis patients from discrimination at work, according to the proponents. CAWG opposes the bill saying the proposed law is unclear.
AB 3080 by Assemblywoman Lorena Gonzalez Fletcher, D-San Diego. The bill would prohibit mandatory arbitration for violation of the Fair Employment and Housing Act or the Labor Code. CAWG opposes the bill because it contends it would expose employers to high costs and liabilities. In addition, workers would turn to the already underfunded and overburdened court system.
SB 1284 by State Senator Hannah-Beth Jackson, D-Santa Barbara, would require companies with 100 or more employees to report to the state pay data on the workers - or pay a $500 civil penalty. This would be very costly, according to CAWG.
AB 2828 by Assemblywoman Laura Friedman, D-Burbank, would restrict the use of water recycled from an oil production source. The bill primarily targets water from fracking in Kern County, according to CAWG. However, there has been no evidence that this recycled water is a problem, according to CAWG.
AB 2975 by Assemblywoman Laura Friedman. The bill, if enacted would have the California Secretary of Natural Resources designate a river "Wild and Scenic" when the federal government lifts that protection for that particular stream. "This could apply to all kinds of rivers and streams," said CAWG's Miiler. "We think this could be inadvertently used to slow down or to block any increased surface storage efforts," he said, referring to storage reservoirs.
The day ended with the Third Annual CAWG Foundation Gala and Wine Competition at The Sutter Club, an event that raises money for scholarships for children of California grape grower employees.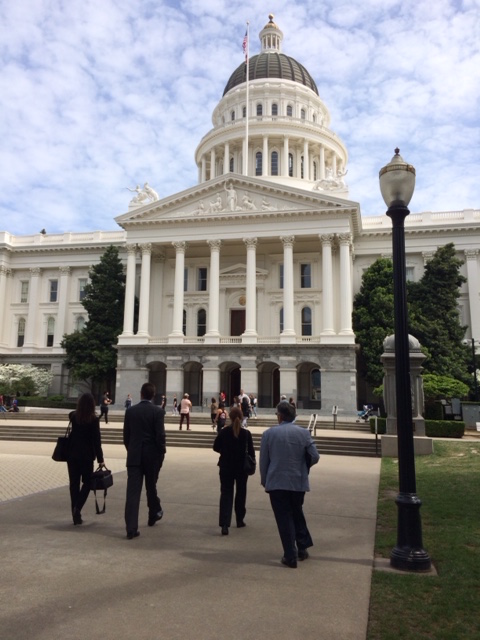 CAWG members walk toward the state Capitol in Sacramento to talk to legislators and their aides about the high cost of regulations.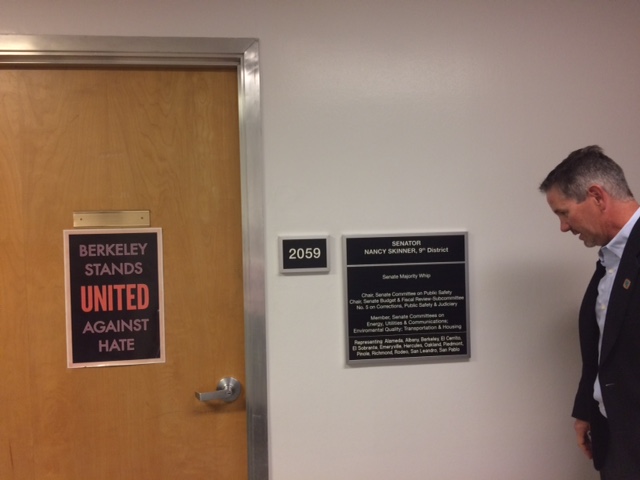 Jason Smith, president/CEO at Smith Family Wines of Soledad, prepares to enter State Sen. Nancy Skinner, D-Berkeley, to address issues facing the winegrape growing industry. The group dicussed their concerns with a senate fellow at the senator's office.