Trade dispute results in higher stainless steel prices
China imposes 15 percent tariff in retaliation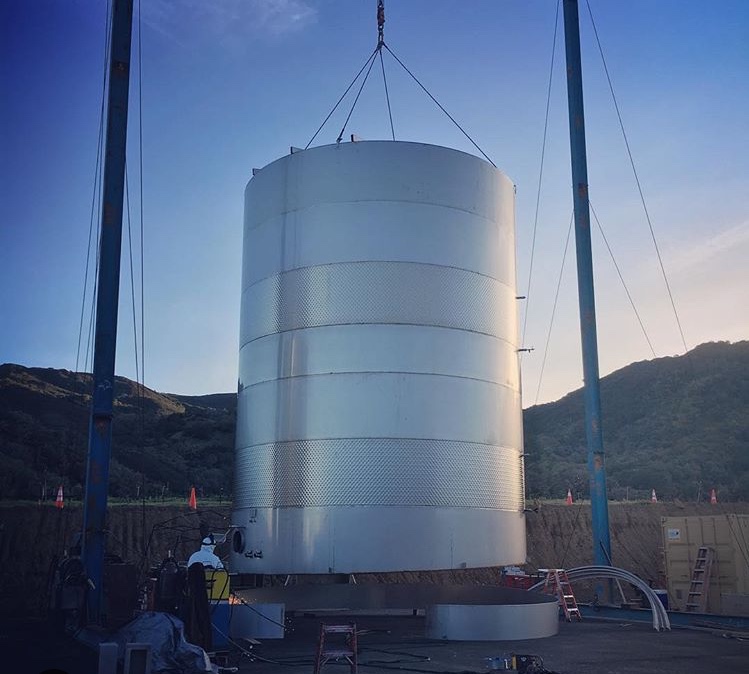 A 65,000-gallon tank from Santa Rosa Stainless Steel is being installed at a winery in Hopland, Calif. Prices for stainless steel have been climbing since the US started discussing tariffs on imported steel and aluminium. Photo Coursety Santa Rosa Stainless Steel
Expect to pay more for stainless steel tanks. The higher prices for stainless steel are among the immediate consequences of President Trump's decision to impose tariffs on $60 billion worth of goods from China.

On Monday, China retaliated by imposing an extra 15 percent tariff on US wines and another 127 US imported goods, a move many anticipated over the past few weeks.

Without question, the tariffs on wine will have an impact on our business in China," Corey Beck, chief executive officer at The Family Coppola, said via email over the weekend. "We have planned to increase our stainless-steel tank footprint but this (too) could be in jeopardy as we are already hearing about price increases," Beck added.

Michael Kaiser, vice president at WineAmerica, noted the 15 percent tariff imposed Monday is on top of the existing 14 percent duty. "It's not good for the industry," he said.

The United States exports to China and Hong Kong increased 10 percent in 2017, to $197 million, according to the Wine Institute. Mainland China is the fifth largest export market for California wines, with $79 million worth of wine. The top four export markets are the European Union, with $553 million; Canada, with $444 million, Hong Kong, with $119 million; and Japan, with $94 million.

California Association of Winegrape Growers president John Aguirre last week cautioned US agriculture is very dependent on exports. These goods, including wine, will have to find a new home, he said.

"It's very disappointing to see the United States pull back from a more liberal trade stance," Aguirre told AgWire.

Wine Institute has urged for a resolution to the trade dispute. Last week, the Wine Institute said free trade agreements will allow foreign competitors to have tariff-free access to the Chinese market. "This, combined with additional punitive tariffs on California wine, could result in lost market share for years to come," Wine Institute CEO Robert P. "Bobby" Koch said in a written statement on March 23.

Stainless steel prices began to climb weeks before the US imposed tariffs on Chinese goods with strong support from the US steel and aluminum industries.

Steel tank manufacturers reported last month making a dash to their suppliers to buy coils of stainless steel before the anticipated price increases took effect.

Rick Dapelo, owner Quality Stainless Steel in Windsor, has been considering several measures, including taking a loan to cover his costs. The price of steel has risen from $1.18 to $1.79 a pound late March, he said.

Dapelo has about 1 ½ months worth of stainless steel coils left purchased at the lower price before he has to buy more expensive steel for his inventory. Dapelo, who has orders for tanks through the end of August, plans to fulfill all his orders at the quoted price. "I expect to take a hit," Dapelo said recently.

Danny Cotta, manager at Santa Rosa Stainless Steel, said the company has had to raise prices 10 to 15 percent. Their customers understand, he said.

Ryan Horn, owner of The Vintners Vault in Paso Robles, said mid-March that importing cost on some brewery equipment has increased. His customers are "pretty understanding," he said in an email. The company maintains its competitive edge because its competition has the same experience, he said in an email.

Jostran Lamontagne, director at La Garde, a square, stainless steel tank manufacturer in Quebec, is not affected by the new tariffs. The steel comes from the United States.

Yet he questioned the US decisions to impose tariffs on imports and its lack of support for such agreements as the North American Free Trade Agreement.

"There should be no borders between us," Lamontagne said.