Central Coast Insights Survey Shows Remarkable Growth in Region
As the Central Coast wine industry continues to gain recognition and compete in the world wine market, winery professionals are optimistic about the future. The results of the Central Coast Insights survey prove just that, and when looked at with the results of other surveys, like the Wine Business Monthly Vineyard Survey and the WBM/SVB Tasting Room Survey, it shows the Central Coast wine industry is thriving.
For a quick snapshot of what's happening, take a look at these key points:
- There are 863 bonded and virtual wineries in the Central Coast
- The value of the 2017 crop reached $800 million dollars—the highest dollar value ever seen.
In the Vineyard
Based on the survey results, it wouldn't appear that many new vineyards are being brought online, likely due to the cost and water concerns. More than half of the respondents in San Luis Obispo County and Santa Barbara County have not put in new vineyards. In Monterey County, it's another story, with 68 percent of respondents stating that because of high demand for the grapes and the availability of contracts, they planted new vineyards in 2017.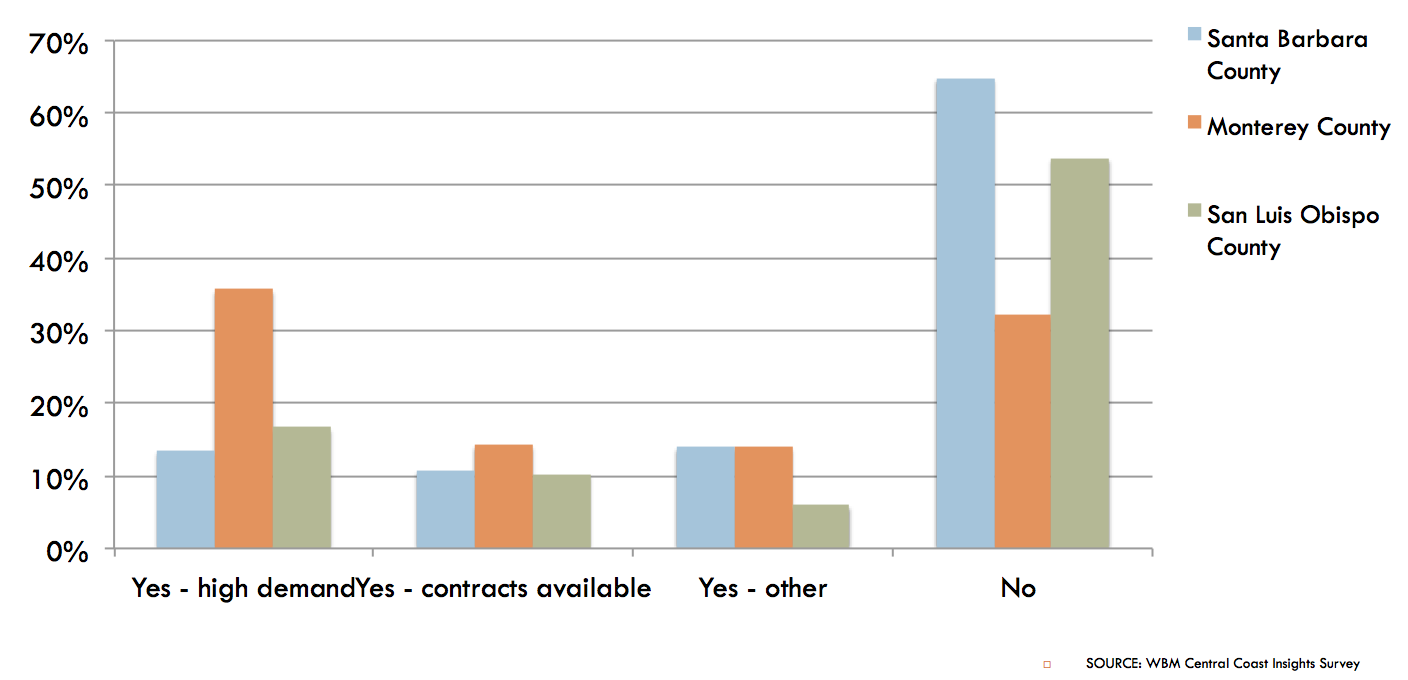 Fifty-two percent of our respondents said that they were able to increase grape prices last year; 18 percent of them said by 10 percent or more. Monterey County vineyards were more likely to see those price increases as well; 45 percent of those wineries and growers said that they saw 2 or 5 percent higher prices and another 21 percent saw increases of 10 percent or more.
In the rest of the region, 56 percent of San Luis Obispo County respondents increased prices and a solid 60 percent of Santa Barbara growers saw no change.
One of the more interesting questions we asked was how much fruit was being used in Central Coast, and not California, designated wine.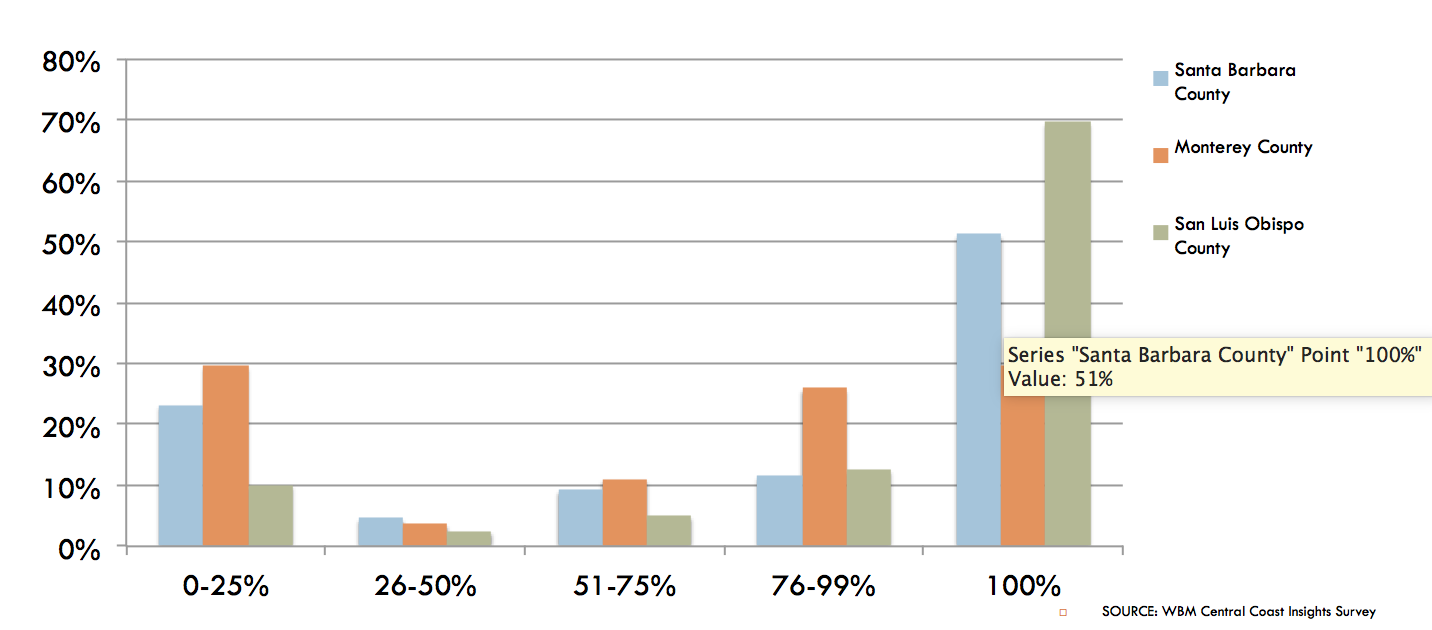 This is an increase from 2016, when 36 percent of respondents said that all grapes went into Central Coast-appellated wine, and 27 percent said that less than 50 percent of their fruit was used for Central Coast labeled wine.
If you look at the data sorted by winery size, unsurprisingly small wineries are more likely to designate appellation for 100 percent of the fruit--54 percent as compared to 33 percent of midsized to large wineries.
In the Tasting Room
The results of the annual Wine Business Monthly/Silicon Valley Bank Tasting Room Survey showed that in 2016, the most recent year for which complete data is available, average monthly visitors to tasting rooms were up, and Paso Robles was trending higher than average. Now, having tasting room visitors is all well and good, but these visitors are only important if they make purchases.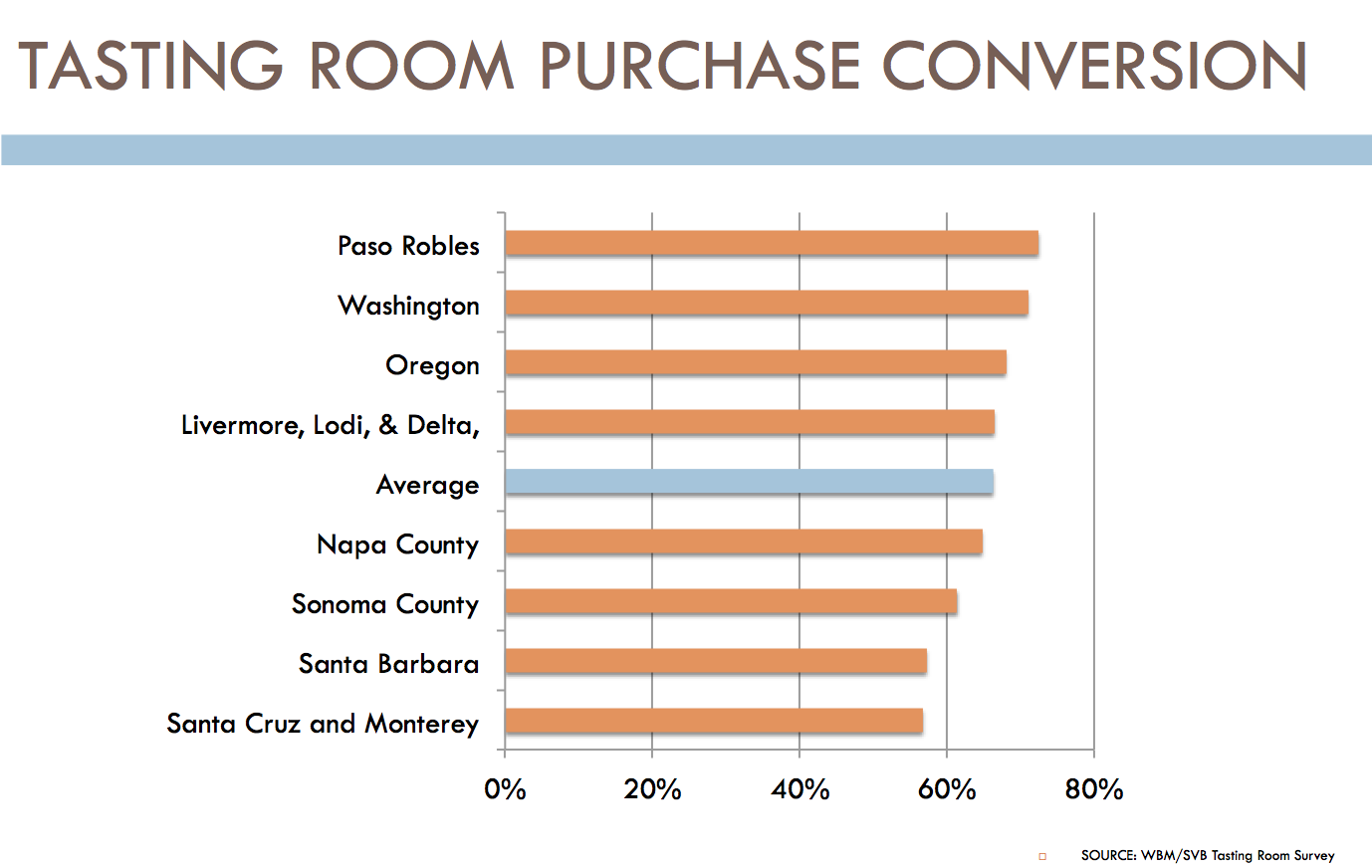 Of the regions surveyed, Paso Robles tasting room employees emerged as some of the best at converting to a purchase at an average of $86 per purchase. Average tasting room purchases in Santa Barbara were $74 and in Santa Cruz/Monterey, it was $68 per visitor.
Paso Robles was the highest performing in wine club size as well, with the largest average wine club size in 2016, with more than 2,900 members. Sonoma and Napa had the next highest and, on average, Paso Robles had around 1,500 more members than Oregon and Washington.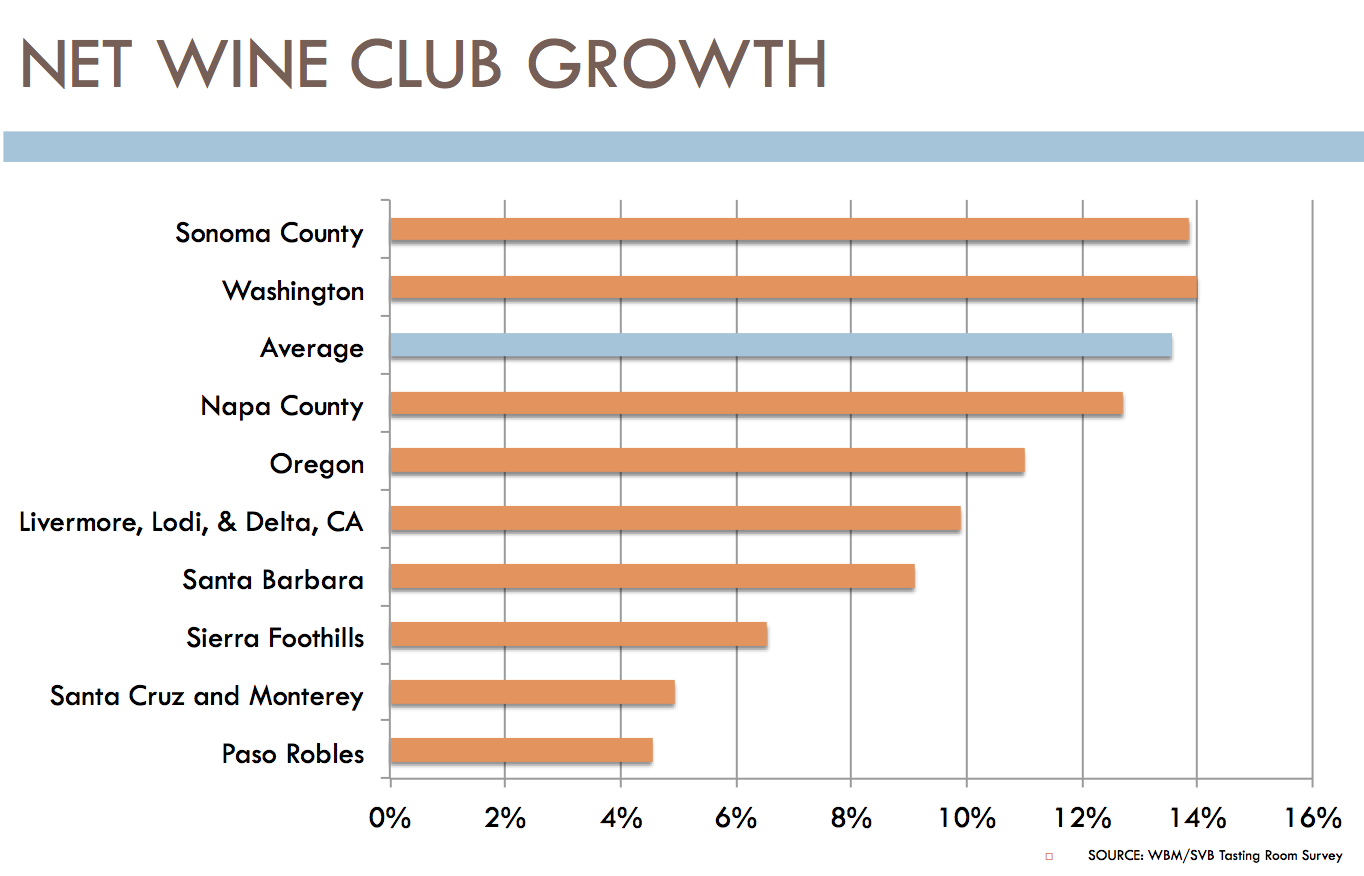 The Future of the Region
Direct-to-consumer efforts are popular across all three counties, with plenty of respondents noting that over the next three years improving hospitality centers, using technology to bolster or enhance direct to consumer programs and finding a distributor were high priorities.
And in Monterey County, its worth pointing out that more than half of those respondents said they plan to redevelop or replant vineyards and increase the use of vineyard and winery technology.