New Reasons Why Wine Marketers Should Pay Attention to Generation X
A common question amongst wine marketing professionals is, "How do we capture the Millennial market?" Despite the volumes of research on the subject, new data suggest that perhaps they should be asking that question about Generation X instead. Generally an ignored generation due to its small size and early preference for cocktails, Gen X has now begun to spend much more money on wine. Perhaps the new question should be: Is the wine industry missing an opportunity by failing to market to Generation X?"

Characteristics and Purchasing Power of Gen X

Generation X is a term derived from the 1991 book Generation X: Tales for an Accelerated Culture by Douglas Coupland. Born between the years of 1965 and 1980, Gen X has only around 66 million people, compared to the Baby Boomers at 75 million and Millennials at 71 million strong (Pew Research Center, 2018). It is partially this smaller size that has prevented many marketers from focusing on this generation, along with negative portrayals of Gen X as being ambivalent, apathetic slackers who prefer to follow, rather than lead (McElligott, 2013).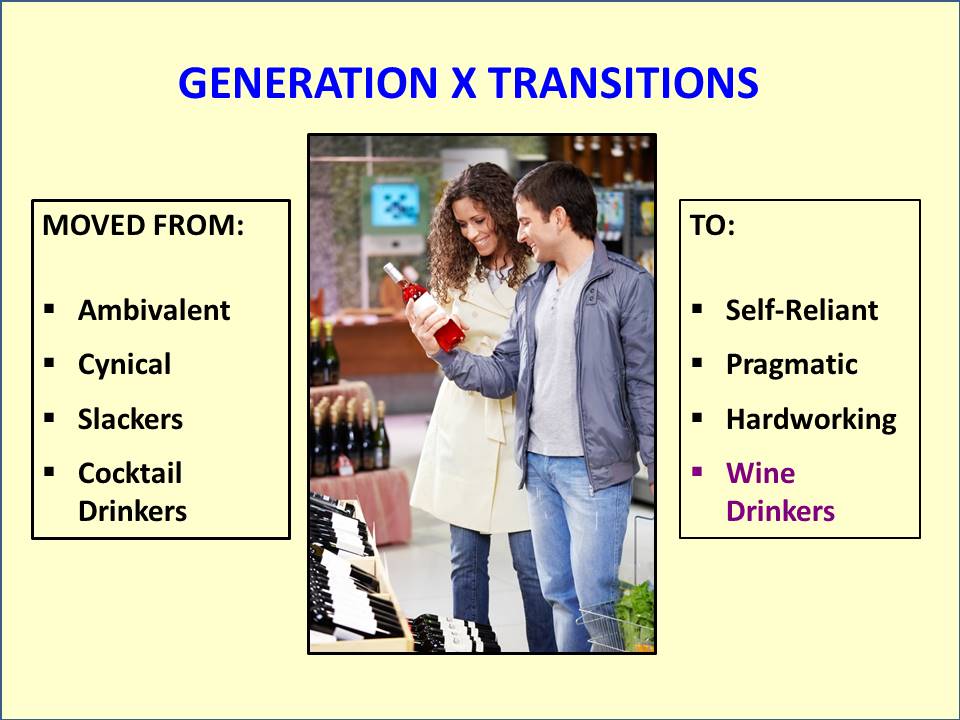 (McElligott, 2013)
However, these generalizations no longer appear to be true as Gen Xers have aged and taken on the responsibilities of jobs and families. They are now perceived to be self-reliant, hardworking, entrepreneurial, and educated (McElligott, 2013). Many have quietly moved into the executive ranks (e.g. Elon Musk of Tesla). They value life-balance, diversity, informality, and pragmatism (Krahn & Galambos, 2014.). They are also considered to be team-players, relationship builders, adaptable, and easy to work with (Ernst & Young, 2013).
Now primarily in their late 40's and early 50's, Gen Xers make up 31% of total US income (Zen, 2015), and have more influence than previously thought. A recent consumer survey showed that Gen X has an annual average income of $95,100 compared with the younger Millennials at $65,300 and the retiring Baby Boomers at $79,700 (US Dept of Labor, 2017).
Gen X Wine Consumption Increasing
Of special interest to the wine industry, is the fact that Gen Xers are drinking more wine as they age, are willing to spend more on a bottle of wine, and make more winery visits than Millennials (Gillespie, 2016). Furthermore, research has shown that they have a preference for red wine and are more likely to purchase wine from Napa Valley than Europe (Wolf et al, 2005). More compelling is the fact that the 2017 Silicon Valley Bank report predicts that Generation X will surpass the Baby Boomers in wine purchasing, both in volume and dollars spent, by 2021 (McMillan, 2017).
Advertising to Gen X
Caught between the two ages of traditional and digital advertising, Gen X responds well to both. Research has shown that Generation X actually uses social media platforms more than Millennials, and will stay on them longer, rather than switching platforms as many Millennials do (Bromwich, 2017). In addition, Gen Xers still respond to traditional print ads and something as simple as an email campaign (Zen, 2015). They are especially intrigued with marketing messages that focus on family, heritage, security, life experiences, and health and fitness (Lesonsky, 2014). They are down to earth, practical, more conservative, and crave authenticity over flash. They enjoy loyalty programs and discount coupons (Markelz, 2015).
A study conducted by Pew's Generations found that 86 percent of Generation X are online every day checking email and engaging in social media (Fox, 2014). They spend an average of seven hours a week on social media, and 39 percent use social media to discover products and services (Casey, 2017). Furthermore, 35 percent of Xers report that discounts and special offers are attractive, and 29 percent feel it is important to support their favorite brands by sharing content on social media (Casey, 2017)
Process to Increase Your DTC Connection with Gen X Wine Customers
Given the positive data about Gen Xer's growing interest in wine, along with their higher purchasing power, it only makes sense that wineries should consider new methods to connect with them. Though it is possible to develop marketing campaigns to attract Gen Xers in off and on-premise establishments, the easiest method is to begin with Direct to Consumer (DTC) marketing. Following is a four-step process to increase your DTC connection with Gen X wine consumers, and to attract new ones:
Analyze: Wineries should analyze their existing customer databases to determine the percentage of Gen Xers they currently have as consumers. The analysis should include what they are buying, how much, how frequently, and the types of wine club events they prefer to attend.

Create & Connect: Create marketing campaigns designed to attract Gen Xers, with a focus on the elements they value of heritage, family, and authenticity, as well as the wine varietal (Brager, 2015). Wineries should then connect by reaching out to existing Gen X consumers and invite them, along with their Gen X friends, to participate in both online and physical winery promotions. This can be accomplished via email ads, newsletters, coupons, contests, and discount codes. A focus on the value of the wine club should also be emphasized since Gen Xers enjoy loyalty programs. Social media should be utilized to support promotions, with a concentration on Facebook platforms where many Gen Xers still remain loyal. In addition, Google and Facebook ads will assist in leading Generation X to a website if they aren't already familiar with the brand.

Engage: Once the Gen Xers land on the winery website, it should reflect the brand in a very down to earth and authentic way. Due to their skeptical nature, Gen Xers are often wary of anything less than the genuine article. The tab to the online store should be prominent and descriptions of the wines should be enticing, with any discounts or specials clearly noted. Buttons to connect on Facebook and LinkedIn should be easy to locate. If they visit the tasting room, Gen Xers enjoy both the educational and tasting aspect before purchase (Silva, 2009), so a focus should be made on providing them with the type of educational experience they desire. Efforts should be made to capture their email information, as well as to invite them to join the wine club.

Track Sales and Follow-up: Tracking sales online as well as via the winery tasting room is critical in order to analyze what worked with this key consumer cohort, as well as opportunities for improvement. Effort should be made to follow-up with Gen Xers via email to thank them for winery visits, and to respond to their comments on social media platforms. According to the 2016 Digital Wine Report, customers who post about wine on social media at least once a month buy more wine than those who never post about wine (Mabray et al, 2016)
In conclusion, though it behooves wine marketers to focus on all generations of wine consumers, it can be said that Generation X has not received the same spotlight as the Millennial or Baby Boomer generations in the past. However there are now new reasons, along with supporting data, to suggest that paying attention to Generation X is a wise move.
References:
Brager, D. (2014). Generations on Tap: Beverage Alcohol Purchases Vary by Group. Nielsen.com. Available at: http://www.nielsen.com/us/en/insights/news/2014/generations-on-tap-beverage-alcohol-purchases-vary-by-age-group.html
Bromwich, J. E. (2017, January 27). Generation X More Addicted to Social Media Than Millenials, Report Finds. New York Times. Available at: https://www.nytimes.com/2017/01/27/technology/millennial-social-media-usage.html
Casey, S. (2017). 2016 Nielsen Social Media Report. Neilsen. Available at: http://www.nielsen.com/us/en/insights/reports/2017/2016-nielsen-social-media-report.html
Ernst & Young. (2013). Younger managers rise in the ranks: survey quantifies management shift and reveals challenges, preferred workplace perks, and perceived generational strengths and weaknesses. EY Generations Survey. Available at: http://www.ey.com/Publication/vwLUAssets/EY-Survey_shows_younger_managers_rising_in_the_ranks/$FILE/Executive-Summary-Generations-Research.pdf
Fox, Penny (2014, July 9). Generation X and Social Media, Stuck in the Middle. Available at: https://www.business2community.com/social-media/gen-x-social-media-stuck-middle-0939476
Gillespie,J. (2016). Don't Overlook Generation X. WineOpinions.com.
Krahn, H.J. and Galambos, N.L., 2014. Work values and beliefs of 'Generation X'and 'Generation Y'. Journal of Youth Studies, 17(1), pp.92-112.
Lesonsky, R. (2014). Gen X; How to Market to the Forgotten Generation. American Express.com. Available at: https://www.americanexpress.com/us/small-business/openforum/articles/gen-x-how-to-market-to-the-forgotten-generation/
Lister, M. (2016, September 28). Generational Marketing: How to Target Millennials, Gen X, & Boomers . Wordstream.com. Available at: https://www.wordstream.com/blog/ws/2016/09/28/generational-marketing-tactics
Mabray, P., Flinn, R., Jory, J., & Calli, L. (2016). 2016 Digital Wine Report: The Five Tribes of Online Wine Buyers. TMRWengine.
Markelz, M. (2015). Why You Should Market to Gen X. American Marketing Association. Available at: https://www.ama.org/publications/eNewsletters/Marketing-News-Weekly/Pages/why-you-should-be-marketing-to-gen-x.aspx
Martin, A. S. (2016, September 13). The Undetected Influence Of Generation X. Forbes.
McElligott, J. (2013). Who Is Generation X? Stories For A Lost Generation.
McMillan, R. (2017). State of the Wine Industry. St. Helena, CA: Silicon Valley Bank.
Mitchell, M. A., McLean, P., & Turner, G. B. (2005, December 22). Understanding Generation X...Boom or bust introduction. Business Forum , pp. 26-30.
Peralta, E. (2015, September 17). Generation X: The Small But Financially Powerful Generation. Available at: https://www.centro.net/blog/generation-x-the-small-but-mighty-generation/
Schawbel, D. (2015). 44 Of The Most Interesting Facts About Generation X. Available at: http://danschawbel.com/blog/44-of-the-most-interesting-facts-about-generation-x/
Silva, C. P. (2009). Generations X and Y: Understanding Perceptions of Wine and Cellar Door Experiences as a Means to Motivate and Educate. Braga, Portugal: Great Wine Capitals Student Grant Research.
US Dept. of Labor, (2017). Consumer Expenditure Survey 2016. Available at: https://www.bls.gov/cex/
Williams, K., Page, R., Petrosky, A., & H Hernandez, E. (2011). Multi-Generational Marketing: Descriptions, Characteristics, Lifestyles, and Attitudes. Journal of Applied Business and Economics, 21-36.
Wolf, M. M., Carpenter, S., & Qenani-Petrela, E. (2005). A Comparison of X, Y, and Bommer Generation Wine Consumers in Califiornia. Journal of Food Distribution Research, 186-191.
Zen, M. (2015, July 21). Stuck in the Middle: Marketing to Generation X. Retrieved from Marketing Zen: http://marketingzen.com/marketing-to-generation-x/
by Kathi Youngblood, Wine MBA and Liz Thach, MW
About the Authors: Kathi Youngblood is a recent graduate of the Sonoma State University Wine MBA program and the Senior Chargeback Specialist at Wilson Daniels in St. Helena, California. Dr. Liz Thach, MW is the Distinguished Professor of Wine & Management at Sonoma State University, California. They can be contacted at: KathiYoungblood@wilsondaniels.com and Liz@lizthach.com.