Alaska Air's Wine Flies Free Program Drives Winery Sales
Close to 7,000 cases of wine flew free between the beginning of 2016 and 2018, and now the airline has rolled out free shipping in 29 cities on the West Coast this year
The West Coast-based Alaska Airlines has long been a pioneer is seeking to ease the shipping process for its customers. The fact that Alaska has corporate offices in both Seattle and the Bay Area is likely to have given the airline additional insight as to how important ease-of-wine shipment is for those visiting the West Coast's many wine regions. Many consumers, who had previously driven to sometimes remote regions such as Walla Walla and the Willamette Valley in order to take their wine purchases home, can now fly with the wine instead.

Wine shipment is capped at one case per person. According to Oriana Branon, the director of community and public affairs in Alaska Air's Burlingame-based Bay Area office, the program was launched in 2007. To date, close to 7,000 cases of wine have been checked in between the beginning of 2016 and 2018, she added, and now the airline has rolled out free shipping in a total of 29 cities on the West Coast this year. The current busiest airports—according to Branon—are Santa Rosa, Walla Walla and Portland respectively.

"We chose to expand to all cities that we serve in the West Coast [to include Boise and Lewiston, Idaho]. There are wineries or tasting rooms within a short drive from each destination, making it easy for our members to bring home wine to share with friends and family."

She added that, for the solely West Coast program, the airline originally "kept partnership opportunities exclusive to the regions where we believed our Mileage Plan members would travel via a plane ride. By expanding it to all of the West [Coast], we believe we will inspire our leisure-enthusiast audience to take a flight between the many wine regions the West has to offer." Alaska's Branon also shared that not all wine cases are shipped full and that the airline "absorbs the $25 fee for their Mileage Plan members to check a case of wine."
She added that Idaho, Washington and Oregon each paid $100,000 in marketing funds for the program last year and that the wine regions of San Luis Obispo and Santa Rosa had independent programs with no fees associated with them. She said there will be no fees for any regions in the West for the program in 2018.
"We are excited to partner with Alaska Airlines on the Wine Flies Free Program and know it will be an asset to our wineries, adding an additional incentive for travelers to purchase Santa Cruz Mountains wine," said Keikilani McCay, the director of marketing and communications the Aptos, California-based Santa Cruz Mountains Winegrowers' Association. She added that the program, launched in February, is the only airline with whom the region is partnering.
At Coeur du Terre Vineyards in McMinneville, Oregon owner and winemaker Scott Neal noted that the program helps to move several cases a week "and it is increasing. It is a real win win as we sell more wine; customers are pleased with Alaska for not charging extra."
A Local Perspective
The program has slowly rolled out across the current four participating states. "Our wineries in these regions have been using the program since it was first launched in their regions," according to Ryan Pennington, director of communications at the Woodinville, Washington-based Ste. Michelle Wine Estates.

He added that while the winery is not obliged to participate in the program, "We do waive tasting fees for guests who show their inbound boarding pass and their Alaska Mileage Plan membership."

In Idaho, the program just rolled out last June, according to the Idaho Wine Commission executive director Moya Dolsby. She reports that approximately 50 cases a week are being shipped out of the state—in multiple markets from Boise to Lewiston in the north of the state—on Alaska Air flights. "I reached out to Alaska to start the program because we heard of other wine regions doing it," she explained.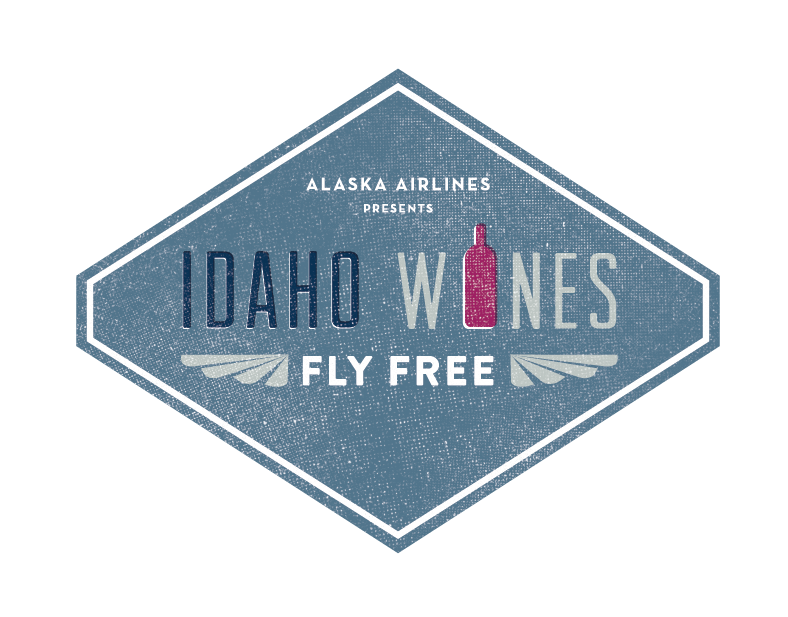 "We see people creating their own cases as they visit tasting rooms.... We probably have 10 cases worth of wine a year that we are aware of. Some guests don't let us know since they are already building their cases before they see us," noted Christina Lamkin, the tasting room manager at the Dayton, Oregon-based Durant Vineyards. She added that, "a lot of Alaska Airlines guests are not aware that their wines can fly free. We educate most of them who end up purchasing [wine]," she shared.

All in all it has been a productive and profitable move on the part of Alaska and its wine region partners.