Data Consortium Demonstrates Power of Big Data for Unlocking DTC Potential, Boosting Sales
Customer Vineyard's tagline: "Know and Grow Your Customers"
"I'm holding a USB stick in my hand that contains the future," Chateau Montelena vice president of sales and marketing Brian Baker said. "The data on this USB and what it means in terms of understanding a deeper, granular level of our customers, their associations, and of the variables that go into our lives in one place, is something I've dreamed of since I came into the wine industry fourteen years ago as Jess Jackson's first VP of CRM. It's Unbelievable."

"The wine industry needs to do a better job on sales and marketing using digital tools," Rob McMillan, founder and executive vice president of Silicon Valley Bank's wine industry practice said. "I see a need for a big data product that's approachable and useful for the industry."

"I'm really happy we've gotten to this point," Baker said. "This is going to make us all better."

Baker and McMillan were offering their takes on a startup that has been quietly leveraging the power of "big data" to demonstrate that it can produce insights that can translate into profitable sales and marketing campaigns for wine businesses. McMillan is on the advisory board.

The startup is showing how winery customer lists can be combined with large data sets that can then be analyzed computationally to reveal patterns, trends, and associations about human behavior.
Big data houses and analytics firms have profiles of 280 million U.S. consumers based on public records and credit card data. They pool the information, creating profiles in the sky. Data sets, available through Experian, Equafax, Acxiom, and other companies, hold profiles on most of us.

When paired with a customer list, that data can lead to specific recommendations enabling data driven marketing and precision targeting, helping wine businesses understand their customers while doing a better job of attracting, selling to, and retaining them.
Customer Vineyard got its start when Mary Jo Dale approached Vinventions and its Wine Marketing Solutions Division leaders with an idea to help the wine industry prosper via the power of Big Data.

Vinventions was the catalyst that made the project possible, Dale said, while working with the Wine Business Institute at Sonoma State University and with Rob McMillan of Silicon Valley Bank ensured the concept became a reality.

Customer Vineyard can use this data to help wine businesses take specific actions to better connect with existing customers or to reach new ones. Customer Vineyard is also creating a broad database of high level insights about wine consumers that can be shared with the industry for the benefit of the overall industry.
Customer Vineyard was founded by Dale, Vinventions USA's marketing director. Joel Miller, adjunct professor with Sonoma State University's Executive MBA program, serves as president.
Dale grew up working in the wine industry, and learned advanced marketing techniques outside the industry via leadership positions at companies such as Westin Hotels & Resorts and AT&T Wireless. More recently, Dale worked with wineries and wine companies including larger, distributed brands as well as high-end allocated DTC brands. She is now Marketing Director, Americas for Vinventions.
"Our industry is still growing but it's not going to be as easy to grow direct-to-consumer sales going forward as it has been up to this point," Dale said. "We have to do more because there's more competition. The solution is leveraging the power of big data to help wine businesses market and sell wine more profitably."

On Mining the Customer List

"When I first got into business, I was told my Rolodex was my most valuable asset," McMillan said. "I don't know if people know what a Rolodex is anymore but it really hasn't changed: Your customer list is still your best asset, not just your wine club, but people that tried your wine."
"Everybody pays attention to their vineyards, and to their inventory, but not so much to their customer base," Dale said. "Their wine club members, they're pretty good about that now, but they don't neccesarily understand that the customer list is a valuable asset, one that's every bit as important as one's inventory and vineyard. "

Broad Insights from Five Wine Businesses

The consortium completed a first round of data insights and analysis working with five wine businesses.

The five wine businesses include 130,000 wine consumers and three years of DTC sales data. Roughly half a million sales transactions were examined. They were appended with additional outside data – the "big data" so there were 50 million consumer data points.

The analysis reveals how each wine business' customers compare with wine consumers in general and with U.S. consumers at large. Wineries learn where they're the same and different to identify opportunities. The analysis can identify underperforming customers, highlight customers that are a retention risk, and so on. It can help target individuals by where they live and/or by income, enabling wineries to extend the winery experience to where they live.

Winery Customers More Affluent

Most wine marketers know wine consumers are more affluent than the average U.S. consumer, but the data indicates just how much. The yellow line below represents the average U.S. consumer from the big data house in the sky. Nearly 60 percent have a net worth exceeding $1 million. Wine may be more of a luxury good than many people have thought.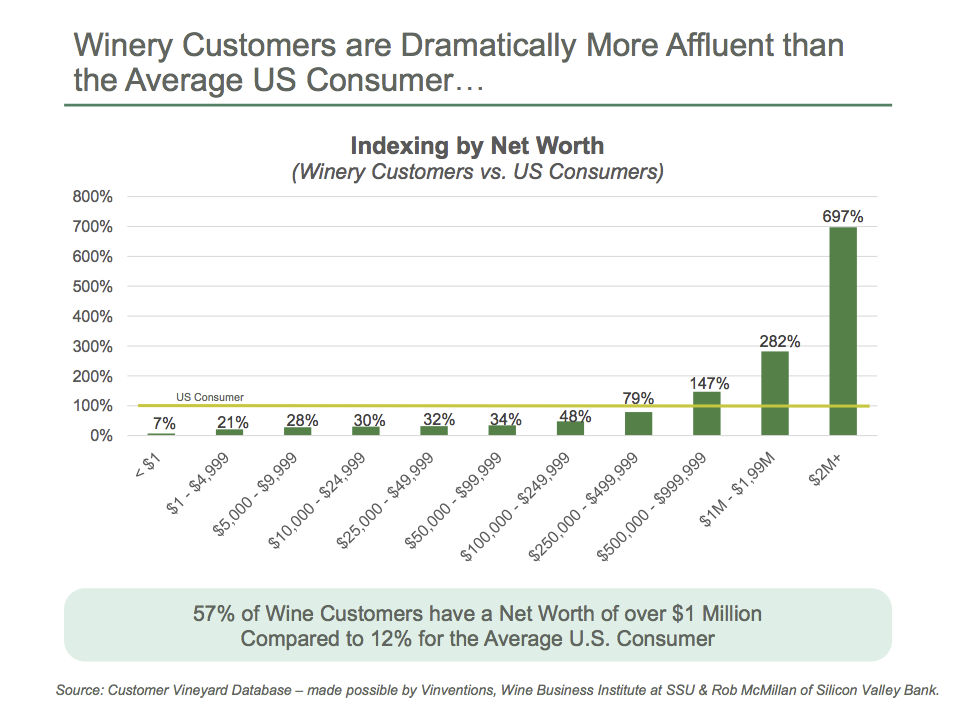 Seventy-one Percent of DTC Revenue Comes from 30 Percent of the customers.

Customers were segmented into one-star, two-star, three-star, four-star, and five-star buckets, with the one star representing the lower value customer. Most wineries have wine clubs but don't segment. Every customer matters but a lot of money is coming from the very top segment. That has marketing implications.

Younger Women Gain parity with Men in Wine Purchasing

We've heard about higher spending winery customers aging out, with baby boomers retiring and less affluent millennials replacing them. It's reflected in the data. Some 35 percent of customers are under 50 but account for 18 percent of revenues. Another insight: younger women are gaining parity with men in terms of purchasing but the wine industry historically has focused on marketing to men.

Forty-two Percent of DTC Customers Live Less than 150 Miles from Winery, Most Live Farther Away.
This varies greatly by wine business and leads to the question of how far one can extend the winery experience to continue the customer relationship.
Spending can be analyzed and mapped by zip code and is helpful for planning outside events or otherwise building a sales and marketing action plan.

Targeting Interests and Activities, Digging Deeper

Using big data, wineries can get a glimpse of the buying behaviors of individual customers.

Wealthy people tend to drive European cars, but a winery can see how customers index on cars by brand. Porsche, for instance, is a small segment with only 0.2 percent of U.S. consumers driving one - but nearly 2 percent drive a Porsche if they're a wine customer, ten times as many as the general American consumer. Wine consumers are less likely to drive a Toyota. Some wineries over index with BMW.

Wine consumers are more likely to be skiers, play tennis, support the arts, and they tend to subscribe to financial newsletters.

When data is analyzed in parallel with a winery customer list, one can determine if a winery over- or under-indexes on grandchildren, gaming, the lottery, or on luxury cruises.
Brian Baker from Chateau Montelena, one of five wine businesses in the analysis, said he was surprised how many of his customers are into boating.
The metrics look very different by individual business.
It's possible to dive deeper to unlock details once one identifies trends.

In the hypothetical example of a winery called Platinum Estates, the winery over indexes on tech professionals, possibly because of proximity to Silicon Valley.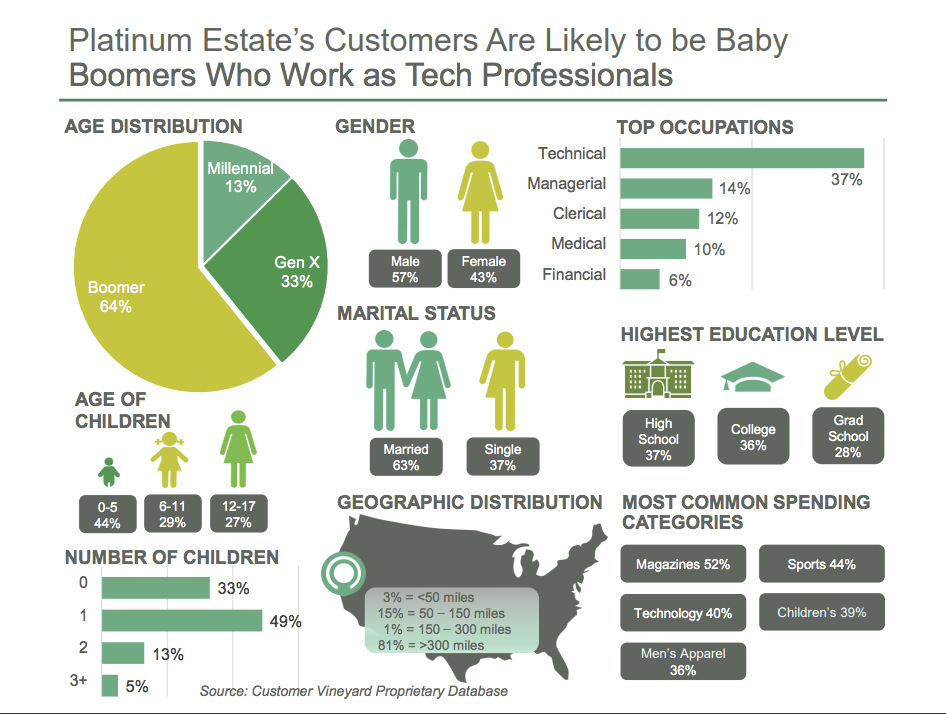 One can segment the highest spending customers as well as high potential customers. Most wineries know their biggest customers but one can learn more about them, and there can be hidden surprises.

In the data based on 132,000 sales transactions from five wine businesses, 20,000 were from high net worth individuals who were performing at a low-value level in the data.

"If you convert just 5 percent of 20,000 people, that represents millions annually in additional DTC profit," Dale said.

"Once you know more about your very best customers you can go get new ones like them. You can refine programs, build strategic partnerships with the right outside companies, and convert high-potential customers to five-star customers."

McMillan said that while the wine industry still needs to do a better job with traditional digital tools such as targeted Facebook ads, Instagram, Google Analytics, and search engine optimization – a big data product along the lines of what Customer Vineyard is developing is something the industry needs.

"Big data gives us the opportunity to target new clients, to look at our existing data base of past clients who might have tried our wine but haven't been purchasing for a while and to make some value based determination as to how we ought to market them and how often we ought to market to them," McMillan said. "We've been through a successful data round that provides critical validation."