Linda Bisson's Contributions to Science and Industry Honored at UCD Seminar
The University of California Davis (UCD) Department of Viticulture and Enology (DV&E) held a special extension Wine Flavor 101A seminar February 15 paying tribute to the research and professional contributions of recently retired professor Dr. Linda Bisson. The seminar included technical presentations highlighting her important research in managing wine quality and problematic fermentations. Professional colleagues also cited and praised her many academic and industry contributions.
Bisson's background and credentials include:
--BA in biology, master's degree in microbiology, both from San Francisco State University.
--Ph.D. in microbiology, University of California at Berkeley, 1980.
--Postdoctoral research associate, Harvard Medical School.
--Joined UCD DV&E as assistant professor in 1985.
--DV&E chair from 1990-1995.
--Maynard A. Amerine Endowed Chair in Viticulture and Enology from 1997 to 2008.
--Science editor of the American Journal of Enology and Viticulture (AJEV) for 15 years.
--Co-author of the text book, "Principles and Practices of Winemaking."
UCD DV&E chair and professor Dr. David Block said, "Linda has been a major part of our department's 137-year history." He said Bisson excelled in each of the main roles required of a faculty member: research, teaching, extension and leadership.
Previously, Block said, the department's extension seminar program primarily consisted of one annual meeting—Recent Advances in Viticulture and Enology (RAVE). Through the efforts of Bisson, with assistance from department colleagues Kay Bogart and Dr. Anita Oberholster, the seminar program has grown to 8 to 10 meetings on campus each year. "Linda has excelled in her role in extension and been instrumental in leading and organizing our Wine Flavor 101A meetings, in addition to being a presenter at most of them," Block said.
Her service to the university was also campus-wide, serving twice as chair of the UCD Academic Senate. Block summarized, "Linda is one of those people who never learned how to say 'no,' and the industry and the university are better off because of it."
Another academic colleague, Dr. Charles Edwards, professor and microbiologist in viticulture & enology at Washington State University, Pullman, recognized Bisson's contributions to wine microbiology through her participation in national and international conferences, and her service with the American Society for Enology and Viticulture (ASEV). She received ASEV's highest honor, the Merit Award in 2014, was the ASEV Honorary Research Lecturer in 2000, and she has been an author/co-author of papers published in the AJEV that have been awarded the annual "Best Paper in Enology" four different times.
Edwards said another measure of the impact of a faculty member involves "changing the direction of the discipline." He observed, "This is something that is not easily quantifiable, but it's something that Linda has done."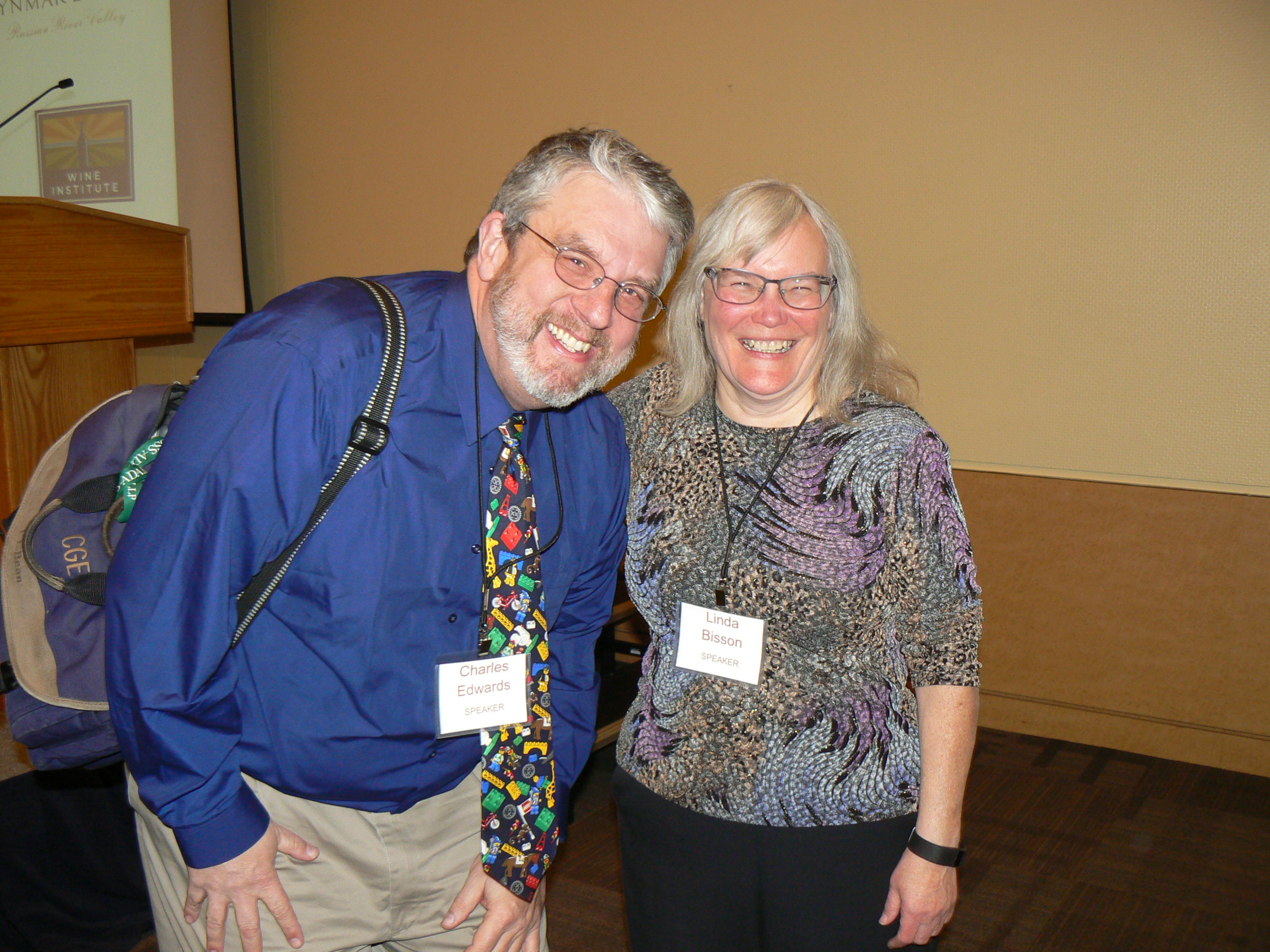 Dr. Charles Edwards, professor at Washington State University, and Dr. Linda Bisson, enjoy Bisson's retirement
celebration at the end of a daylong seminar highlighting her research and achievements. (Photo: Ted Rieger)
Understanding Fermentation, Preventing Stuck/Sluggish Fermentations
The Bisson Lab has investigated the utilization of carbon and energy sources in yeast and how eukaryotic cells detect energy sources in their environment and prioritize use when presented with a mixture of substrates. The Bisson Lab's work led to identification of the first eukaryotic glucose sensor, the SNF3 gene.
The transport of sugars across the yeast cell's plasma membrane is a critical step in the utilization of glucose and fructose by yeast during wine fermentation. Research in the Bisson Lab led to discovery of a large multigene family of hexose transporters, the HXT (HeXose Transporter) genes of Saccharomyces cerevisiae.
Stuck or incomplete fermentations are a problem in winemaking caused by failure of the yeast to consume all of the available sugar. Bisson's former lab manager, Dr. Vidhya Ramakrishnan (co-founder and CEO of the biotech company Ferminkasi Inc.), summarized work to better understand difficult to ferment juices and arrested fermentations. Factors impacting fermentations and yeast metabolism include: abiotic (temperature, pH); nutritional (nitrogen, phosphate, vitamins, minerals); stress (osmotic, high ethanol, oxidative); and microbial (competition for nutrients, toxic compound production, alteration of yeast metabolism).
Ramakrishnan observed, "With difficult to ferment juices, problems can arise even after maintaining good winemaking practices." Although maintaining nutritional balance and nitrogen levels are important in fermentation, testing and nutrient supplementation of the must does not always fix the issue. She listed the following conclusions on what is known to date:
--Nitrogen supplementation using diammonium phosphate (DAP) should be done carefully taking into account the other potential limiting nutrients in the must.
--Oxidative stress results in mannitol accumulation in yeast. Chronic juice issues may reflect stress in the vineyard.
--Effective and sufficient use of SO2 in the initial juice is important to alleviate bacterial impacts on yeast fermentations.
--Multiple factors in conjunction have a synergistic effect on yeast leading to problematic fermentation.
Preventing H2S Development in Wine
Hydrogen sulfide (H2S) production during fermentation and winemaking causes problems in wine aroma and flavor commonly producing a "rotten egg" character. H2S can lead to formation of mercaptans and thiols that also produce unwanted sensory characteristics. Even at low levels, H2S can mask positive wine characteristics.
Dr. Angela Linderholm, a former Ph.D. student in the Bisson Lab who now works in medical research at the UCD Medical Center, discussed her work in defining the basis of genetic diversity of H2S production in wine strains of S. cerevisiae. With Bisson's guidance, Linderholm's research objective was to identify those genes encoding the enzymes impacting H2S production in S. cerevisiae, for the potential application of transferring the genes of a low H2S producing strain into a high H2S producing strain to prevent H2S production without disrupting other positive characteristics.
The research and screening process led to discovery of the S. cerevisiae strain UCD932 that produced undetectable amounts of H2S under all conditions tested. Further research identified the MET 10 gene sequence in UCD932 as being responsible for low H2S production. The discovery received a U.S. patent in 2008 assigned to the University of California Regents based on the work of inventors Bisson, Linderholm, and Kevin Dietzel, another grad student in the Bisson Lab.
Dr. John Husnik, founder and CEO of Renaissance BioScience based in Vancouver, Canada discussed how this research has provided practical and commercial applications. Renaissance focuses on non-genetically modified organism (GMO) yeast development and works with available patented technologies. "One of the main reasons we have this company is for the application of the Bisson Lab's research," Husnik said.
The company uses this discovery to produce new hybrid yeasts through yeast mating. "We can backcross the UCD932 MET 10 strain to whatever strain you want. In some cases we have backcrossed up to 15 times to get the characteristics we want in a particular yeast," Husnik said. The company now has commercially available non-H2S production yeast strains for production of red, white and sparkling wines. The company has also developed new yeast strains for production of cider, beer, and more recently for coffee. Husnik said, "Our business using this discovery has blossomed far beyond wine. We're showing yeasts can express different flavors based on enzymes that work on different hop characteristics for the brewing industry."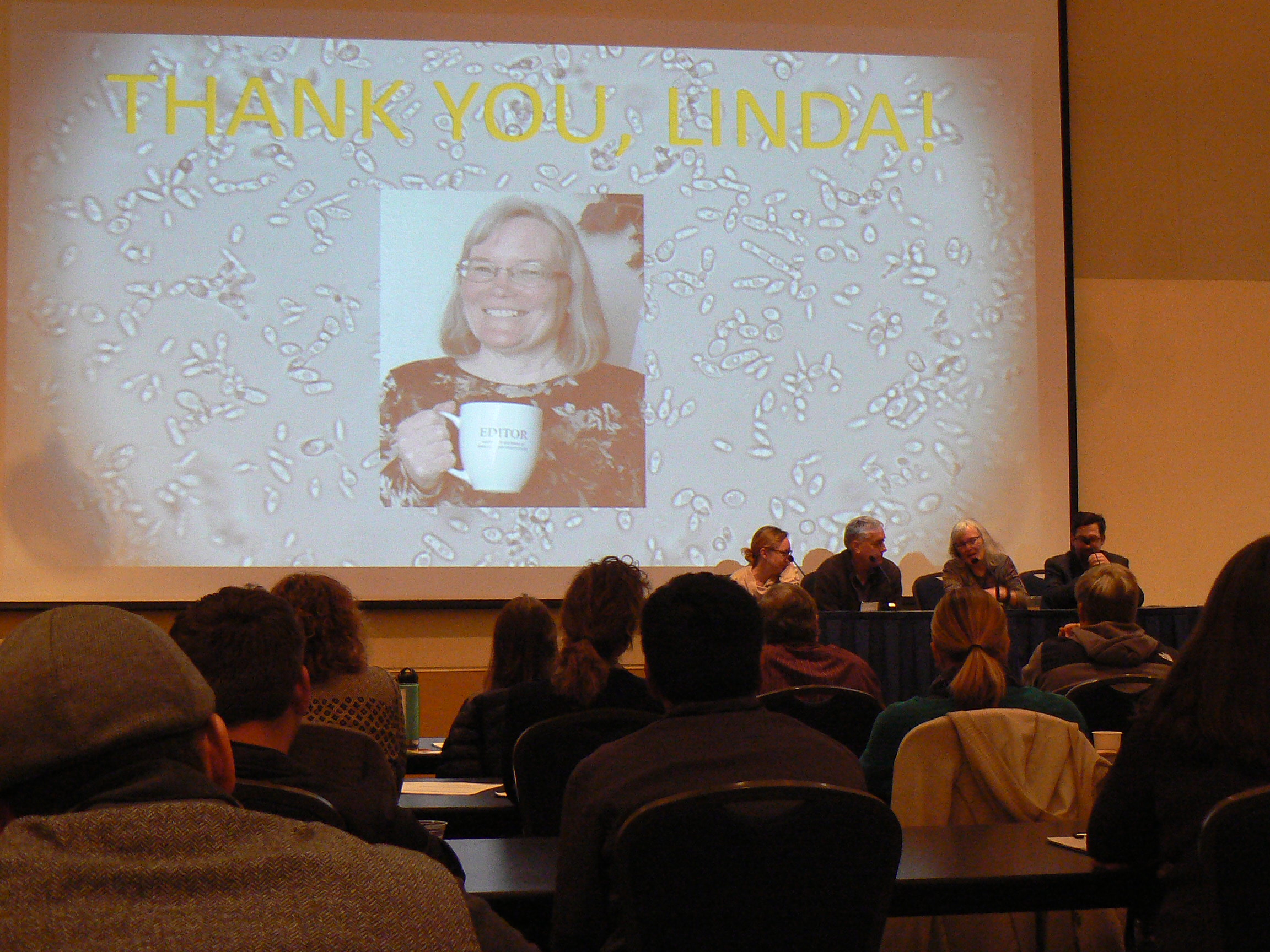 UCD professor Dr. Linda Bisson was thanked by former students, colleagues and industry professionals during
a daylong seminar at UCD highlighting her career, research and professional contributions. (Photo: Ted Rieger)

Brettanomyces and the Brett Aroma Wheel
Brettanomyces bruxellensis is often considered a spoilage yeast in wine that can result in off-aromas described as "horse sweat," "barnyard," "leather," "earthy," "medicinal," "band-aid," and "smoky." However, its impact is highly variable, and in some wines it may contribute desirable characteristics to a wine's sensory profile. Bisson encouraged a number of people to do research on Brett.
One was Lucy Joseph, DV&E culture collection curator. She joined the department in 1999 and is co-author with Bisson and others on five research papers related to Brett. Discussing her "Adventures with Brettanomyces and the Brett Aroma Wheel," Joseph said the culture collection index listed 25 Brett strains when she arrived, but when she went looking for them, only seven actually existed. This initiated a call to the industry requesting donations of Brett wines and strains. The collection has now grown to 175 Brett strains.
Joseph observed: "We have strains from different regions and associated with different varieties. We found that Brett is extremely diverse, and its genetics are not clear or well understood. We looked at different compounds Brett produces based on strain and the substrate it was in. We discovered some strains could even grow on ethanol as a substrate."
Joseph noted, "The industry kept telling us they were most interested in the aromas and flavors associated with Brett." This led to Joseph and Bisson working with DV&E professor and flavor chemist Dr. Sue Ebeler, and grad student Beth Albino to create the Brett Aroma Wheel. More than 100 strains were screened for aromas produced in different substrates. Albino did a major part of the work with sensory panelists to screen aromas, come up with various descriptors, and then narrow down the best descriptors and categories to include on the Aroma Wheel.
Studying Brett aromas also helped correlate and distinguish particular aromas/flavors with Brett as compared with those produced by other spoilage organisms such as lactic acid bacteria and acetic acid bacteria.
During a panel discussion, Bisson joined three former M.S. degree students who did Brett research in her lab: Donald Wirz, now a winemaker with Delicato Family Vineyards; Albino, now a researcher in the biotech industry; and Brad Kitson, winemaker/owner with Kitson Wines, and winemaker at Georg Rafael Vineyards in Napa. The winemaker panelists advised good sanitation practices to manage Brett: adjust pH and free SO2 upfront in wine processing, smell and taste all wine lots regularly, do lab analysis, be diligent with barrel sanitation and management, and sterile filter before bottling.
Brett is rare among yeasts, as it has the ability to differentiate into two forms, with Brettanomyces being the non-spore forming genus, and Dekkera being the spore forming genus of the yeast. The yeast has the ability to change genetically to adapt to different environments, a characteristic that intrigues Bisson as a microbiologist and a geneticist. She observed, "It's hard to come up with a pattern of what they're doing in order to try to control them. That's a problem in winemaking, but it's fascinating for me as a scientist."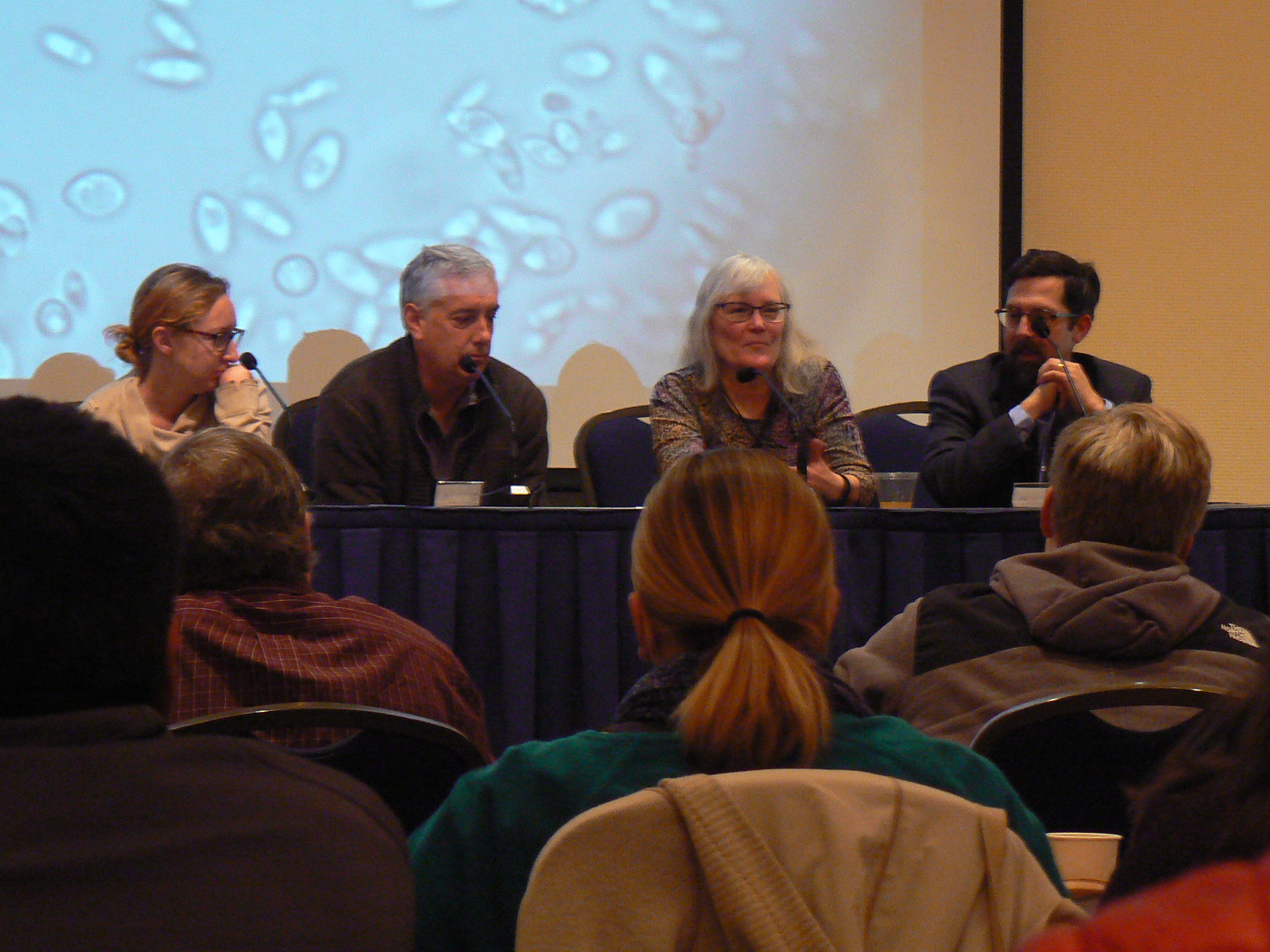 A panel of former masters degree students and Bisson Lab researchers discussed Brett.
L-R: Beth Albino, co-creator of the Brett Aroma Wheel, now a biotech industry researcher; Brad Kitson, owner/winemaker at Kitson Wines; Bisson; Donald Wirz, winemaker at Delicato Family Vineyards. (Photo: Ted Rieger)
A Passion for Knowledge, A Passion to Teach
Bisson's closing comments centered on the theme, "A Passion for Knowledge, A Passion to Teach." She recalled a conversation she had as a student with one of her own teachers who told her, "You have a spark for teaching people and wanting other people to understand what you understand."
Bisson was closely involved in mentoring over 100 people who were M.S. or Ph.D. students. She got to know them well and came to admire their successes. Based on her observations working with these people, she said, "The industry is in good hands."
She believes, "I've been totally blessed in my career, because I could follow my passion," and she added, "I encouraged my students to follow their passions."
Bisson told the audience of academic colleagues, industry professionals, friends and family members, "Thanks for being my inspiration, giving me the energy to persevere, sharing my passion for knowledge, and enriching my life."