A New Perspective on the Vineyard Labor Shortage Situation: The Case of Cain Vineyard
Chris Howell stands on a saddleback of the Mayacamas Mountains with Sonoma County to the west and Napa County spread out far below to the east. Fog swirls around him as he gazes at the steeply terraced grapevines of Cain Vineyard. The black gnarled limbs are sharply etched against the bright green of the January grass, appearing sculpture-like as they spread across the trellises. Slowly, a team of master pruners moves from vine to vine, carefully analyzing the cuts that are needed to produce a fine wine for this year, and insure the vine thrives for years to come.
"The most important aspect of sustainability," says Howell, who has been the winegrower at Cain Vineyard for more than 20 years, "is the human factor. It is the group of people working in the vineyard and caring for the vines over the very long term. Caring for these highly skilled and committed craftsmen and honoring their craft and their work is essential. It is a sine qua non of the future of fine wine."
Howell, a proponent of the three E's of sustainability, believes so strongly in this that, beginning in 1991, he implemented a new practice at Cain which is also being adopted by a few other wineries.
Though Howell doesn't put a name to it, the official human resource management term for what he is doing is called "Position Reclassification." It is defined as a change from one job title/position to a different one, because the skills and knowledge required to complete the job successfully have changed. Generally it also results in an increase in pay.
"This vineyard is so steep, it would be impossible to use mechanization to harvest it," Howell said. "We wouldn't want to anyway because we are growing fine wine here, and we need the wisdom and high quality craftsmanship that results from a full-time vineyard team that knows these vines intimately."
At Cain the full-time team of 10 people have been working in the vineyard for years, with many pruning, tending and harvesting the same rows each year. They receive benefits such as healthcare and 401k plans, have green cards and are treated with much respect. Recently, Cain dedicated an issue of their newsletter, "Notes from Cain," to pruning that features all of the vineyard team, including vineyard manager, Ashley Anderson Bennett, a graduate of Vassar College who has worked harvests for the last 17 years as a full-time member of the team.
"We are trying to agree on a new job title," she states. "Perhaps Vineyard Technician. Here at Cain we farm with a long-term vision, and that includes the crew. We need the same crew because they are the master farmers."
Because of the extreme topography and diverse exposures, harvest at Cain is not always the rapid race through the vineyard as it is in many other vineyards. They rely on a methodical observation of ripening throughout the vineyard, with a focus on the evolving state of the vine in order, to capture the fruit at a point of ripeness just before the aromas and energy have begun to fade. Everyone is paid by the hour, instead of the pound. This is similar to the process used in high-end vineyards of Burgundy and Bordeaux, where picking occurs at a more leisurely pace. Howell, who trained in Montpellier and Bordeaux, even flew some of his workers to France so they could learn about traditional vine training and pruning techniques.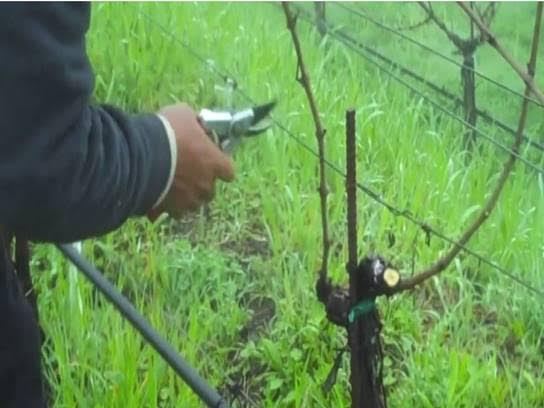 Pruning in Cain Vineyard, Napa Valley. Photo Credit: Cain Vineyard Pruning Video
Yet Howell is also cognizant of the other labor options for vineyards and readily agrees that they may make more sense for certain vineyards, depending on the location and type of wine that is being made. Below is a list of the five most common types of labor options for vineyards in the United States.
The Five Major Labor Options for Vineyards
1) Annual Recruiting Program/Vineyard Contractor – the practice of recruiting temporary workers each year for harvest and pruning season. This is often done via word of mouth or by sourcing through a vineyard contractor. In the past, when labor was plentiful, this was a useful method, but today it is more challenging due to a scarcity of vineyard workers.
2) H2A Program – a federal program that allows U.S. employers to bring in foreign workers to fill temporary agricultural jobs. In addition to wages, the employer is required to provide housing and food. This program is being used successfully by several local wineries, but they report there is much paperwork to complete before the program can be implemented.
3) Position Reclassification – the method used by Cain Vineyard and a few others to reclassify temporary vineyard work into full-time professional paid work with benefits. Employees are viewed as master craftspeople and treated as important members of the company, with opportunities for promotion.
4) Mechanization – using mechanical harvesters and other machines to prune, sucker, hedge and harvest the vineyard. Research has shown that modern mechanical harvest machines produce similar results to hand-picked vineyards; however the harvesters cannot be used in all vineyards—especially those with steep slopes or certain types of trellis systems.
5) Other/Future – other methods include recruiting wine tourists as an experiential activity or inviting friends and family to assist in the vineyard. The downside of this is that people are often not available when it is time to pick, and it can be logistically challenging to coordinate. Futurists predict a time when robots will be able to complete all vineyard work, with a high level of intelligence and memory capability.
The Impact of Human Touch on the Vines
Despite the multiple options available, Howell is confident that creating permanent positions for the master crafts professionals who work in his vineyard is the right answer. "After all," said Howell, "there is something about human touch that is important in our food sources. Fine wine celebrates our human connection to the earth."
References
Cain. (2017). All About Cain. Website of Cain Vineyards. Available at: http://www.cainfive.com/about/

Dressler, G. (2014). Human Resource Management, 13th edition. NY: Pearson.

Hendrickson, D.A., Lerno, L.A., Hjelmeland, A.K., Ebeler, S.E., Heymann, H., Hopfer, H., Block, K.L., Brenneman, C.A. and Oberholster, A., 2016. Impact of mechanical harvesting and optical berry sorting on grape and wine composition. American Journal of Enology and Viticulture, pp.ajev-2016.

Lasky, M.S. (2017). How do Mechanized Vineyards Compare to Hand-Treated? Wine Business Monthly, Oct. 2017, pgs. 36 – 39.

Millar, R. (2017). Symingstons Test Vineyard Robots. The Drinks Business, Sept. 11, 2017. Available at: https://www.thedrinksbusiness.com/2017/09/symingtons-tests-vineyard-robots/

Tims, D. (2014). French vineyard robot has a vine time in Oregon wine country. The Oregonian. Available at: http://www.oregonlive.com/business/index.ssf/2014/03/post_198.html

USCIS. (2017). H-2A Temporary Agricultural Workers. Website of US Citizens Immigration Services. Available at: https://www.uscis.gov/working-united-states/temporary-workers/h-2a-temporary-agricultural-workers
by Dr. Liz Thach, MW
Dr. Liz Thach, MW is the Distinguished Professor of Wine and Management at Sonoma State University in the Wine Business Institute. She can be contacted at Liz@lizthach.com.