To Label Conjunctively or Not Label Conjunctively? That is the AVA Question
The awarding of AVA status is an event met with much fanfare by wine producers within the region concerned. As of January 8, 2018, the Petaluma Gap became the 240th AVA authorized for use by wine producers in COLA submissions with the TTB. This event was marked by one of the country's leading wine writers, who elaborated on the expected commercial implications of AVA status in this article, published the very morning that AVA status was awarded.
Some regions benefit with a corresponding increase in consumer awareness once AVA status is officially recognized. However, mounting evidence suggests that the awarding of AVA status is more likely to lead a region's wine producers into commercial obscurity than prominence. Consequently, with the Petaluma Gap opening the gates on a TTB backlog of 18 other proposals for AVA status or amendment, how should wine producers in these regions communicate their AVA status if it's awarded?
The Modern Paradox in Labeling Wine by Grape-Growing Region
The modern wine consumer is typically faced with a wine purchasing decision based on the grape variety, or by the region where the grapes were grown. A number of European countries have produced and sold wines according to grape provenance for centuries, whilst newer wine exporting countries favor the practice of selling wine by indicating the grape variety. The widespread belief among those in the wine sector is that wines from a specified region are more prestigious than wines labeled as being made from a grape variety. Thus, as newer exporting countries' wine sectors grow and mature, they often begin to introduce grape provenance under the belief that the regional identity is a more valuable sales tool than grape variety.
Herein lies the paradox in attempting to improve a wine region's perception: Despite perceptions that a region is a more valuable communication tool than grape variety, most of the evidence illustrates otherwise. Moving from a process of labeling wine by grape variety, to selling by regional identification leads more frequently to a region's wines falling into an abyss of market obscurity. The exceptions to this outcome are typically used to dispute such a pattern.
The implications for the Petaluma Gap's new-found status cannot be overlooked. The regional evidence supporting the TTB's decision was adroitly explained by Jancis Robinson contributor, Elaine Chukan Brown, in her article on the climatic and topography of the Petaluma Gap. Thus, this newly minted region enters the world's wine market with the endorsement that these wines have a regionally defined characteristic verifying their value. However, there is a lack of empirically generalized evidence supporting a premise that promotion of this regional identity will add value to wines made in the region. Advocates of regionality will argue that it's easy enough to find examples where regional identities have been successful in the US. However, the method on which newly established AVAs can achieve commercial success is neither clear, established, nor readily replicated.
Regional Labeling in the U.S.
The logic behind the use of regional labeling is the expectation that establishing a region's AVA status helps wine consumers to appreciate that wine made from grapes grown within a specific area meet that region's geographic and production values. Further, by legislating in this manner, the expectation of producers is that wine from their region cannot be replicated or passed-off by other regions wanting to take advantage of a specific AVA's notoriety in the mind of the consumer. Wine producers within such regions are thus charged with the task of establishing not only the above-mentioned regional characteristics, but also that there is both requisite demand and sufficient preference for wines from this region.
The premise on which an agriculturally delimited wine-growing region is desired by wine producers is well enunciated in this editorial piece from staff writers at the Argus-Courier, where:
"AVAs help consumers better understand the wines they're buying. More importantly, they also help vintners market their wines more effectively. By using the "Petaluma Gap" designation on their bottle labels, local wine makers can now better differentiate themselves in the competitive $34 billion marketplace for California wines." - Argus Courier, Dec 21, 2017
If creating an AVA is the accepted starting point for any wine region to achieve commercial success, how then should producers in these regions communicate the AVA's introduction to a competitive environment where there are already 240 other alternatives?
The Case for Volume or Value of Grapes Grown
In our study comparing wine consumer awareness of AVAs in 2008 and 2016, Atkin et al. (2017) found that Napa and Sonoma were the two best-known AVAs in the country over both periods. These two regions produce a sizable volume of wine, and a high proportion of the country's most expensive wines come from these two AVAs. Therefore, Napa's notoriety supports a suggestion that the volume of grapes grown, and value of wines made in the region, contribute to an explanation for the AVA's recognition in the mind of wine consumers.
Although the logic behind such a premise is sound, the application of this logic in many cases is poor. The overwhelming evidence is that most AVAs are neither known, nor desired by many wine consumers, irrespective of the volume of grapes grown or the value of wines made in other regions. If production volume or wine value were predictors of regional awareness, then regional awareness would correlate well with either or both variables. Although Napa and Sonoma fit such line to a degree for wine value, the following 238 AVAs would be scattered in a random manner on such a graph.
Further, consumers just don't think of wine AVAs very much unless prompted by the wine sector. Even in such a case, studies across a number of countries have consistently shown that wine consumers struggle to recall more than 2 or 3 wine regions without prompting, and these regions are typically the most widely known regions . As identified in our recent, Atkin et al. (2017) study of regular wine consumers across the U.S., around 80 percent of respondents could recall two such names, but less than half of all respondents could recall more than three. Doug Frost, MS, MW divulging in early 2017, that even the Master Sommelier exam expects only that a candidate know around 30 regions. So, at a stretch, what can the remaining 210 AVAs in the U.S. do to attract attention from any wine consumer?
Insights from Atkin et al. (2017) also illustrated that around half of all respondents could recall Napa as a wine region, and around a quarter of respondents recalled Sonoma without prompting. However, there was daylight between those two regions and any other region being recalled by respondents from either study. For newly emerging AVAs the challenge is thus to identify what those two regions have done to succeed in capturing a greater proportion of consumer attention compared to all other AVAs.
The Argument for Conjunctive Labeling
Many will attest that Napa and Sonoma could simply be so well-known because of the quality of the wines made in these regions. Without dismissing such a claim, there is another practice that these two regions adopted that explains their success more applicably for newly recognized wine regions. Both Napa and Sonoma adopted a practice of mandatory conjunctive labeling for wines made from fruit grown in either of those regions. An example being that whether grapes were grown in the sub-regional AVAs of Alexander Valley or Dry Creek Valley, a wine made from grapes grown within either of those sub-regions must also indicate the provenance of Sonoma County on the label.
Alarmed marketers could suggest that the practice of conjunctive labeling confuses the regionality message with consumers. However, evidence suggests that starting by simply creating a link between a new AVA and its larger region is more important than perfect comprehension of the relationship between two contiguous regions. Atkin et al (2017) further indicated that prompted awareness for a number of sub-regions within Sonoma County was significantly greater in 2016 when compared to findings from respondents of the 2008 study. Thus, while Sonoma County adopted mandatory conjunctive labeling in the period between these two studies, this finding provides evidence supporting the value of conjunctive labeling in raising awareness for new AVAs within Sonoma County.
Conclusions for New AVAs
The reason that conjunctive labeling works for increasing AVA awareness is not clear, but could be due to a number of factors. Marketers could deduce that the larger region on a conjunctively labeled wine could attract a larger audience, thus exposing the smaller sub-region to a larger number of consumers. Alternatively, neuroscience would suggest that making additional connections to the larger region increases the likelihood of the smaller region being recalled to mind when stimulated by either regional identity. Sales managers would suggest that the comparative familiarity of regions with greater awareness would reduce the level of consumer resistance to a linked sub-region. Whatever the reason, the evidence suggests that conjunctive labeling of a smaller sub-region within a better known region would be a suggested approach for newly created AVAs.
The newly recognized Petaluma Gap AVA is an interesting case for those regions seeking out AVA status. Wines produced from Petaluma Gap fruit are entitled to label conjunctively with Sonoma and Marin County, but are not obliged to do so. As such, producers making wines uniquely from grapes grown within the AVA will be able to choose whether to label their wine as coming uniquely from the Petaluma Gap, or in conjunction with the County from within which the grapes were exclusively grown. The decision of whether to label conjunctively or not will be up to each producer.
Given the choice, evidence suggests that conjunctive labelling should be adopted by all wine producers able to put the new AVA on the label. As publicized in our December 5 article in Wine Business Monthly by Liz Thach, MW and others, conjunctive labeling of a region's specific AVA along with the larger region from within which the AVA resides is a more effective means for creating awareness than just labeling using the sub-region alone.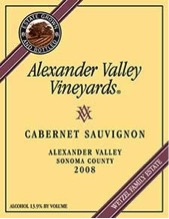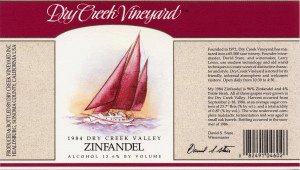 Images showing Alexander Valley as a conjunctive label (l) and Dry Creek Valley as a non-conjunctive label (r), prior to mandating the practice in Sonoma County.
The implications are profound for any new AVA considering the best approach to defining labeling advice for producers in their region. In the current situation with the pending slew of AVA proposals under consideration, any newly awarded AVA not subject to mandatory conjunctive labeling should consider the best course of labeling action very carefully. Logically, Sonoma's recognition as a more salient wine growing region will help the Petaluma Gap establish its footing in the wine consumer's mind. The alternative is to label wines grown from Petaluma Gap fruit with just that AVA on the label. However, with the evidence that close to 238 other AVAs are barely mentioned by wine consumers in the U.S., conjunctive labeling would be the recommended means to combat AVA obscurity. With the ultimate decision of what to do being up to subsequent consumer acceptance, we'll be betting that wine producers in at least 18 other potential AVAs will be watching what happens in the Petaluma Gap very closely in the following weeks.

*Disclosure: Dr. Wilson is a member of the Board of Directors for the Petaluma Gap Winegrowers Alliance. He received neither compensation, nor contributions from the board in the compilation of this article.
by Damien Wilson, Liz Thach, MW, Tom Atkin and Janeen Olsen, Sonoma State University
This research study and article was developed by a team of Sonoma State University faculty working in the SSU Wine Business Institute: *Dr. Damien Wilson (Damien.wilson@sonoma.edu), Dr. Liz Thach, MW (Liz@lizthach.com), Dr. Tom Atkin (tom.atkin@sonoma.edu) and Dr. Janeen Olsen (janeenolsen@gmail.com). This article contains excerpts from the complete academic article published in Wine Economics & Policy Journal at this LINK.