Does Wine Region Conjunctive Labeling Really Work? The Case of Sonoma County
Conjunctive wine labeling, or the practice of labeling a wine to show both region and sub-regions of origin, is gaining more attention and traction in the U.S. wine industry. This growth in interest is driven by a variety of factors, including an increased desire from consumers to know a product's place of origin, as well as the growing number of AVAs (American Viticulture Areas), which can create some confusion in the mind of consumers if not linked to a recognized region or state. The big question is: does conjunctive labeling really work?
In order to answer this question, a research study was initiated at Sonoma State University's Wine Business Institute. This time frame coincided with Sonoma County launching a conjunctive wine labeling law in 2011 that became mandatory on January 1, 2014, and required all wineries to include the term "Sonoma County," on the label in addition to any Sonoma sub-AVA. The law is enforced by the California Department of Alcoholic Beverage Control. Researchers were able to conduct a consumer awareness survey in 2016 regarding Sonoma County regional and sub-AVAs, and compare it to a similar consumer survey conducted in 2008. The results show a clear and striking answer about the value of conjunctive wine labeling.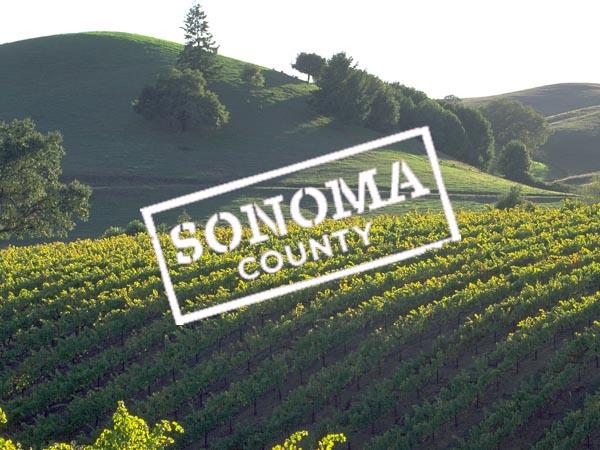 Background of Conjunctive Wine Labeling

Europe appears to be the birthplace of conjunctive wine labeling, where it is one of the major methods in which wine regions, or smaller groups of wineries within a larger region, can gain international brand recognition. One of the oldest is Chateauneuf-du-Pape, which requires wineries to use a special crest on bottles of wine produced in the region. Rioja also implemented a very successful conjunctive labeling campaign that reaches as far back as 1926, and requires that approved wineries include a small seal on the back label. Today that seal doubles as a security system, guaranteeing the authenticity of the wine within the bottle. The famous black rooster symbol on bottles of wine from the Chianti Classico region, and the prestigious eagle motif on bottles of wine classified as VDP in Germany are other examples of similar systems. In the U.S., Napa Valley was the first region to require conjunctive labeling in 1990, mandating that all Napa Valley wineries include the term "Napa Valley" on the front label in a regulated font size. Some experts suggest that Napa Valley's conjunctive labeling law, along with its high quality wine and strong cooperation amongst vintners, are the main reasons they are such a famous and world-recognized wine region.
Research Methodology for Sonoma County
In order to measure the effectiveness of Sonoma County's conjunctive labeling process, the results of two online consumer surveys were analyzed. The first survey was completed by 409 U.S. adult wine drinkers in 2008, and the second survey was completed by 403 U.S. adult wine drinkers in 2016. Both included the same questions regarding awareness of specific AVAs and regions.
Though it was not possible to survey the exact same consumers from 2008 to 2016, the demographics for the two online samples were similar. Interestingly, they came from 46 different U.S. states in both surveys, and were 47 percent male and 53 percent female in 2008, and 45 percent male and 55 percent female in 2016. Age was slightly younger in the 2016 survey with 17 percent versus 14.4 percent in their 20s, and 26.3 percent versus 18.8 percent in their 30s – reflecting the growth of the Millennial generation and their interest in wine. For detailed information on the methodology, sample, and data analysis, the complete academic article can be accessed here.
Key Results – Much Greater Awareness of Sonoma County and Sub-AVAs
The comparison between the two consumer samples illustrate that there is a significantly higher level of awareness for Sonoma County as a region in the 2016 survey compared to the 2008 survey. This finding indicates that the conjunctive labeling law has had a positive impact on consumer's awareness of Sonoma County as a wine region. Even more surprising is that the four Sonoma County sub-regions listed in the survey showed an even greater increase in awareness in the 2016 study.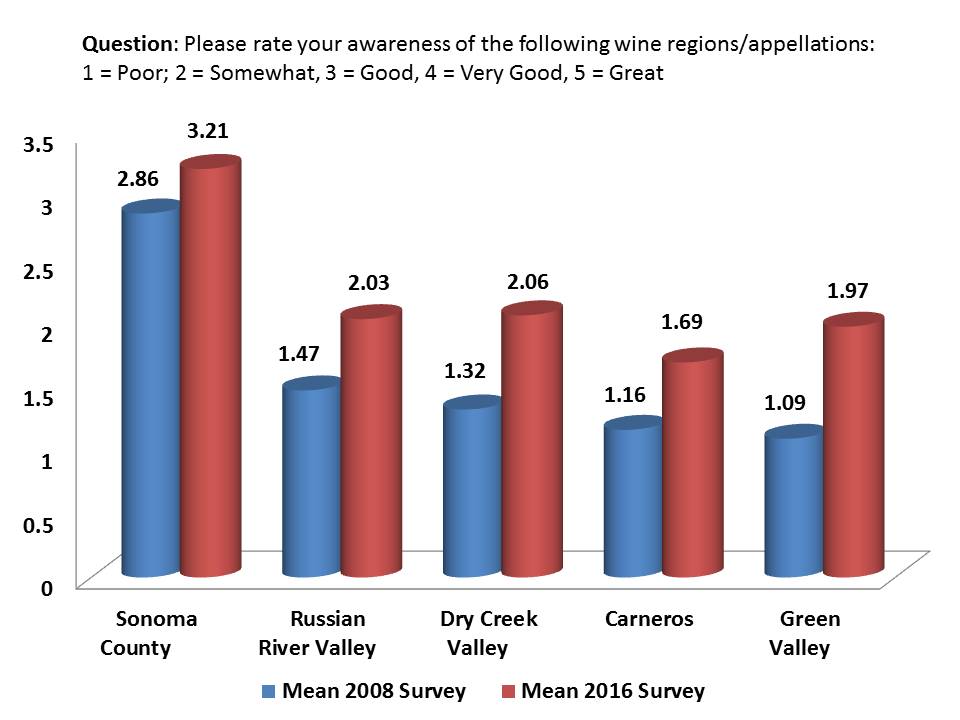 Key Results – Highly Involved Wine Consumers Are More Knowledgeable about Sub-AVAs
In analyzing consumer demographic differences, perhaps not surprisingly, highly involved (high-frequency) wine drinkers were much more knowledgeable about the Sonoma County region and sub-AVAs than less-involved (occasional) wine drinkers in both the 2008 and 2016 studies. When comparing the difference in regional awareness by gender, male wine drinkers scored higher on region and sub-AVA awareness in both the 2008 and 2016 samples compared to female respondents. More interestingly, female wine drinkers showed a significantly greater increase in awareness from 2008 to 2016. These results suggest that the Sonoma County conjunctive labeling process might be working even more effectively for the female wine consumer segment.
Implications for Other Wine Regions
The results of this study indicate that conjunctive wine labeling can have a positive impact in increasing consumer awareness of a wine region. This suggests that other wine regions may want to consider the benefits of a collaborative regional marketing program. Though this can often be a challenging process in the wine industry, because producers may have differing viewpoints on the value of individual versus regional branding, the payoff from working together to promote a regional wine brand appears to be worth it.
In conclusion, this study set out to analyze whether regional branding and conjunctive wine labeling would help to improve wine regional awareness in the mind of consumers. The results show that there was a greater level of awareness at the regional level, and even more so for the smaller appellations of the county. Therefore, conjunctive labeling offers potential value as a marketing tool for use in other small regions, where positive connections can be made in the consumer's mind to a larger region from which it is associated.
Selected References
Atkin, T., Wilson, D., Thach, L. and Olsen, J., 2017. Analyzing the Impact of Conjunctive Labeling as Part of a Regional Wine Branding Strategy. Wine Economics and Policy. Available at: http://www.sciencedirect.com/science/article/pii/S221297741730039X?_rdoc=1&_fmt=high&_origin=gateway&_docanchor=&md5=b8429449ccfc9c30159a5f9aeaa92ffb&ccp=y#bib55

Bell, E., 2016. How a Rooster Wound Up on Every Bottle of Chianti. Vinepair.com. Available at: https://vinepair.com/wine-blog/how-a-starving-rooster-made-chianti-classico-famous

Johnson, R. & Bruwer, J. (2007). Regional brand image and perceived wine quality: the consumer perspective. Int. J. Wine Bus. Res., 19 (4) (2007), pp. 276-297

Rioja Wine, 2014. Guarantee Labels. Riojawine.com. Available at: http://us.riojawine.com/en/75-guarantee-labels.html

Ruth-McSwain, A. (2012). Eating green: coverage of the locavore movement. J. Ext., 50 (5) (2012)

Sonoma County Vintners, 2016. Conjunctive Labeling. Retrieved on 24 July from http://sonomawine.com/learn/conjunctive-labeling/.

Taplin, I.M. (2011). Network structure and knowledge transfer in cluster evolution: the transformation of the Napa Valley wine region. Int. J. Organ. Anal., 19 (2) (2011), pp. 127-145

Tustin, M. & Lockshin, L. (2001). Region of origin: does it really count? Aust. N. Z. Wine Ind. J., 16 (5) (2001), pp. 139-143. (September-October)

VDP, 2016. The VDP Classification. VDP.de. Available at: http://www.vdp.de/en/vdp/klassifikation/the-refined-vdpclassification/
by Liz Thach,MW, Tom Atkin, Damien Wilson & Janeen Olsen, Sonoma State University
About the Authors: This research study and article was developed by a team of Sonoma State University faculty working in the SSU Wine Business Institute: Dr. Liz Thach, MW (Liz@lizthach.com), Dr. Tom Atkin (tom.atkin@sonoma.edu), Dr. Damien Wilson (Damien.wilson@sonoma.edu) and Dr. Janeen Olsen (janeenolsen@gmail.com). This article contains excerpts from the complete academic article published in Wine Economics & Policy Journal at this LINK.