What are the Attributes of Winning Wine Clubs in Napa and Sonoma?
It is almost impossible to visit a tasting room in Napa or Sonoma and not receive an invitation or pitch to join the wine club; This is a wise move on a winery's part because wine clubs are one of the most profitable direct-to-consumer (DTC) channels. Furthermore, the average consumer stays in a wine club for 30 months, according to the WBM/SVB 2017 Tasting Room Survey. It is also more profitable to hold onto existing wine club members, rather than seek new ones. With this in mind, a research project at Sonoma State University was implemented to determine the attributes of top wine clubs in Napa and Sonoma.
Wine Club Definition
A winery wine club is an agreement between a winery and consumer that the consumer will purchase a set amount of wine on a regular basis. The consumer selects the number of bottles, type of wine and shipping schedule, and allows the winery to charge their credit card. In addition to receiving shipments of wine on a regular basis, the consumer usually receives other member benefits, such as discounts on additional wine purchases, invitations to special events, and free tastings at the winery tasting room.
Research Methodology
The research was conducted in the Fall of 2017 at Sonoma State University's Wine Business Institute, with the purpose to gather website information on how local winery wine clubs were organized and functioning. The databases from the Napa Valley Vintners, which lists 538 wineries, and SonomaCounty.com, which lists 426 wineries, were utilized to create a random sample by using a decision rule of selecting every third winery from the alphabetical listing. This resulted in a total sample of 301 wineries, with 159 from Napa Valley and 142 from Sonoma County. Winery websites were analyzed for specific wine club components by 25 students majoring in wine business, organized into five teams. In addition they were asked to rate the wine club on whether or not they would like to join and each team was asked to select their favorite wine club.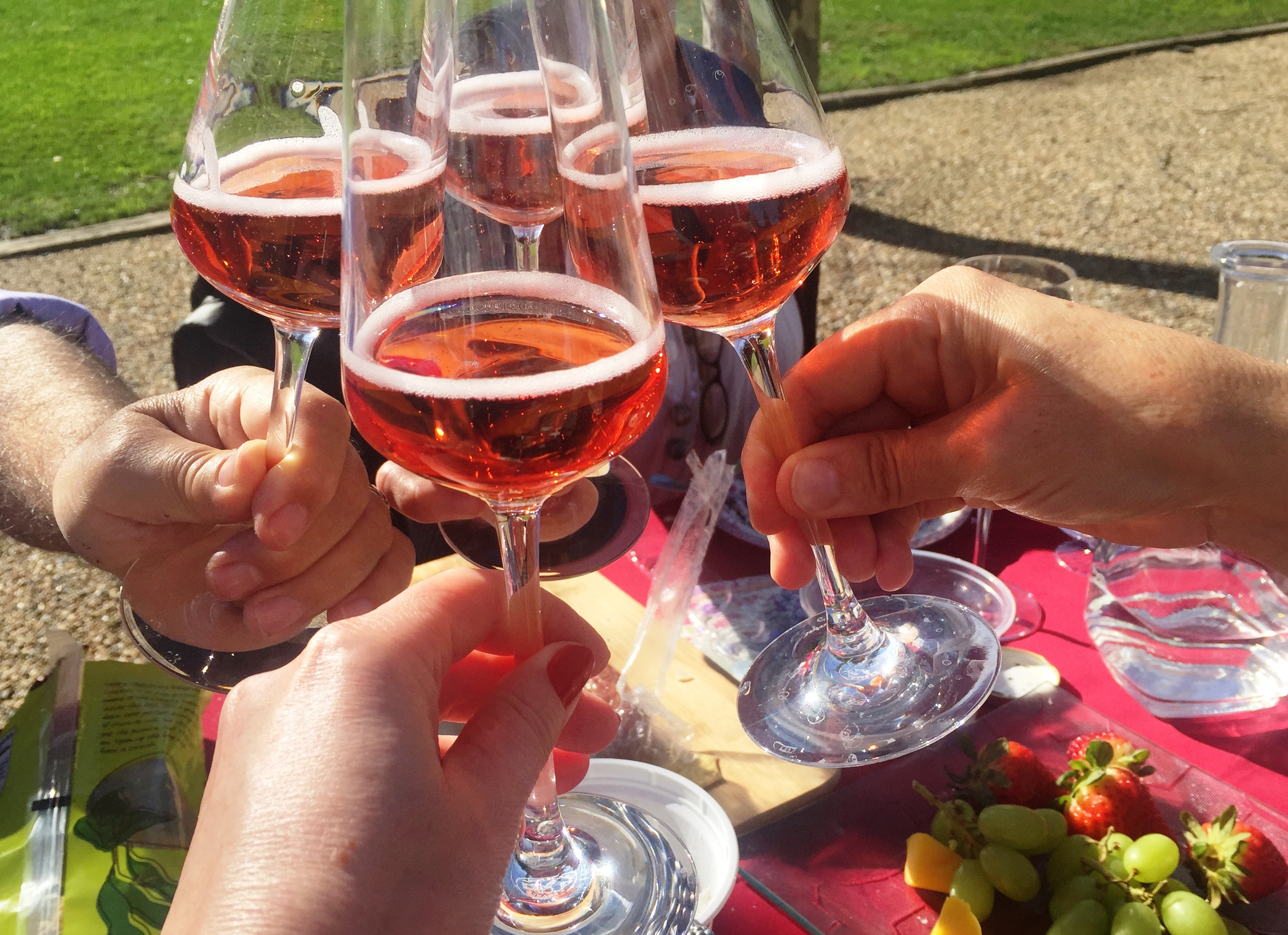 Photo by Liz Thach
Key Findings on Wine Club Attributes

Wine Club Tab - 91% of wineries included a tab for the Wine Club on the front page of their website so that it was easy for consumers to find.

Wine Club Levels – The range of different club levels on offer ranged from one to six, with the most common club offering three different levels at 31% of the sample, followed by two club levels by 26% of the sample. Just over 22% offered only one wine club level.

Wine Club Level Differentiation Methods - The most common way to differentiate club levels was by price point at 18% of the sample, by offering entry-level club, premium, and luxury priced wine club levels. This was followed by different themes (such as the Adventurer's Club) by 13% of the sample. However 11% organized by different types of wine, e.g. red, white, sparkling, and 10% allowed customers to sign up for specific varietals, e.g. Chardonnay, Pinot Noir.

Customization Allowed – Forty-nine percent allowed customers to customize their order, so that they could pick and choose the wines they wanted shipped for a specific period.

Shipments per Year – The number of shipments ranged from one to five per year, with the most common as four times per year at 32% of the sample, followed by two shipments by 31%. Different shipment schedules based on type of club level joined were used by 18% of the wineries, meaning that certain levels shipped three to six times per year, whereas other club levels shipped less frequently.

Lowest Dollar Price of Wine Club Levels – Less than $50 = 17% of the sample; $51 to $75 = 10%; $76 to $100 = 16%; $101 to $150 = 23%; $151 to $200 = 12%; $201 to $300 = 10%; More than $300 = 12%.

Highest Dollar Price of Wine Club Levels - $51 - $100 = 15% of the sample; $101 - $200 = 12%; $201 - $300 = 11%; $301 to $400 = 11%; $401 to $500 = 15%; $501 to $600 = 8%; $601 - $1000 = 13%; Over $1000 = 15%.

Shipping Costs – Fifty-eight percent of the sample charged standard shipping rates, followed by 27% that advertised shipping included, and 15% offered discounted shipping.
Key Findings on Wine Club Benefits
The most common advertised benefits were discounts on wine purchases at 89% of the sample, followed by complimentary tastings at 78%, and then invitations to special events at 75%. Other benefits included discounts on merchandise and to special events, a newsletter and a dedicated concierge. Some wine clubs advertised unique benefits, such as the ability to schedule private tastings at your home.
Number of People for Complimentary Tastings – If this was listed as a benefit, the most common number of people who could participate in a complimentary tasting was four at 42% of the sample, followed by two people at 30%.

Number of Events – Forty-six percent of the wineries did not list wine club events on their websites. However 24% advertised at least one to two events, and 18% advertised three to four events. Only 7% of wineries listed seven or more events on their website.
Join the Wine Club?
The final research question on the survey was opinion based, and asked respondents to rate their level of agreement to the statement: "Overall this winery's wine club is so appealing that it makes me want to join." Altogether participants selected "agree or strongly agree" for 40% of the wine clubs that were analyzed.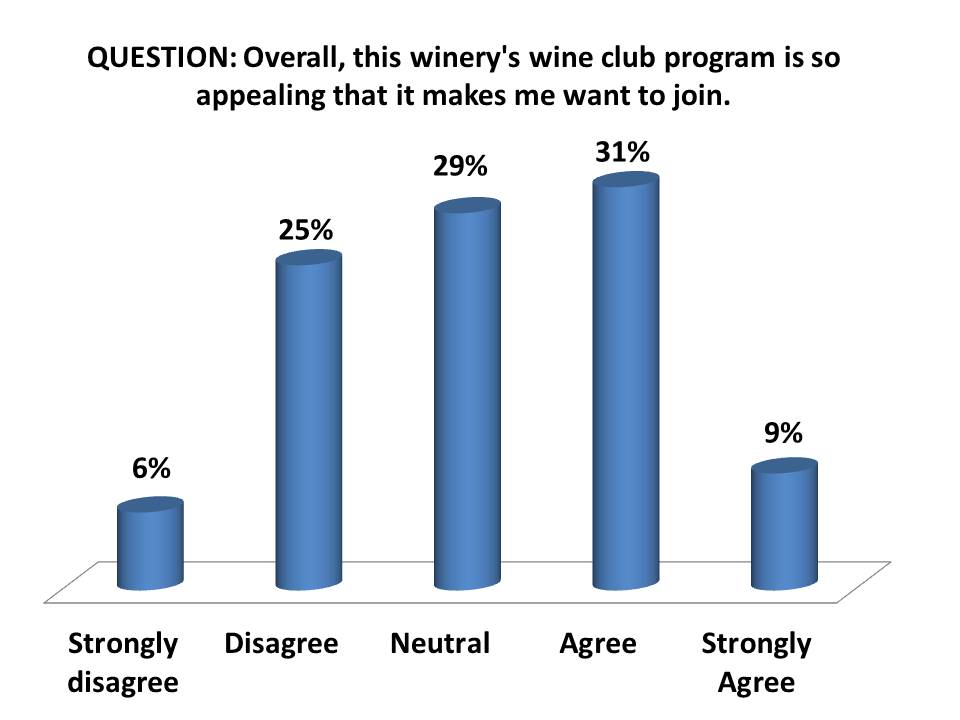 Recommendations to Enhance Wine Clubs
Based on the data analysis, a list of recommendations to enhance wine clubs was compiled:
Have at Least 3 Club Levels – Include multiple levels to make wine club more interesting, even if it is just based on the number of bottles shipped, e.g. four-bottle club, six-bottle club or case club.

Include Entry-Level Price Point – In general, Napa and Sonoma wine clubs are rather expensive for Millennials in their 20's. In order to attract this customer segment, create at least one club level that is affordable and attractive for the entry-level consumer.

Customize Wine Shipments – If possible, allow consumers to customize wine shipments, so they can elect to have certain varietals or wine styles, e.g. all white, sparkling, red, mixed, sweet, etc., or organize club levels this way.


Offer More Unique Events – Holiday, harvest, and pick-up parties are fine, but offer more unique events that cater to all age ranges, e.g. hiking, yoga, football games, kayaking, game night, dances, etc.

Include More Perks/Discounts – Develop unique perks that other wineries are not offering in order to make wine club more distinct and appealing, e.g. option to hold a private tasting at your home, or discounts on other experiences such as limo rides, horse-back riding, golf, spa, etc.

Improve Wine Club Description on Website – A "Wine Club" tab should be listed on front page. Include a detailed description of each club level, highlighting benefits and include photos.

Update Wine Club Events on Website – Many websites don't describe wine club events, or keep advertisements for events that have already passed. Include an event tab that lists all of events for the calendar year, including photos of people having fun at events. Feature upcoming events on the top of the page with easy registration link, and show past events below. Invite customers to submit photos or videos about the event via social media, and post those that are appealing with permission.
Top 5 Favorite Wine Clubs in Napa/Sonoma
Finally, each team selected a favorite wine club based on the website analysis. These were voted upon by the class, with the resulting ranking:
J Vineyards – Best organized website for wine club information. Five different club options with first access to library and limited edition wines, guided tours of whole winery for wine club guests, the Bubble Room for food/wine pairing, the Teardrop Garden, and many fun events, .e.g Holiday Cooking class.
Markham Vineyards – great discounts, up to 30% on wine. Discounts for hotels, and offers yoga and brunch at the winery.
Chateau St. Jean – 20% discounts, $15 flat rate shipping, lots of fun affordable events, food and wine pairings.
Virginia Dare Winery - Story with each wine, along with food recommendations; 20% discounts, member events at Werowocomoco Restaurant specializing in Native American cuisine. Lodging discounts, including the Coppola luxury hideaways in Central America.
Quivera Vineyards – beautiful winery location with focus on biodiversity, organic gardens and animals; affordable first wine club level; access to limited wines; member only events; and estate-raised charcuterie tasting.
Research Caveat: As this was a random sample of wineries in Napa and Sonoma, not all winery websites were analyzed. Furthermore, though the students were trained how to analyze the wine club websites, it is possible that there could have been some data entry-errors. A concluding comment from one student researcher was: "I didn't know much about wine clubs before this class, and now I know how important they are to wineries and why they are so appealing."

by Liz Thach, MW and Bus305W Wine Business Majors, Sonoma State University
About the Author/Research Team: Dr. Liz Thach, MW is the Distinguished Professor of Wine & Management at Sonoma State University in the Wine Business Institute. The research team was composed of 25 students ranging in age from 20 to 26, with an average age of 22. All are pursuing B.S. degrees in Wine Business at SSU. They include: Andrade, D., Andrews,K., Angel-Caro, A., Bandalan,C., Boccio,D.,Coats,E., Eisworth,R., Flood,H., Herrera,V., Hosburgh,C., Jauffret,A., Kelly,K., Knego,N., Machek,B., Oedewaldt,J., Pena Valdez,F., Rico,N., Rodgers, Z., Rodriguez,A., Stranske,K., Temple,B., Vivier,M., Waggonner,S., and Westwood,E.