Oregon Wineries Further Define AVAs for the Discerning Consumer
Oregon wine is hot! According to Nielsen scan data, sales of Oregon wine achieved 14 percent volume growth in 2016 compared to a 2.8 percent increase for all wine. Much of the growth is driven by Pinot Noir, Oregon's signature grape, with more than 62 percent of that variety planted. With such positive reception, Oregon wineries are now focusing more on the distinct differences in taste and profile of their 18 AVAs.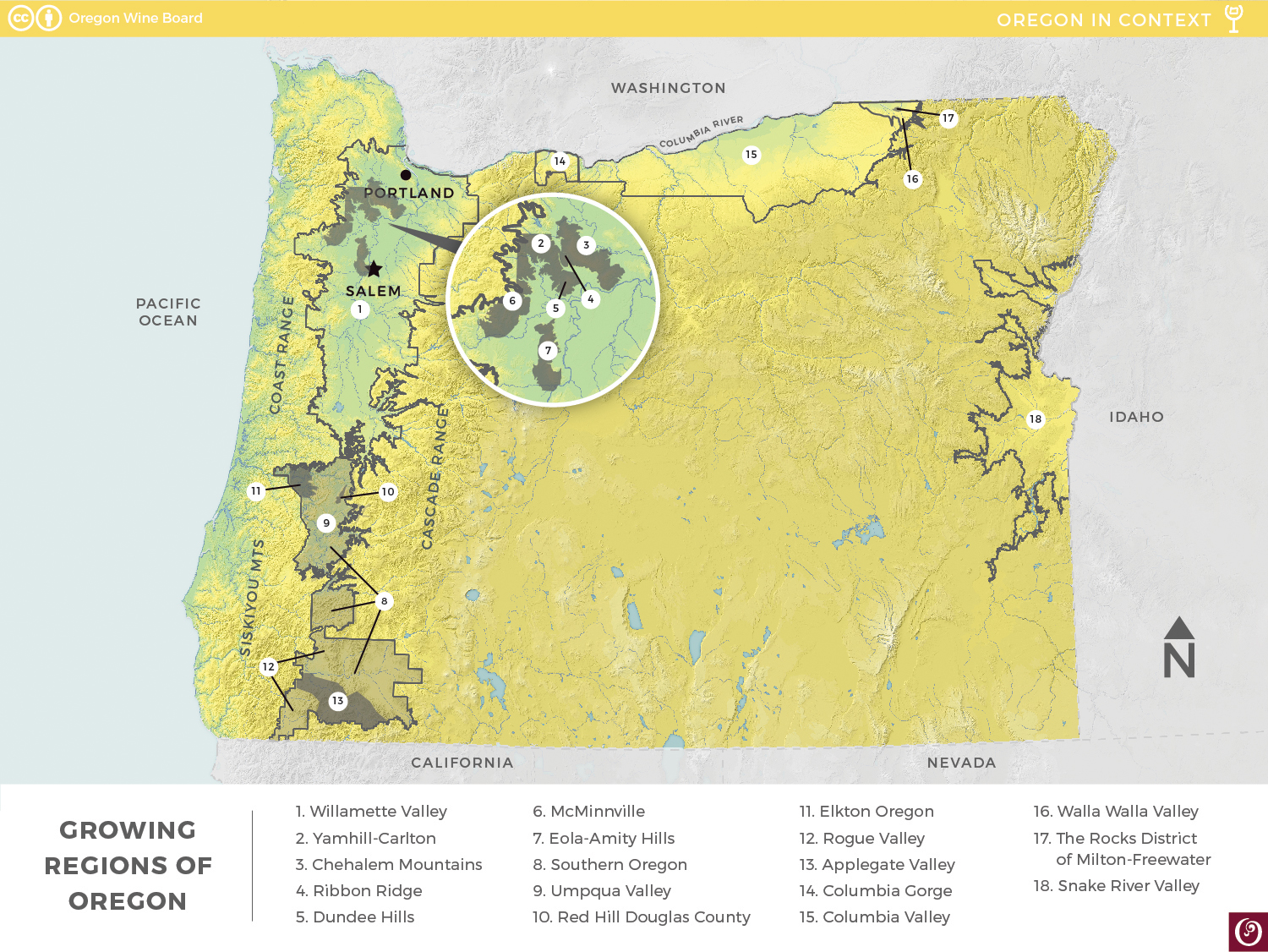 Though research shows that the majority of wine consumers do not recognize smaller AVAs within a region, the connoisseurs, sommeliers, wine enthusiasts and image seekers do. It is these types of consumers that also know the famous villages and vineyards of Burgundy. Though only around 28 percent of the American wine consuming population, they are responsible for 41 percent of the profits, according to the most recent Genome study conducted by Constellation Brands in 2014. These types of consumers may also be interested in learning about the distinctive climate, geology and taste markers that can be found within the Oregon AVAs.
Often compared to Burgundy, and also attracting much investment from that region, Oregon boasts a similar climate and latitude. Likewise, Oregon has many small producers, with 70 percent of its 725 wineries producing less than 5,000 cases per year.
Taste Differences Between Willamette Valley Pinot Noir AVAs

At a recent blind AVA tasting of Willamette Valley Pinot Noirs, some of the following distinctions were identified. The six nested AVAS are organized from the north to the south.
Yamhill-Carlton AVA – Warmer region because it's sheltered from the winds; sedimentary soils, and known for a blue fruit profile. Markers include bramble berry, blue berries, and some blackberry, Christmas spice, savage notes and some salinity. Well-known wineries include: Big Table Farm, Elk Cove, Craft Wine Co, Ken Wright Cellars and Soter.

Chehalem Mountains AVA – Mixed geology and soils. Markers include more concentrated tannins, mixed red berry compote and earthy notes. Well-known wineries include: Adelsheim, Ponzi, Bergstrom, Rex Hill and Le Cadeau.

Ribbon Ridge AVA – Named for the spine that runs like a ribbon along the top of the ridge; it is composed of sedimentary soils with some spheres of basalt. Markers include more red fruit and silky tannins. Well-known wineries include Beaux Freres, Brick House and Ayres.

Dundee Hills AVA – Titled after a location in Scotland. Slightly warmer, protected from winds, mainly volcanic red soil – clay/loam, very slippery when wet. Markers include red cherry, red raspberry, velvety tannins and more concentration. Well-known wineries include Archery Summit, Sokol Blosser, Domaine Drouhin, Domaine Serene, Purple Hands and Winderlea.

McMinnville AVA –Located west of the town of McMinnville and closest to the ocean, the soil is primarily volcanic. Markers include bright acidity, black fruits, ash, and darker color with concentrated larger tannins. Well-known wineries based here include Hyland Estates, Brittan, Maysara and Coleman.

Eola Amity Hills AVA – Positioned on the lowest point in the coastal range, it receives more wind and is a cooler region with marine and volcanic soils. Markers include higher acidity, cherry cola, tea leaf and saline notes with delicate tannins and elegance. Well-known wineries and vineyards include Bethel Heights, Brooks, Antica Terra, Evening Land and Cristom.
Southern Oregon AVAs
With a warmer climate than the Willamette Valley, many Southern Oregon wineries can ripen varieties such as Tempranillo, Malbec and Rhone whites like Viognier, Roussane and Marsanne, but their largest crop is still Pinot Noir at 40 percent of the production. Given the warmer climate, they generally produce Pinot Noirs with riper flavors and larger tannins. The five AVAs nested within Southern Oregon and the dates they were established include: 1) Umpqua Valley AVA (1984), coolest region; 2) Rogue Valley AVA (1991), warmer region, sheltered from the cool Pacific by mountains; 3) Applegate AVA (2001), warm region on the Applegate River with alluvial and granitic soils; 4) Red Hill Douglas County AVA (2005) single estate, very warm AVA; and 5) Elkton Oregon AVA (2013), a smaller AVA within Umpqua Valley that is high in elevation and closest to the Pacific Ocean, producing aromatic Rieslings and Gewürztraminers, as well as delicate Pinot Noirs.
Columbia Gorge, Valley and Snake River AVAs
The other five AVAs of Oregon are shared with neighboring states. The Columbia Gorge, Columbia Valley, Rocks District and Walla Walla AVA also cross over into parts of Washington state. The warmer regions, such as Walla Walla and the Rocks District, are known for producing big, complex red wines made from Syrah and Cabernet Sauvignon. Cooler Columbia Gorge with vineyards stretching along the Columbia River is reminiscent of Germany, with a partial focus on Riesling, but they also produce elegant Pinot Noirs. The Snake River AVA shares its border with Idaho, and with its wide swings in diurnal temperature can easily produce delicate Rieslings and massive Syrahs.
Critical Praise for Oregon Wines
Recently Oregon wines have received much positive acclaim from wine critics. Though Oregon only produces 1 percent of U.S. wine, in 2016 it received 20 percent of Wine Spectator's domestic 90+ ratings. Robert Parker, Jr. commented that "Oregon wine is finally fulfilling its vast potential."
At the conclusion of a 2017 Oregon Wine Tour by more than 30 MWs, one British wine buyer stated: "A common theme (of the Oregon wines) has been the elegance and balance between ripe, vibrant fruit, refreshing acidity and subtle, integrated oak…..they are 'light on their feet.'"
References:
Atkin, T., & Johnson, R. (2010). Appellation as an indicator of quality. International Journal of Wine Business Research, 22(1), 42-61.
Constellation Brands. (2014). Press Release: Constellation Brands Reveals Third Phase of Cutting-Edge Consumer Insights Study. Available at: http://www.cbrands.com/news-media/constellation-brands-reveals-third-phase-cutting-edge-consumer-insights-study
Freedman, B. (2017) French Investors Are Betting On The Continued Success Of Oregon's Top Wines. Forbes.com, April 27, 2017. Available at: https://www.forbes.com/sites/brianfreedman/2017/04/27/french-investors-are-betting-on-the-continued-success-of-oregons-top-wines/#50a196311ee5
Gaffney, W. (2016). The French Continue to Blaze New Wine Trails in Oregon. PinotFile.com, Vol. 10, Issue 39, October 2016. Available at: http://www.princeofpinot.com/article/1863/
IMW. (2017). MW Washington and Oregon Trip Report. White Paper prepared by the Institute of Masters of Wine, April 29 – May 7, 2017.
Nielsen (2017). State of the Industry – What's Selling. Presentation by Danny Brager at Unified Wine Symposium. Sacramento, CA: Jan. 25, 2017.
Oregon Wine Board, (2017). Industry Statistics. Available at: http://trade.oregonwine.org/intro/oregon-wine-industry-statistics/
Penn, C. (2014). Constellation Segmentation Study Outlines Motivations, Behaviors of Today's Wine Consumers. Winebusiness.com. June 23, 2014. Available at: https://www.winebusiness.com/news/?go=getArticle&dataid=134683
SOU. (2017). 2016 Oregon Vineyard and Winery Census Report. Southern Oregon University Source Research Center. Available at: https://inside.sou.edu/assets/sou-announcements/2016_Oregon_Vineyard_and_Winery_Production_Final_Report_08.28.17.pdf
by Dr. Liz Thach, MW
Dr. Liz Thach, MW is the Distinguished Professor of Wine and Management at Sonoma State University in the Wine Business Institute. She can be contacted at Liz@lizthach.com.