Cuvaison Announces Partnership with Fine Design Group to Shape the Future Direction of the Historic Winery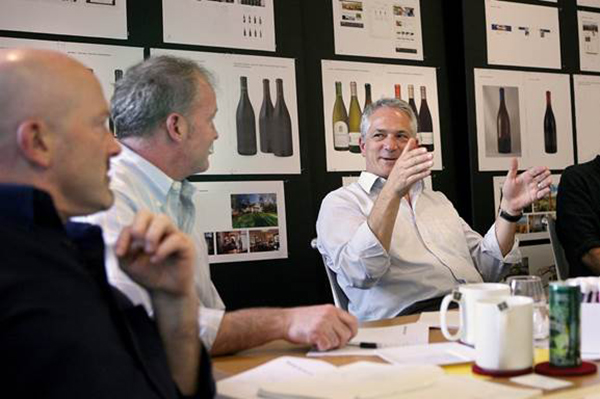 Napa Valley, Calif. – November 15, 2017 – Napa Valley's Cuvaison winery is excited to announce a new partnership with FINE Design Group. Building on Cuvaison's five-decade history as a leader in Napa Valley Chardonnay and Pinot Noir, this partnership will explore new ways to engage and cultivate emotional connections with Cuvaison's customers, partners and distributors. FINE, a top brand and digital agency based in Portland and San Francisco, will leverage its extensive expertise in both the wine and hospitality industries to create an identity that reflects Cuvaison's rich history, while also positioning the iconic Napa Valley winery for continued future success.
"This is an incredible opportunity to contribute to the future legacy of a historic Napa Valley winery," says Creative Director Kenn Fine. "Cuvaison helped to shape the Napa Valley, while also championing the famed Los Carneros region. As one of the region's great independent, family-owned estate wineries, we are excited to partner with Cuvaison as they approach their 50th anniversary. We see this very much as a culmination of our 20+-years of experience working with luxury hospitality and wine clients."
"From hotels and restaurants like Kimpton and Auberge du Soleil to wineries that include Continuum Estate, Paul Hobbs and Jordan, FINE has an impressive track record of working collaboratively to understand the essence of its clients," says Cuvaison President and CEO Dan Zepponi. "The FINE team understands that the modern consumer connects with wineries across numerous channels. By creating experiences that are honest and memorable, they enrich the way people interact with great brands. As a winery looking towards our next 50 years, this partnership will help to lay a foundation for decades to come."
"We believe taste is shaped by expectations," adds Partner Stephen Fine. "We look forward to helping Cuvaison create a whole new set of great expectations."
ABOUT CUVAISON
Founded in 1969, Cuvaison is one of the pioneering wineries that helped to shape the modern era of California winemaking. Family owned for five decades, Cuvaison is dedicated to making estate-grown Chardonnays and Pinot Noirs from its 200-acre, sustainably certified Heart of Carneros Vineyard in the cool Los Carneros appellation of Napa Valley. Made using this exceptional fruit, Cuvaison's wines have earned acclaim as quintessential expressions of Napa Valley Chardonnay and Pinot Noir, recognized for their seamless balance and vineyard-inspired character and complexity. To learn more, visit www.cuvaison.com.
ABOUT FINE
FINE is a brand agency for the digital age. We plan, create, and evolve the core brand expressions that define and differentiate companies today. From positioning and strategy, through identity and sophisticated digital destinations, we develop experiences with the brand gravity to pull customers in and make them feel like sticking around. Founded in San Francisco in 1994 and expanded to Portland in 2007, the extensive brand list of FINE clients includes Symantec, Cloudera, Apple, XOJET, Anchor Brewing, Kimpton Hotels, Ste Michelle Wine Estates, Pernod Ricard and many more. For more information on FINE, visit www.wearefine.com.