Wineries Reassure Customers During Time of Crisis
As wine tourists flee the smoke and ash of the wildfires in Napa, Sonoma, Solano, Lake, and Mendocino wine country, many winery tasting rooms have been forced to shut down temporarily. This is not only due to lack of customers, but also because many employees have not been able to return to work because their houses have been destroyed or they are helping impacted family members. Other employees have been pulled from the tasting room to assist in the cellar, where staff numbers are down and much help is needed to finish the last phases of crush before the 2017 vintage can be safely racked to barrel or other aging vessel to sleep for the winter.
Yet many wineries are taking the time to reach out to their loyal customers by emailing wine club and mailing list members to reassure them that all is well during this time of crisis in the North Bay of California. Nancy Bailey, general manager of Gary Farrell, sent out a message saying "Thanks very much to all those who have reached out and thank you for continuing to keep us in your thoughts. The outpouring of support… has been amazing."

Davero Winery reassured mailing customers with "We're OK….we're sending this email to make sure that all of you know that the farms, the winery, and--most importantly--all of our people, their families, and their homes, are amazingly unscathed, for which we are truly grateful…. For the region, though, there is a lot you can do. Agriculture is the backbone of the Sonoma economy, and (despite the devastation) the fields and groves and vineyards are virtually untouched. So please: come visit, and bring friends!"

The Napa Valley Vintners has placed a prominent message on their website expressing their support to all who have been impacted by the wildfires and providing a list of resources. Both the Napa Valley and Sonoma County Tourism agencies have sent out emails and provide helpful information on their website for tourists, such as hotels and businesses that are offering special discount rates for evacuees.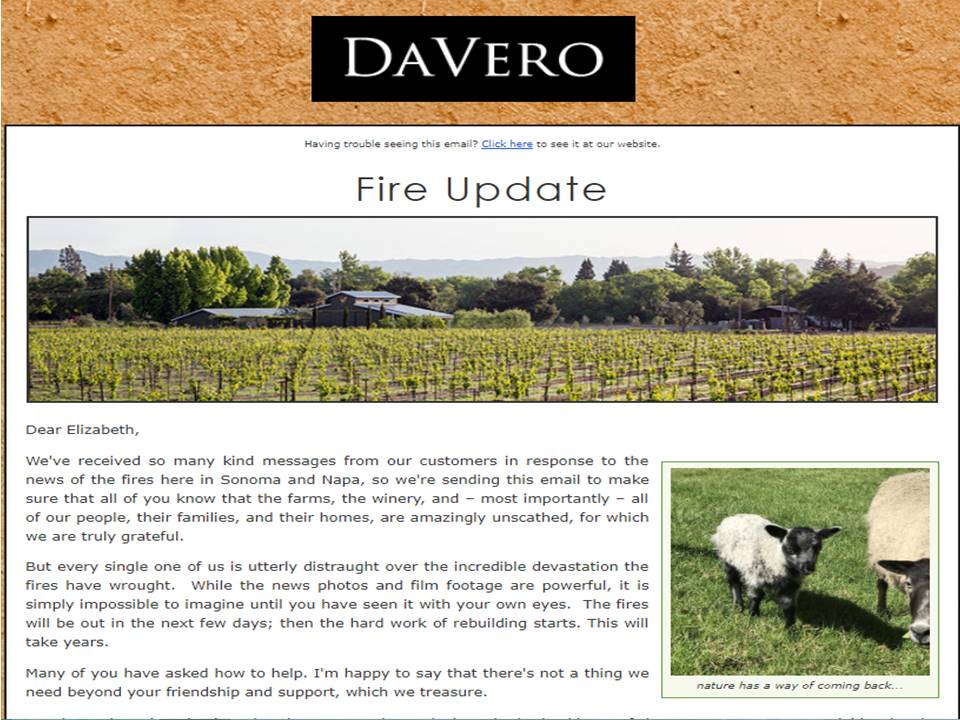 Not Just Good for Business – But Good for the Community
With the local tourism industry generating over $1.9 billion in Napa and $1.93 billion in Sonoma County in 2016, and providing nearly 25,000 jobs locally, some may state that this is just good business practice, but it is more than that. These wineries and agencies are exhibiting both best practice crisis management and corporate citizenship. According to Jonathan Bernstein, author of Manager's Guide to Crisis Management, communicating with all stakeholders about the crisis and providing reassurance and resource information is critical. Corporate citizenship is the concept that businesses have social, cultural and environmental responsibilities to the community in which they operate, beyond the traditional economic purpose of business. Many of the more than 1000 wineries in the North Bay area are illustrating these positive business practices.
When the crisis is over and there is the opportunity to rebuild the community, many of these wineries and associations will be involved in creating innovative solutions for the future. Answers to some of the current issues that plague the community, such as more affordable housing for workers and more public transportation options, could be the silver lining in this very devastating crisis.
by Dr. Liz Thach, MW
Dr. Liz Thach, MW is the Distinguished Professor of Wine and Management at Sonoma State University in the Wine Business Institute. She can be contacted at Liz@lizthach.com.