Wine Broker Alex Andrawes Shares His Expertise with His First Book, Investing in Fine Wine
E-Edition Now Available at Introductory Price of $0.99 Until June 19
AUSTIN, TX. (June 9, 2017) – Wine expert and entrepreneur Alex Andrawes announces the release of Investing in Fine Wine, a guide through the viticultural world and the illuminated strategies of buying, selling and collecting fine wine. Andrawes' first book, Investing in Fine Wine is now available on Amazon both in print ($15.99) and digitally for Kindle at the introductory price of 99 cents until Monday, June 19 at which time it will go up to the regular price of $9.99.
Andrawes' exposure to wine started early on, nurturing his passion. From his home in North Africa where pairing wine with a meal was a ritual, to his early entrepreneurial ventures which led him into brokerage and trading, the history and culture of wine has always captivated him. In his book, Andrawes recounts fascinating experiences in the business, the traditions of winemaking, marketplace frauds to avoid and the truth behind scored magazine reviews.
"Growing a successful wine investment business such as Estate Wine Brokers has forced me to alter my perceptions, and I now recognize fine wine as a sound investment asset, akin to a piece of art that only gains value over time," says author and Pervino Inc. Founder Alex Andrawes. "The idea with this book is to remove the pretensions we have about wine and realize its potential as a liquid asset, both literally and figuratively."
Partnering with co-author and sommelier Darren Scott, as well as #1 New York Time's Best-selling author, Tucker Max, Andrawes' Investing in Fine Wine has already found success on Amazon's Best Seller list in the Investing category, gaining momentum as a credible source of advice for wine collectors.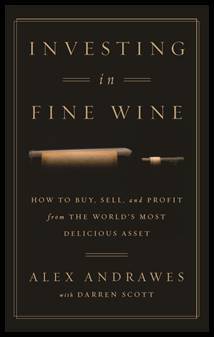 ABOUT PERVINO INC:
Alex Andrawes is the founder and executive chairman of Pervino Inc., a Texas- based wine conglomerate whose subsidiaries include Personal Wine and Estate Wine Brokers.
Andrawes' founded his first company, Personal Wine, in 1999 as an option for high-quality, personalized wine gifts for vino lovers of all kinds. Finding success as a user-friendly site with an expansive set of options for personalization, Personal Wine is recognized as one of America's fastest growing companies, growing over 202% in less than three years and earning a spot on the Inc. 5000.
Looking to expand his portfolio of wine-related businesses after his success with Personal Wine, Andrawes' founded Estate Wine Brokers in 2014, a wine brokerage that specializes in rare and investment-grade wine sourced from privately owned cellars. Andrawes' and Sommelier Darren Scott manage the company with a combined 20 years of experience, travelling around the world to inspect the condition and assure the provenance of every bottle in their catalog.