e-Motion Fashion & Photography Art Featured at Madrigal Wine Tasting Salon and Gallery in Sausalito
Winery Continues Bay Area California Artist Series
May 16, 2017 - Sausalito, CA – On Saturday, June 3rd, Madrigal Family Winery Tasting Salon & Gallery in Sausalito will host the 17th in its Art and Wine series, featuring the work of local professional Marin County Artists including: Glen Graves, Bill Hewitt, Bill Jackson, George Kaplan, Jill Pillot and Anna Rotty with art curation by Glen Graves. The opening reception is from 5-9pm and features the e-Motion photography, artwork and a fashion show.
The installation will be on exhibit in the Madrigal Salon from May 18– June 28.
Glen Graves
Early in Glen's forty year career as a professional photographer he had the good fortune to photograph a friend's dance performance. The marriage of emotion, grace, beauty of shape and line, added to photography's unique ability to capture a moment in time makes dance a special subject and an art to be celebrated.
Bill Hewitt
Bill's roots are in the pre-digital film camera era, and he has a strong passion for the intensity found in Black and White images. After digital photography arrived, Bill started to explore color and its combination with multiple images used in new and challenging ways.
Recently, Bill has been developing a hybrid style. Perhaps "Photo Impressionism" would be as good a term as any to describe his work that has taken his photography into new and uncharted waters.
Bill Jackson
"I create photographic images of people because I find people complex and endlessly interesting. Within this theme, I create images that suggest dreams or other realities and feelings of impermanence and imperfection." – Bill Jackson
George Kaplan
George's is one of discovery-- seeing what lies beneath, behind and within by surrounding himself with an image while distilling / probing / peeling away. It is an active journey, a geological expedition into the visual genome searching for truths that lie beneath. Much like the trite statement of the sculptor discovering the form in their material, finding in himself what lies beneath and inside. While origins of some of the images are clear, others use in situ camera and lens movement, while still others are in silico explorations of natural images – but all are focused on revealing an underlying architecture of form, meaning, and emotion.
Anna Rotty
Anna Rotty lives by the beach in San Francisco and works out of the Long Time Artist Collective in the Dogpatch district. Originally from the Boston area, Anna received a BFA, with a focus in photography, from the University of Massachusetts Amherst.
Anna's work aims to explore the tension between resistance and acceptance of change. She is interested in the relationship between maintaining control, versus surrendering to process and material. Her inspiration comes from the dialogue between two forces, their influence on each other, and the impermanence of it all. Much of her recent work has a dreamlike quality, referencing memories and abstracting the familiar.
Jill Pilot
Born in Belgium and growing up in different parts of the world, award winning fashion designer Jill Pillot brings a unique European flair to her designs. She creates one-of-a-kind pieces that are edgy yet classy, vintage yet fresh, bold yet elegant. With her new Collection "Art finds Art" she combines her talents with photographic images from local photographer Bill Jackson, by incorporating them into beautiful unique fashion designs. No two are the same. RicochetWearableArt.net
Entrance to the Madrigal art and wine event is complimentary. RSVP to sausalito@madrigalfamilywinery.com
The Madrigal Sausalito Tasting Salon & Gallery is open from 12-7pm daily. For information, contact Wine Tasting Salon Manager Patricia Gatti at (415) 729-9549 or pgatti@madrigalfamilywinery.com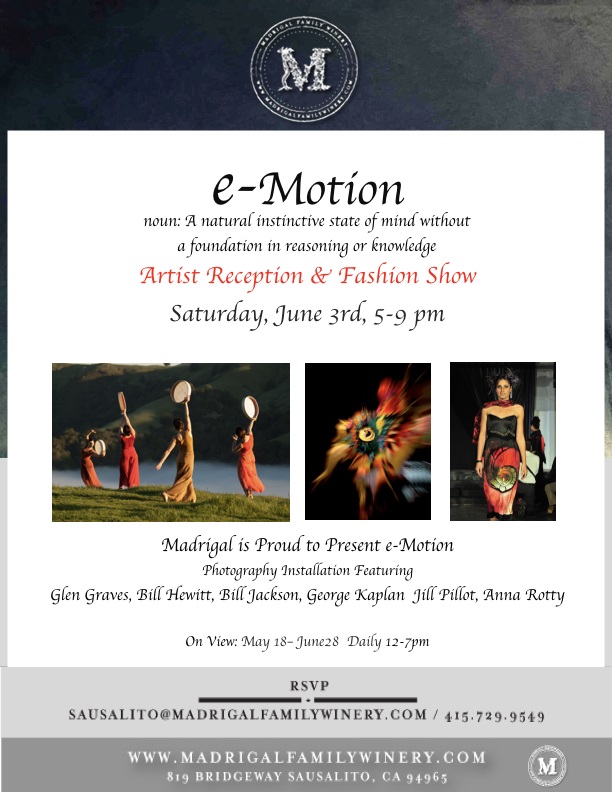 About Madrigal Family Winery
Located on Highway 29, halfway between Calistoga and St. Helena in the renowned Napa Valley, the Madrigal Family Winery continues the family tradition of viticultural leadership and wine production. Since the 1930s, the family has been building its reputation and earning recognition for their vineyard management program as well as their wines. Situated on 40 acres of estate vineyards, the state of the art Madrigal Winery specializes in Cabernet Sauvignon, Petite Sirah, Zinfandel, Sauvignon Blanc, and small lots of single vineyard and estate wines. Today, Madrigal Family Winery is run by Chris Madrigal, the family's 3rd generation. Madrigal Family Winery is a portfolio company of Bacchus Capital Management.
Madrigal Family Winery Sausalito Tasting Salon & Gallery
819 Bridgeway
Sausalito, CA 94965
www.madrigalfamilywinery.com