Wineries Capitalize on Soaring Sparkling Sales
More wineries entering the bubbly market
With double-digit growth over the past two years, America's love affair with sparkling wine doesn't appear to be ending any time soon. This may be why so many wineries are hopping on the sparkling bandwagon.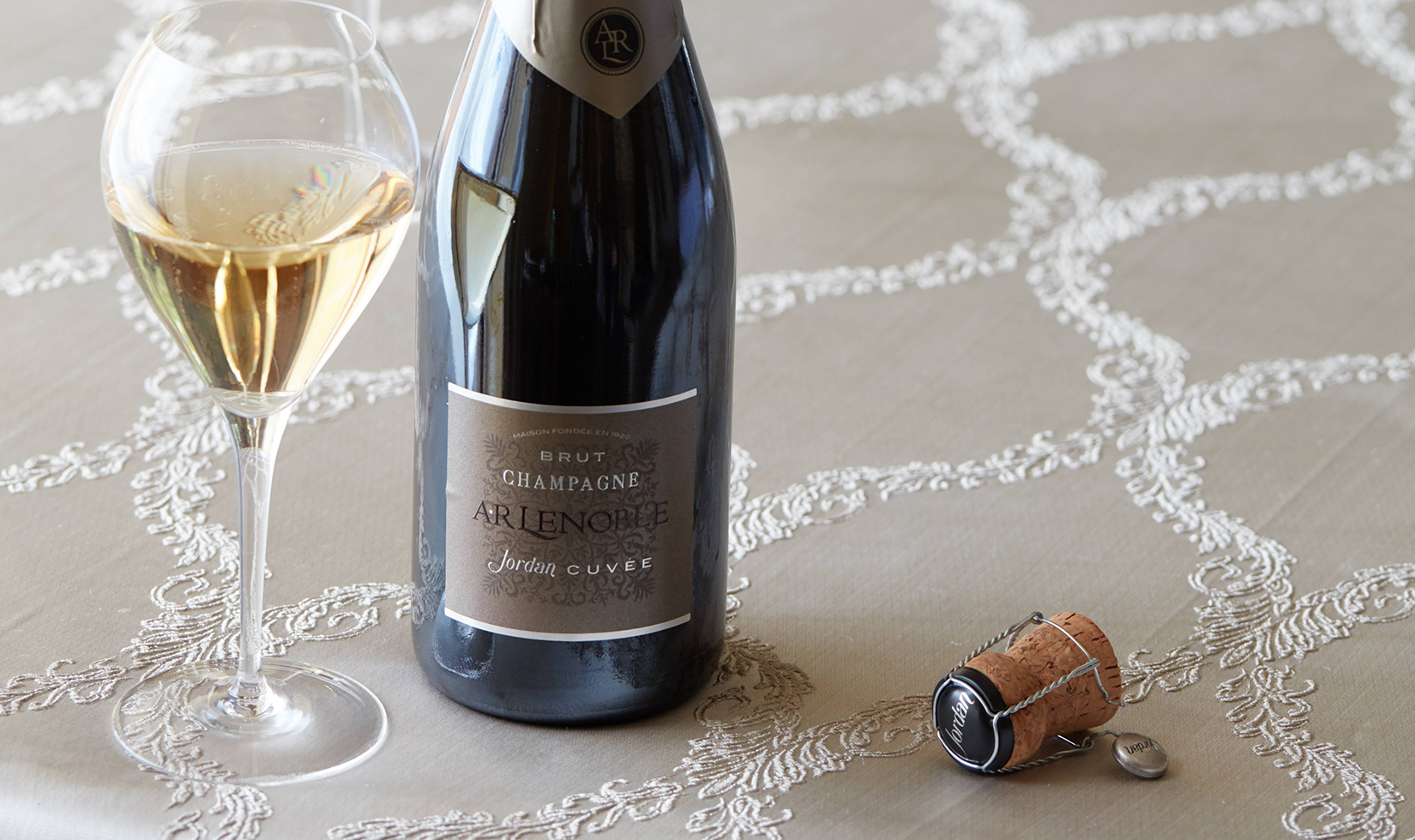 New Champagne Option Offered by Jordan Winery in Sonoma County
Though Champagne and sparkling wine have always been popular for special occasions, drinking bubbly has now become a more common occurrence. This trend, which has been reputed to be driven by Millennials enamored with the Italian fashion of having a glass of Prosecco as a pre-dinner drink, has encouraged many wineries to add a sparkling option to their still wine line-up.
In Napa and Sonoma counties alone, there are now more than 65 wineries that offer sparkling wine, up from around 12 just a few years ago. Many of these wineries had previously only offered still wines. Examples include Peju Province Winery, Del Dotto Vineyards, Viansa, Ceja Vineyards, Keller Estate, Rosenblum Cellars, Trentadue Winery, Patz & Hall and many others.
Because sparkling wine is more complicated to produce, a majority of wineries have elected to outsource sparkling production to custom crush facilities, such as Rack & Riddle in Healdsburg, California. The winery produces a still wine from their own grapes, like Chardonnay and Pinot Noir, or in the case of Harvest Moon Winery in the Russian River, Gewürztraminer grapes. The wine is then transported to Rack & Riddle, who transforms it into bubbles using the method champenoise approach, with secondary fermentation in bottle.
But other wineries are even going to France in search of partnerships, such as Buena Vista Winery in Sonoma, which now offers a real Champagne under their private Buena Vista La Victoire Brut Champagne label. Several years ago, red Bordeaux powerhouse Chateau Lafitte Rothschild also introduced Champagne Barons de Rothschild as part of a joint venture.
Recently, Jordan Vineyard & Winery in Sonoma County has taken a different track by creating a special partnership with the Malassagne family of AR Lenoble in Champagne. Known as a Cabernet and Chardonnay house for more than 40 years, Jordan recently introduced Jordan Cuvee Brut by Champagne AR Lenoble, a non-vintage bubbly aged 4 years in bottle. They have launched their new Champagne along with a custom-crafted Jordan caviar produced in California.
"Rather than doing a private label, we decided to do something different, and establish a partnership to showcase the authenticity of two family estates," explained John Jordan, CEO of Jordan Vineyard & Winery. "Too often this aspect of business is being lost—the authenticity. We want to celebrate two families coming together with this new Champagne."
According to Danny Brager of Nielsen, sales increases have been seen in almost every category of sparkling in 2016, with 17 percent of the dollar category owned by Prosecco with an annual growth rate of 25 percent. However American sparkling is still the most popular in the United States, holding 43 percent of the dollar share. Italy comes in at 31 percent, followed by France at 20 percent, Spanish Cava at 5 percent, and 1 percent for other sparklers. According to Beverage Dynamics, the U.S. sparkling volume leader is Korbel Champagne Cellars.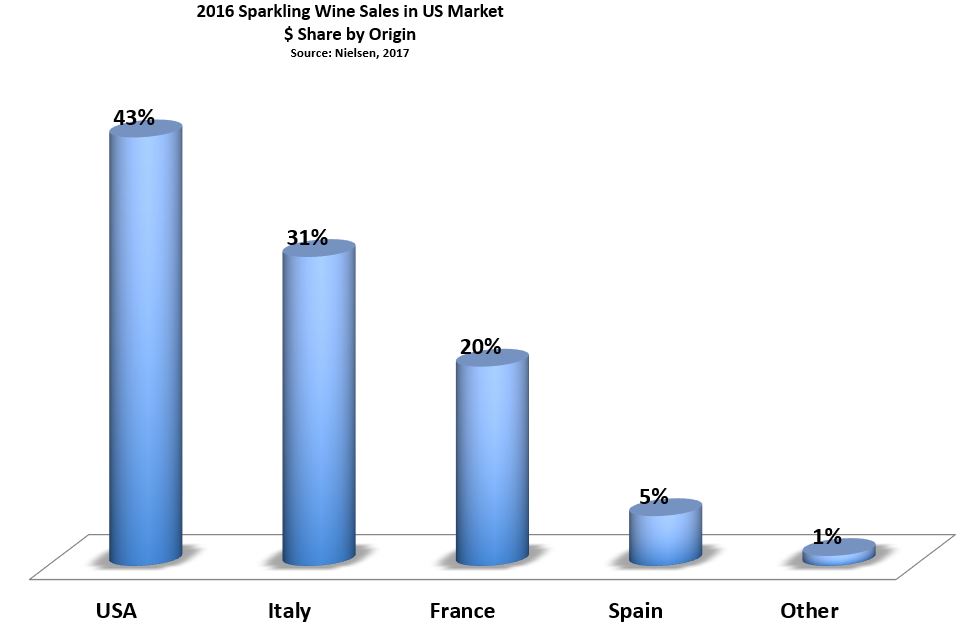 It is not clear if the bubbly trend is here to stay, but in the meantime, producers of sparkling wine are enjoying the limelight. Champagne and sparkling wine have always had a place as a special occasion wine. Now they are joining the ranks of an everyday wine, and sipping a glass of frothy wine just to watch the sunset on a Tuesday evening is increasingly considered a fine way to celebrate the end of the day.
References:
• Brager, D. (2017). State of the Industry – What's Selling. Presentation by Danny Brager at Unified Wine Symposium. Sacramento, CA: Jan. 25, 2017.
• California Champagnes (2017). Sparkling Wine Producers in Sonoma and Marin Counties. Available at: http://www.californiachampagnes.com/sonoma-and-marin-counties/
• Daniel, L. (2016). Why Sparkling Wines Sales are Soaring. Beverage Dynamics. Dec. 19, 2016. Available at: http://beveragedynamics.com/2016/12/19/why-sparkling-wine-sales-are-soaring/
• NVV. (2017). Napa Valley Wineries – Sparkling Wines. Available at: https://napavintners.com/wineries/wineries_sparkling.asp
• Pomery, L. & Thach, L. (2015) Can Champagne Regain #1 Market Position as World's Most Consumed Sparkling Wine? Winebusiness.com, Sept. 2, 2015. Available at: http://www.winebusiness.com/news/?go=getArticle&dataid=157210
by Dr. Liz Thach, MW
Dr. Liz Thach, MW is the Distinguished Professor Wine and Management at Sonoma State University in the Wine Business Institute. She can be contacted at Liz@lizthach.com.