Trends in Burgundian Wine: Going Back to the Future
What are some of the new trends in Burgundy? This was a question posted to over 20 top Domains in Burgundy, and the results suggest that Burgundian wineries are looking to the past for inspiration. Five major trends emerged from the interviews, but the two strongest were healthy vineyards, with more adoption of organic/biodynamic farming, and an increased focus on direct-to-consumer sales.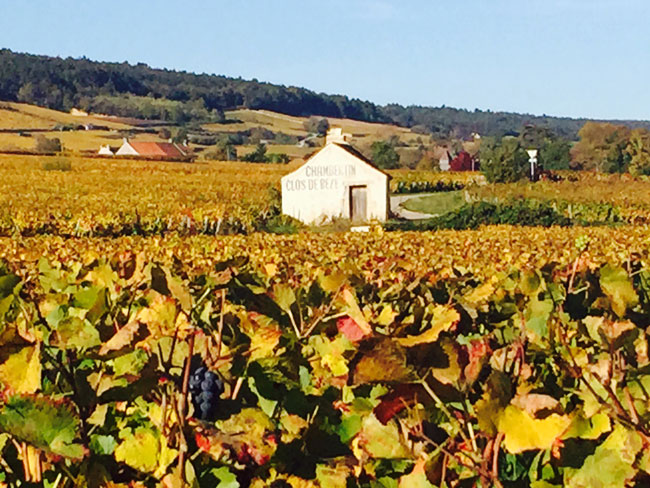 Autumn Vineyard in Burgundy. Photo Credit: L.Thach
"We seem to be going back to the future," said one domain director. "There is a strong emphasis on organics and biodynamics in Burgundy – which is, of course, the way we farmed in the past. Now people are adopting it again and focusing more on increasing quality by being more natural."
Nearly 100 percent of the winery owners, winemakers and marketing managers interviewed identified healthy vineyards via sustainable, organic or biodynamic practices as the most important trend now. The major reasons for adopting these farming techniques was a growing concern over climate change and an interest in protecting the environment for their children.
New Trends in Burgundy Wine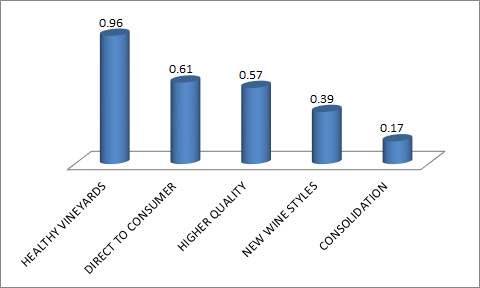 As a region that relies heavily on distributors and agents to export and market their wine, the second trend—a greater focus on direct-to-consumer sales—was rather surprising. Though this was not mentioned by all domains, and sales through this channel are still small, both small wineries and large negotiants have added tasting rooms and tours to their operations in the past few years. Others are expanding their private wine sales, by allocating wine to a key list of clients, similarly to the private wine mailing lists used by luxury wineries in the United States. Their reasons for doing this were primarily pressure from end consumers to visit domains and have a more personal experience, like they do in other wine-tourism regions of the world. Though many of the domains often do not have enough wine to sell, they are beginning to see the wisdom of building closer relationships with the end consumer, while still maintaining positive relationships with distributors.
As one marketing manager reported, "I think Burgundy wineries are starting to wake up to the fact that we need to focus more on the end consumer. There are more domains that have tasting rooms now so that tourists can stop by and taste. A long time ago it was normal to taste at someone's house in their kitchen. Then that stopped and people mainly sold through importers and agents. But we have more and more visitors to Burgundy that want to taste at a domain or chateau. So this is a new trend here, and we are part of it."
A third trend that was mentioned was increased wine quality, and most said this was primarily due to adoption of organic and biodynamic vineyard practices. "This trend (organic farming) is creating increased quality in our wines. We are noticing that the flavors are more pure and the wines naturally balanced," stated one small domain owner.
A few winemakers reported that there was a changing trend in wine styles, primarily to use less oak on Chardonnay and produce fresher wines. Several said this may have resulted from the issue of pre-oxidation, which they believe has finally been resolved in Burgundy.
A final trend mentioned by several owners was consolidation, in that they see more domains being sold to larger producers, as well as new entrants from other countries purchasing Burgundy vineyards. This could result in additional changes to how operations are run in terms of marketing and direct-to-consumer practices.
All of these trends suggest that Burgundy will continue to be a vibrant region for wine lovers, with perhaps a warmer welcome for wine tourists in the future. Though high wine prices causing Burgundy to be unaffordable to the average consumer were also mentioned as a concern by many domains, most admitted that Mother Nature had final control over the size of their production. The difficult weather of the past few vintages has caused prices to rise even higher, even though the recent Hospices de Beaune Auction did see a slight price decrease this past year.
NOTE: These interviews were carried out as part of a larger research project sponsored, in part, by Sonoma State University in California and the Burgundy School of Wine & Spirits in Dijon. For more information, please contact the authors: Dr. Liz Thach, MW (Liz@lizthach.com), Dr. Steve Charters, MW (Steve.Charters@bsb-education.com) and Ms. Laurence Cogan-Marie (Laurence-Cogan-Marie@bsb-education.com)