What Price is Luxury Wine? Research Studies Unclear
As the U.S. wine industry basks in the glow of premiumization once again, the issue of luxury wine pricing is gaining more attention. However, a review of the luxury wine marketing literature generates more confusion than light on the issue, and makes it difficult to answer the question: what price is luxury wine? This article examines the definition of luxury, analyzes current pricing structures and proposes a new luxury wine price continuum.
Defining Luxury
According to luxury researcher Klaus Heine, luxury can be defined as "anything that is desirable and more than necessary and ordinary." In general a luxury product has six key attributes: high price, high quality, scarcity, is aesthetically pleasing, is symbolic, and provides a sense of privilege to the buyer. Recently the concept of sustainability has also been added to the luxury mix.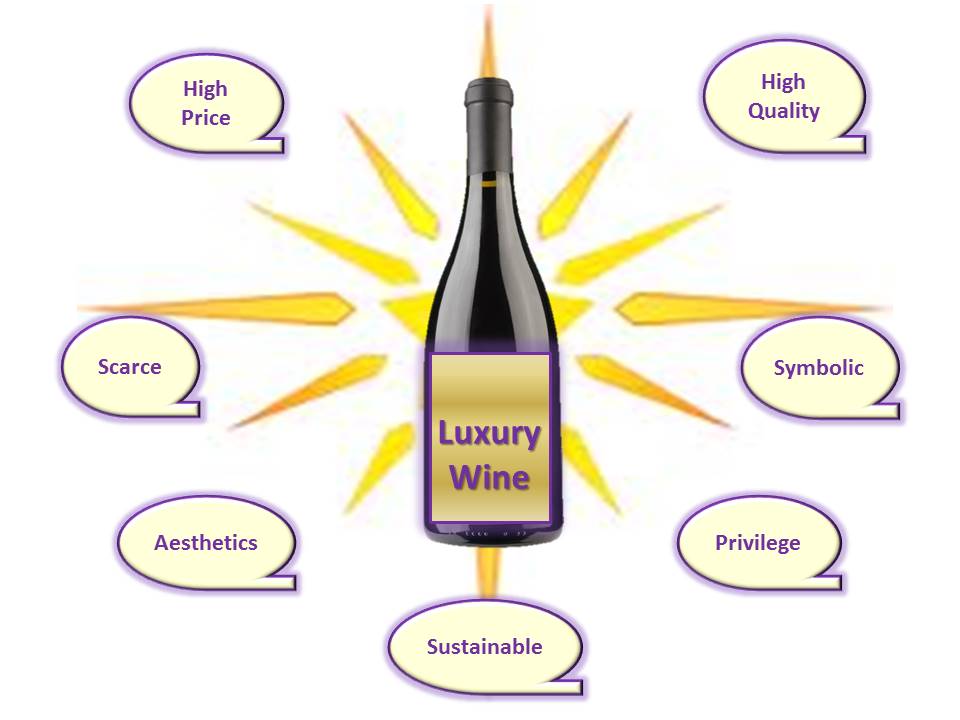 Infographic on Luxury Wine Attributes
Wine has long been considered a luxury product; the ancient Egyptians only produced it for the social elite. Today, however, wine is also considered a commodity, with a large percentage sold for less than $10 per bottle. Despite this, there are still many luxury wines, as illustrated by Winesearcher's 2017 list of the 50 most expensive wines in the world—prices range from $1,200 to $65,000 per bottle.
Luxury Wine Pricing in the Research Literature
The confusion occurs when the question of luxury wine pricing is broached. Here the research literature is less clear. In one of the earliest studies, Geene (1999) identified Icon wine as one priced above $50. Then in 2005, Cholette and Castaldi provided a revised segmentation of Luxury as $25 to $50, Super Luxury as $50 to $100, and Icon as more than $100. More recently a study in Australia (Jarett and Jarvis, 2016) determined that Ultra-Premium wines were those priced $70 to $99 AUD ($51 to $72 USD) and Luxury/Icon wines were those above $100 AUD ($73 USD). A quick glance at Nielsen scan data shows the most expensive wine as above USD $25 (Brager, 2016). With all of these different price segmentations, and the fact that Winesearcher lists wines well over $1,000 per bottle, these pricing definitions no longer seem adequate to capture the true luxury wine market.
Developing a New Luxury Wine Price Continuum
Therefore it is suggested that an updated luxury wine segmentation be developed, which incorporates current global wine pricing data, but also respects other luxury research showing that consumers differ in their definition of luxury. This has given rise to the phenomenon of "masstige" or prestige for the masses, and allows for a continuum of luxury products. BMW provides a good example of this in that they provide both a more affordable luxury car in the 3-series and a high-end luxury car in the 7-series (Kapferer and Bastien, 2012). Given this premise, we suggest the following Luxury Wine Price Continuum:
Proposed Luxury Wine Price Continuum in US$
| | | | |
| --- | --- | --- | --- |
| Affordable Luxury | Luxury Wine | Icon Wine | Dream Wine |
| $50 - $99 | $100 - $499 | $500 - $999 | $1,000+ |
The benefits of this continuum are that it better reflects the current range of luxury wine pricing, respects differing consumer viewpoints regarding the definition of luxury wine, and highlights the range of perceptions around luxury from masstige to dream product. We welcome comments, questions and feedback.
References
Beverland, M. (2005), Crafting Brand Authenticity: The Case of Luxury Wines. Journal of Management Studies, 42:1003–1029.

Brager, D. (2016). US Wine Consumer Trends – Battle for the Next Pour. 11th Annual Wine Market Council Research Conference on U.S. Wine Consumer Trends. Jan. 25, 2016. New York, NY.

Cholette, S. and Castaldi, R. (2005). Analyzing the US retail wine market using price and consumer segmentation models". 2nd International Wine Marketing Symposium, Sonoma State University, Rohnert Park, CA, 8?9 July, pp.1?27.

De Barnier, V., Falcy, S., & Valette-Florence, P. (2012). Do consumers perceive three levels of luxury? A comparison of accessible, intermediate and inaccessible luxury brands. Journal of Brand Management, 19(7), 623-636.

Dubois, B., Czellar, S. & Laurent, G., (2005). Consumer Segments Based on Attitudes Toward Luxury: Empirical Evidence from Twenty Countries. Marketing Letters, 16(2), pp.115– 128.

Geene, A., Heijbroek, A., Lagerwerf, A. and Wazir, R., 1999. The world wine business. Rabobank.

Heine, K. (2013). The Concept of Luxury Brands (Taxonomy & Definition). White paper. Available at: http://www.conceptofluxurybrands.com/content/20121107_Heine_The-Concept-of-Luxury-Brands.pdf

Heine, K., Phan, M. and Atwal, G., 2016. Authenticity and prestige: what luxury brands could learn from the wine industry? Luxury Research Journal, 1(2), pp.177-190.

Jarrett, S. and Jarvis, W. (2016). Defining the luxury wine category via an assessment of price-tier perceptions. Refereed paper presented at 9th Academy of Wine Business Research Conference, Adelaide, Australia.

Kapferer, J. N., & Laurent, G. (2016). Where do consumers think luxury begins? A study of perceived minimum price for 21 luxury goods in 7 countries. Journal of Business Research, 69(1), 332-340.
Kapferer, J.N and Bastien, V. (2012). The luxury strategy: Break the rules of marketing to build luxury brands. London: Kogan Page Publishers.

WineSearcher (2017). The World's Top 50 Most Expensive Wines. Winesearcher.com. Retrieved on Feb. 13, 2017 at http://www.wine-searcher.com/most-expensive-wines
by Liz Thach, Janeen Olsen, Laurence Cogan-Marie & Steve Charters
About the Authors: Dr. Liz Thach, MW and Dr. Janeen Olsen are wine business professors at Sonoma State University Wine Business Institute in California, and Ms. Laurence Cogan-Marie and Dr. Steve Charters, MW are wine marketing professors at the Burgundy School of Wine & Spirits in Dijon, France. They are currently working on several luxury wine marketing research projects. They can be contacted at: Liz@lizthach.com, janeen.olsen@gmail.com, Laurence-Cogan-Marie@bsb-education.com, and Steve.Charters@bsb-education.com.