Adventure, Tradition, and Semi-Sweet Wines Highlighted in 2016 American Wine Consumer Survey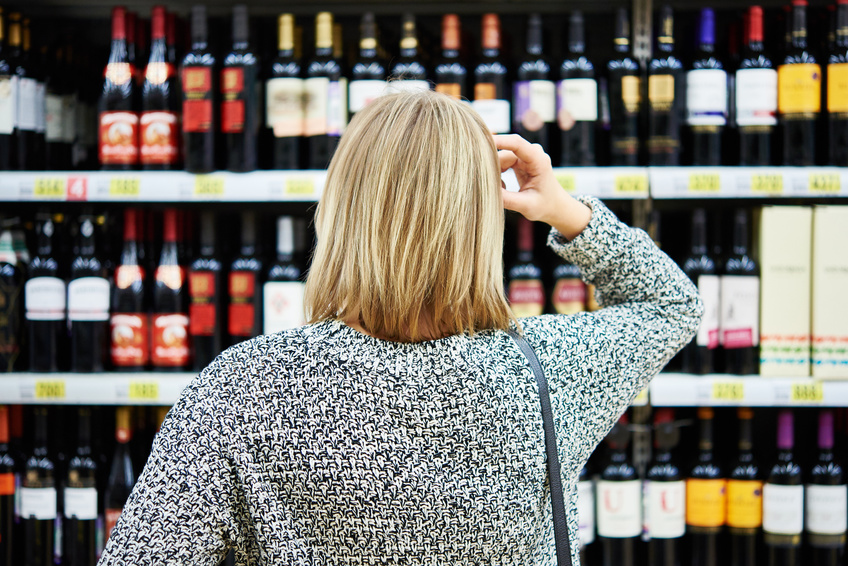 Preferences of the 2016 American Wine Consumer. Photo Credit: Fotolia 97988950
With a hotly contested election in the US, Britain exiting the European Union, the Zika virus arriving from South America, and thousands of Syrians fleeing the Middle East, no one can claim it has been a boring year. Perhaps this is why American wine drinkers seem to be more adventurous in some aspects of their wine preferences this year, yet seek tradition in others.
The results of the 2016 Survey of American Wine Consumer Preferences have just been released, and these themes as well as others are highlighted. As always the information gives a glimpse into the types of wines Americans are drinking, as well as their reasons for doing so, average prices paid for wine, shopping locations, social media usage, and the answers to a few new questions on luxury wine, packaging and label design.
About the Survey and Sample – 1081 American Wine Consumers from 50 States
First conducted in 2014, this is the third annual survey, and was launched in May of 2016. It was developed by SSU researchers who contracted with Survey Sampling International to collect household panel data from wine drinkers across the nation.
The final sample included 1081 American wine consumers (58% women and 42% men) with all 50 states represented. In terms of age, 29% were Millennials ages 21-39; 22% were Gen Xers ages 40-50; 40% were Baby Boomers ages 51-69, and 9% were from the Greatest generation, aged 70 and above. It should be noted that in the 2015 survey there were 56% Millennials and no members of the Greatest Generation, which could explain some of the changes observed in this year's survey results.
The median annual income of the sample was $50,000 – $69,999, but 25% made over $100,000 per year. Ethnicity was 81% Caucasian, 5% Hispanic, 7% African-American, and 5% Asian. The sample was highly educated with 62% having a college degree compared with 32% of the US population (US Census, 2014). In terms of marital status, 58% were married and 30% had children under the age of 18 living at home.
Preferred Wine Varietals and Style – "Semi-Sweet Trumps Fruity"
American wine drinkers in this year's sample included 48% high frequency drinkers who consume wine daily or several times per week (Wine Market Council, 2015). The remaining 52% are considered to be occasional drinkers.
The top five favorite varietals for the 2016 sample were the same as in previous years with chardonnay, cabernet sauvignon, merlot, pinot noir and pinot grigio as the most preferred. This matched with Nielsen scan data as the five most popular selling varietals in the US (52 weeks ending 09/10/16). Overall, American wine consumers in 2016 said they preferred the following types of wine: red (73%), white (68%), rose (36%), sparkling (31%), dessert (13%) and fortified (5%).
In 2015, a new question regarding preferred style of wine was added: How do you prefer your wine to taste? Check all that apply. Interestingly semi-sweet replaced fruity as the most preferred style in 2016. It is possible this may be due to the popularity of red and white blends in the US market, of which many include a small amount of residual sugar. At the same time, the 2016 sample also shows an increased preference for dry wine styles compared to 2015 respondents.
Graph 1: Favorite Wine Styles by Percentage of Respondents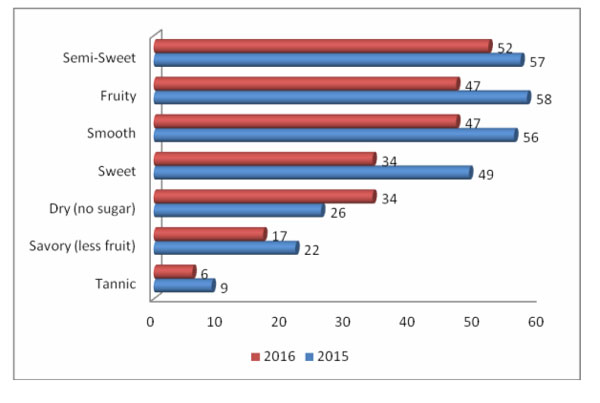 Wine Knowledge and Reasons to Drink Wine – "Taste and Relaxation"
When asked to describe their level of wine knowledge, 57% of the 2016 sample said they had intermediate wine knowledge, while 26% identified as wine novices, 15% as having advanced wine knowledge and only 1% claimed to be wine connoisseurs or experts.
Enjoying the taste of wine remained the number one reason why Americans like to drink wine, at 80% of the sample. Relaxation (at 61%) and pairing with food (55%) were the second and third reasons. In general the 2016 sample cited fewer overall reasons for drinking wine, which could be attributed to differences in the sample or interest in other beverages.
Graph 2: Reasons Americans Drink Wine by Percentage of Respondents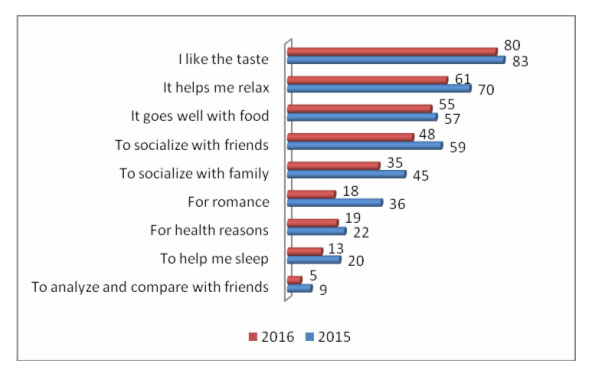 Decision-Making on Which Wine to Purchase – "Price and Brand Rule"
In 2015 and 2016, price (at 80%) and brand (at 67%) continue to be the two most important factors considered by American consumers when purchasing wine (See Graph 3). Moreover, varietal appeared to be more important to the 2016 consumer, and region/appellation to some extent.

Graph 3: Wine Purchase Decision Making by Percentage of Respondents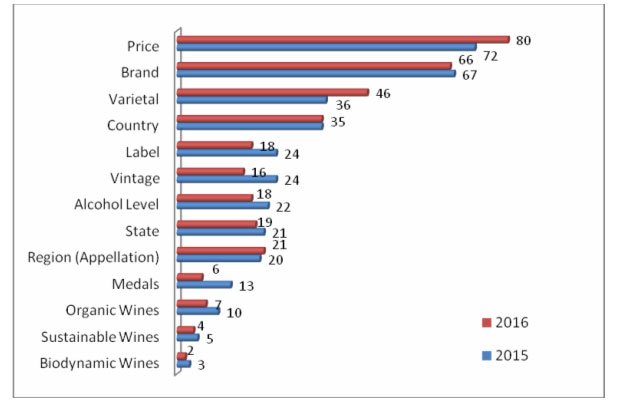 Similar to 2014 and 2015, fewer American wine consumers make wine purchase out of environmental concerns. Only 7%, 4%, and 2% of the sample indicated that they looked for organic, sustainable, and biodynamic wines, respectively, as part of their wine purchase decision making. Such results are consistent with prior research in that many Americans believed wine to be a natural drink. A possible confusion about many environmental and organic certifications advertised on the market (Sullivan, 2010) may have made these attributes less important.
Wine Pricing and Luxury Purchases
Since the Great Recession of 2008, Americans have been slowly increasing their spending on wine. In 2016, this continued to be the case:
• Buying Wine to Drink at Home: the most common price was $9 – 15 per bottle at 51% of the sample. However 15% will spend $15 to 20, and 5% will spend more than $20 per bottle to drink at home.
• Buying Wine to Drink at a Restaurant: the most common price was $26 – 35 per bottle at 21% of the sample, but 12% will spend $36 to 45, and 8% will spend above $46. A surprising 25% reported they only buy wine by the glass at a restaurant, with 47% spending $7 to 10 per glass, 11% spending $11 – 15 per glass, and 3% spend over $15 per glass.
• Luxury Wine Purchases: given the improving economy in the US, a question regarding luxury wine price was added. In 2016, 44% of Americans reported they have spent over $50 for a bottle of wine, 19% over $100, 5% over $200, and 2% over $1000 per bottle. Their main reasons for doing so were: 1) for a special occasion (60%); 2) to enjoy (53%); 3) as a gift (42%); and 4) for my cellar (12%).
Wine Purchase Locations – "Wine Shops and Grocery Stores Dominate"
As in previous years, the most common location for wine purchases in the US is a Wine/Liquor Store, followed by a Grocery Store, and then a Discount/Warehouse store, such as Target or Costco. Online wine purchases continue to be low with only 7% of the 2016 sample reporting they often or almost always make wine purchases this way, and 71% reporting they have never purchased wine online. It is possible that higher delivery prices in the US as well as concerns over temperature control, adult signature requirements, and other issues are contributing to this. Other countries, such as China, the UK and France have a higher percentage of consumers purchasing wine online (Bressolles, 2016).
Wine Social Media & App Usage – "Down Slightly in 2016"
Perhaps due to a lower percentage of Millennials in the 2016 sample, only 88% reported using social media compared to 94% in 2015. Despite this, the most popular platform – Facebook - remained in the number one position; however YouTube surpassed Twitter by a small percentage. When talking about wine online, 25% search for information about wine, 22% share a wine experience and/or label, 20% ask friends for wine recommendations, and 17% look at a winery fan page. Again these percentages are lower than the 2015, perhaps because fewer Americans in the 2016 sample reported owning a smart phone, and the question format was changed to yes/no rather than a scale.
Wine app usage was also lower with the 2016 sample – perhaps again due to lower smart phone usage. The most popular wine apps were: Winesearcher in #1 position, Vivino at #2, and Hello Vino and Delectable tied at #3.
Label and Packaging Preferences – "Both Adventurous and Traditional"
A couple of new questions about wine packaging and label design were added to the 2016 survey. Americans were asked their opinion on five wine packaging options (see Graph 4) to see how accepting they are of alternatives. Results show that Americans may be more adventurous than previously thought with 89% happy with screw caps, 75% with single serving bottles, 60% with boxed wine, 40% with wine in pouches, but only 20% willing to buy wine in cans. This could be because the canned wine option is a relatively recent addition to the US market.
Graph 4: Percentage in 2016 Accepting Alternative Packaging Options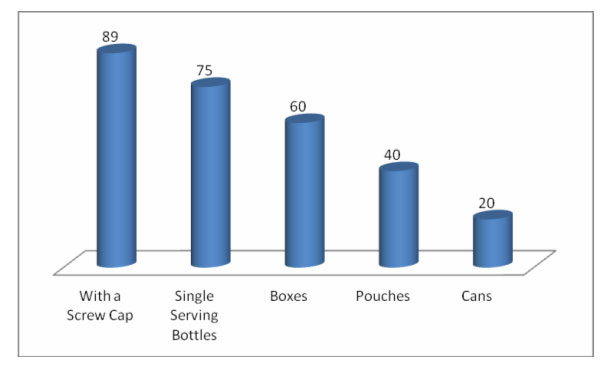 There have been several research studies showing that the majority of consumers prefer traditional style wine labels when determining which wine to select (Elliot & Barth, 2012; Boudreaux & Palmer, 2007). Therefore a new question illustrating three fictional wine label designs was included. Survey takers were asked "Which of the following wine label styles appeals to you the most?" Supporting prior research, 64% of American wine consumers favored the traditionally design label, 23% the modern style label, and only 13% the fun and whimsical label. So though Americans may be more adventurous in accepting alternative wine containers, a larger majority still prefer traditional style labels.
Figure 1: Wine Label Design Preference of American Consumers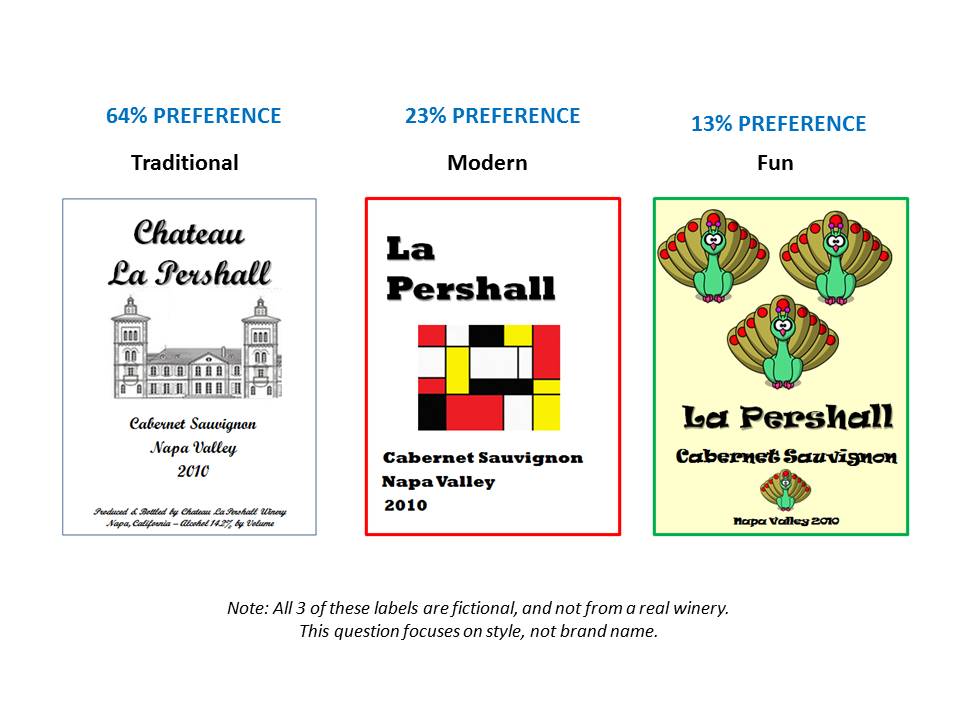 Conclusion – Americans Continue to Evolve as Wine Consumers
Based on this year's survey, American wine consumers do appear to be evolving in their preferences when compared to research conducted a decade ago, when more Americans preferred white wine to red, and screw caps had a low acceptance rate. Today wine in America is not only consumed with meals, but used to relax with friends and family, or to enjoy as a delicious drink on its own. This may explain why semi-sweet wines are identified as a preference, because they can be enjoyed with or without food.
Price and brand continue to be important to Americans when selecting a wine, but they are also willing to pay more for wine, including luxury wine for special occasions. Social media has become a popular way to discuss wine online with friends and to gather information to assist in wine purchases. Finally Americans seem to be much more accepting of alternative wine containers, though a majority still prefers traditional label design.
Caveat: Since this survey is based on a representative sample of American wine consumers, and not a random sample, it cannot be generalized to all wine consumers.
References
• Boudreaux, C. A., & Palmer, S. E. (2007). A charming little Cabernet: Effects of wine label design on purchase intent and brand personality. International Journal of Wine Business Research, 19(3), 170-186.
• Bressolles G. (2016), e-Performance Barometer – Online wine sales 2016, KEDGE Business School. www.ePerformance-Barometer.com
• Elliot, S., & Barth, J. E. (2012). Wine label design and personality preferences of millennials. Journal of Product & Brand Management, 21(3), 183-191.
• Nielsen. (2016). Off-Premise Wine Sales. Wine Business Monthly. December 2016.
• Sullivan, M. (2010), "For California vintners, it's not easy being green. UCLA Newsroom, Retrieved on 9/14/15 at http://newsroom.ucla.edu/portal/ucla/for-california-vintners-it-isn-154669.aspx
• US Census. (2014). Educational attainment. Retrieved on 9/4/15 at http://www.census.gov/hhes/socdemo/education/data/cps/2014/tables.html
• Wine Market Council (2015). Research. Retrieved on 9/3/15 at http://winemarketcouncil.com/research
by Dr. Liz Thach, MW and Dr. Kathryn Chang, Sonoma State University
Dr. Liz Thach, MW (Liz@lizthach.com) is the Distinguished Professor of Wine and Dr. Kathryn Chang (changkat@sonoma.edu ) is an assistant professor of accounting at Sonoma State University in the School of Business & Economics and the Wine Business Institute.