New FPS Grapevine Selections Include European Imports, California Heritage Clones
Golino Award, Endowed Chair Position Highlight Annual Grape Meeting
December 06, 2016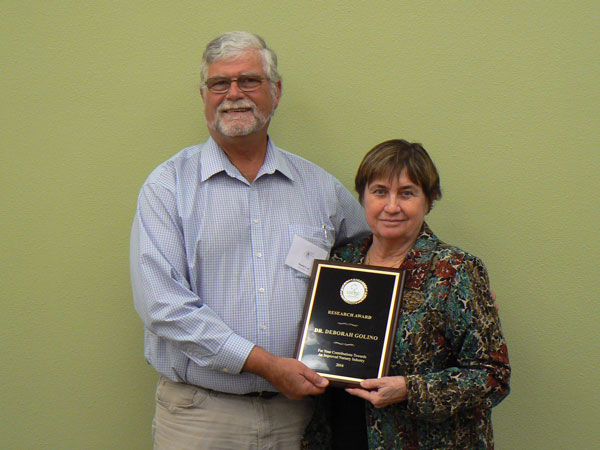 FPS director Dr. Deborah Golino receives the 2016 Research Award from David Cox of the California Association of Nurseries and Garden Centers for her contribution towards an improved nursery industry at the annual FPS Grape Advisory Committee meeting December 1. (Photo by Ted Rieger)
New grapevine varieties and selections from Greece, the Republic of Georgia, Croatia and California heritage vineyards will become available for U.S. grape growers in the near future. These selections are among new grapevine material recently released, or being processed to release soon, by Foundation Plant Services (FPS) at the University of California Davis (UCD). FPS staff researcher and manager of the National Grape Registry, Nancy Sweet, highlighted new and upcoming grapevine releases during a presentation at the Annual FPS Grape Advisory Committee meeting held December 1 at the FPS facility in Davis.
Because it takes time to propagate new vine material and FPS has limited quantities, priority availability for new releases is typically given to commercial grapevine nurseries participating in the California Registration & Certification Program. The nurseries will then propagate this material in greenhouses and increase blocks for sale to wine grape growers. It is suggested that growers wishing to plant specific new releases contact a certified commercial grapevine nursery and request they order material from FPS to begin propagating sufficient quantities for planting.
Greek Selections
FPS is now receiving and processing imported Greek selections through a cooperative exchange agreement with Fassoulis Grapevine Nursery in Nemea, Greece.
The first selection now available is the white variety Roditis 02. FPS received shipments of additional cultivars in 2014 and 2015 that will become part of the public collection in the near future once they pass quarantine. New cultivar selections for white wine production include: Assyrtiko, Athiri, Malagouzia, Moschofilero, Savatiano, Sklava, and Vidiano. New cultivars for red wine production include: Agiorgitiko, Avgoustiatis, Black Corinth, Fokiano, Limnio, Limniona, Mavrodaphne, Vertzami, and Xinomavro.
CA Heritage Selections
California heritage clones from historic old vine vineyards planted in the Oakley area of Contra Costa County were donated from Matt Cline of "three" Wine Company who has produced wines from these vineyards for many years under his own labels and with Cline Cellars. The varieties and their FPS clone numbers are: Carignane 12 from the Spinelli Vineyard planted in 1885, Carignane 14 and 15 from the Emerson Ranch Vineyard planted in the 1880s; and Cinsaut 05 and Mourvedre 08 both from the Spinelli Vineyard.
New heritage clones have also been donated from Ridge Vineyards senior VP of vineyard operations David Gates from the Whitton Ranch near Geyserville in Sonoma County. Ridge began buying grapes from this 36-acre vineyard in 1966 and later purchased the vineyard in 2016. This is part of the Heart's Desire Estate first planted in 1868 by Andrew Boutin, a colleague of Luther Burbank. It is noted for its old vine Zinfandel and a large number of field blend heritage varieties. Field blend material that will become part of the FPS collection includes the following obscure old French cultivars (all black skinned for red wine production): Beclan 01.1, Mourtaou 01.1 (also known as Mancin in France), Petit Bouschet 04.1 and Saint Macaire 04.1.
New Croatian Selections
As part of an exchange program with the University of Zagreb in Croatia, FPS has added the following selections to its collection: Babic 01.1, a native red wine grape from Dalmatia; Malvasia Dubrovacka 01.0, an ancient white cultivar grown in Dubrovnik since at least the 14th Century; and Sansigot 01.1, a red wine grape from the university's clonal selection project from a vineyard in Risika on the island of Krk.
Republic of Georgia
FPS is releasing the following vinifera wine grape selections imported from the National Center for Grapevine and Fruit Tree Planting in the Republic of Georgia: white wine grape cultivars Adreuli Skelkana, and Chinuri; and black skinned wine grape varieties Alexandrouli, Mujuretuli, Saperavi, and Saperavi Budeshuriseburi. Sweet said importation of these cultivars was encouraged by Sacramento wine merchant and grocer Darrell Corti, also a member of the California Vintners Hall of Fame, who carries wines from the Republic of Georgia in his store. Saperavi is one of the country's well-known wine varietals.
FPS is also releasing some vinifera wine grape varieties from Azerbaijan that borders the Republic of Georgia: white wine grape varieties Askeri and Pishik Uzumu; and red wine grape varieties Hindogni, Muxtari and Zalxa.
Other New Selections
Sweet said that Geisenheim University in Germany is more aggressively promoting grapevine material from its proprietary collection and FPS now has some additional clones of popular varieties that may be of interest to growers: Chardonnay 134/134.1 and Chardonnay 140/140.1 that Sweet said are reported to have better phenolic characteristics; Riesling 31 and 32, some older clones used in Germany for many years; and Pinot Noir 134 and 135.
Other new individual public collection selections available include: Nero d'Avola 05.1, a clone from Sicily that Sweet said growers have been requesting; Brachetto 03, an aromatic black wine grape from Piemonte, Italy; Dunkelfelder 01.1, a red German variety reported to be early ripening; Korona 01.1, a vigorous white wine variety with high yield from Hungary; and Vespolina 03, a red wine variety imported from Italy in 2014 by UCD emeritus professor Jarue Manning.
Lists of available grapevine selections and new introductions can be found at the FPS website: http://fps.ucdavis.edu/grapelist.cfm
Golino Receives Award, FPS Endowed Chair Position Discussed
During the annual meeting, FPS director Dr. Deborah Golino, was presented an award from the California Association of Nurseries and Garden Centers, from its past-president David Cox, as the recipient of the organization's annual Research Award for 2016. Cox said the award was presented to Golino, "For your contribution towards an improved nursery industry." Golino has been director of FPS since 1994, and serves as a UC Cooperative Extension Specialist and a faculty member of the UCD Department of Plant Pathology. In addition to its role as the repository for clean grapevine material, and a source of virus-tested, professionally identified grapevines, FPS plays a similar role for the nursery industry for clean plant material for fruit and nut trees, strawberries, ornamental rose cultivars, and sweet potatoes.
Golino's work in improving the quality, quantity and cleanliness of FPS plant materials in recent years by establishing the Protocol 2010 Russell Ranch Vineyard, and employing new testing technologies to raise the bar for clean, virus-tested grapevine stock, was also recently recognized with a gift to UCD to create an endowed chair position for the FPS director. John Dyson, owner of Williams Selyem Winery in Sonoma County provided the initial gift of $500,000. UCD is seeking additional funding toward a total of $1.5 million to establish the endowed chair position.
FPS is under the umbrella of the UCD College of Agricultural and Environmental Sciences. The college's dean, Dr. Helene Dillard, attended the FPS meeting to provide an update on activities, facilities and new faculty for the college, and discussed Dyson's contribution toward the endowed chair. Dillard said, "An endowed chair sends the message that this position is important, and it also helps us recruit the best talent." Endowed chair funds can be used to help the FPS program, to spend on research projects or to buy equipment. Dillard further explained: "It makes it a real attractive position when we go out looking for people to fill the position in the future. It's also a tremendous honor for Deborah and the work she's done."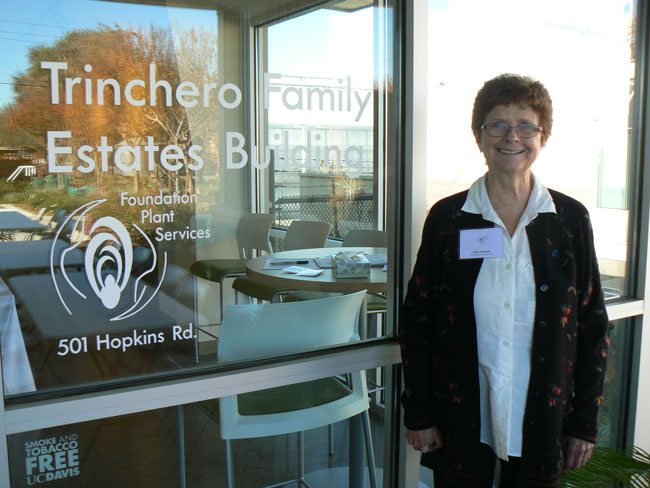 Nancy Sweet, FPS staff researcher and manager of the National Grape Registry, presented an update on new grapevine releases from FPS at the annual FPS Grape Advisory Committee meeting in Davis December 1. (Photo by Ted Rieger)