Steve and Amy Ledson Pour Ledson Wines at 8th Annual Cultivate LA
Ledson helps raise awareness and money for United Friends of the Children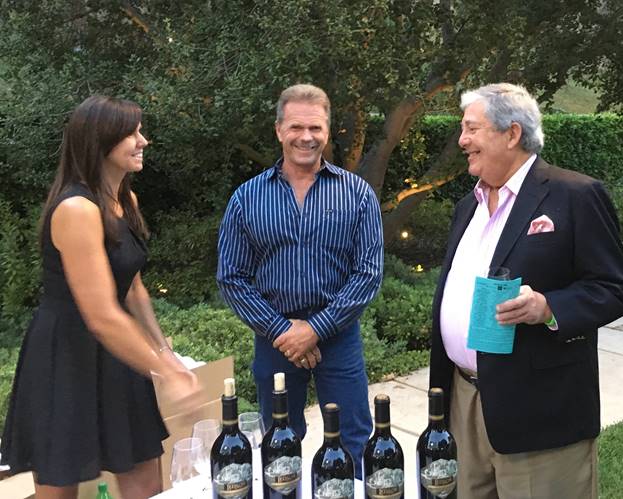 KENWOOD, CA (October 25, 2016) – This past weekend, Steve and Amy Ledson of Ledson Winery & Vineyards in Kenwood, CA traveled to Los Angeles to participate with Anthony Dias Blue at the 8th Annual Cultivate LA held in Bel Air Saturday night, October 22. The purpose of the event is to raise awareness and money for United Friends of the Children, helping over 1,400 current and former foster youth in the Los Angeles area. Initial results indicate over $310,000 was raised at the event.
Cultivate LA featured over 50 local chefs and vintners at an elegant evening that brought together the best of LA's restaurants and artisanal food vendors, as well as a variety of California's finest wines and spirits, at an Italian-style villa with extraordinary large-scale sculptures. There were 600 + attendees and the event was a huge success.
"Amy and I loved this event," enthused Steve Ledson. "Cultivate LA reaches out to our passion, which is helping children who are the future of America. We were thrilled to join in this well-produced event and want to thank Anthony Dias Blue for including us."
Ledson wines are available at the winery in Kenwood, the Ledson Hotel and in the online store, www.ledson.com. Steve Ledson founded Ledson Winery & Vineyards in 1993 and his family has been farming grapes and making wine in Sonoma County for more than 150 years. Ledson Winery is located at 7335 Sonoma Highway in Kenwood and is open daily from 10am to 5pm. For more information, call the winery at (707) 833-2330 or visit the website: www.ledson.com. For more information about United Friends of the Children and Cultivate LA visit, UnitedFriends.org.
Enjoy the best hospitality in wine country with Zina Hyde Cunningham wines, Ledson Winery, the Ledson Hotel and Mountain Terraces Vineyard Winery.