How to Create a World-class Wine Region
Five Steps to Propel a Region from "Good" to "Great"
Most wine lovers are familiar with Burgundy, Bordeaux, the Mosel and Napa Valley, but how many have heard of the Rogue Valley of Oregon, the Neuquen region of Argentina, or the Tulbagh region of South Africa? Even though all three regions have been established for some time and are producing good wine, they have not yet managed to gain global recognition.
So how does a relatively unknown wine region manage to propel itself onto the global stage of wine fame? The answer may lie in the new research findings of Dr. Steve Charters, a professor at the Burgundy School of Wine & Spirits. Having completed much research on Burgundy and Champagne, Charters is now exploring how other global wine regions have successfully established a "territorial brand," that has helped them to create a well-known global identity.
Focusing on the Central Otago region of New Zealand, Charters completed in-depth interviews with winery owners and winemakers in the region. He selected Central Otago because they didn't start producing commercial wine until 1987, but are now renowned for the high quality of their Pinot Noirs, with brands such as Felton Road, Mt. Difficulty and Amisfield selling for over $100 per bottle.
Matching the interview findings with research from other well-known regions, he came up with five critical success factors necessary to propel a wine region to fame.
1. An Icon Product – The first success factor is common agreement on a wine product that the region can produce very well. For Central Otago, this was Pinot Noir, with a very distinctive profile of rich, velvety black raspberry wines with a hint of minerality notes and a darker color. This unique style of Pinot helped to distinguish them from Burgundy, Oregon and other areas that use Pinot Noir as a signature grape. However Charters stresses that the icon product doesn't have to be a signature varietal. It can also be a signature blend or even a unique winemaking style, such as the qveri of Georgia.
2. Cohesion of Actors – A second critical success factor is the need for everyone to work together for the good of the region, rather than for individual recognition. For Central Otago, this included the emergence of a number of "founding fathers and mothers" who were the first to plant grape vines in the area and joined forces to create a regional association (the COPNL). They were then supplemented by a further wave of producers who brought crucial winemaking and business skills—but the founders welcomed the newcomers and their experience, rather than resent them.
3. Willingness to Accept Imperative of a Territorial Brand – Linked to the second factor is the third, which "is one of the most difficult to implement," according to Charters, "because winemakers and owners must agree that the regional brand is more important than individual glory, and work together to invite media and consumers to taste their wine." In Central Otago, he found that this force was very strong, with many of the key players agreeing that "you don't promote your wines over someone else's wine— (you) promote Central Otago."
4. A Common Story – Just as a strong product must have a good brand story, so too does a regional wine brand. Charters discovered that the story for Central Otago describes how the New Zealand gold rush first brought settlers, then later the first vineyards were established, with "every vineyard having a "mountain, lake, or river" behind it. As the home of bungee jumping and extreme sports, Central Otago is also home to vineyards set in extremely beautiful natural landscapes, causing an Australian newspaper to name Rippon Vineyard as "possibly the most beautiful vineyard in the world." Another aspect of the brand story, which is more internal in nature, was that the winemakers of Central Otago had to fight against many external critics who didn't believe they would ever succeed in establishing a world-class wine region. This need to fight against an external enemy strengthened their cohesion.
5. An Effective Regional Brand Manager – A final success factor is the need to create a strong regional brand manager who can continue to unify wineries by maintaining the vision, developing effective policies, promoting the region and defending the brand against "carpetbaggers who want to trade on the reputation of the region," said Charters. In Central Otago, this role is assumed by the regional wine association, COWA, and also includes the difficult role of trying to influence all new players to maintain the high quality level of winemaking.
In conclusion, Charters said that these five success factors seem to have played out in most great wine regions around the world, but can often be more challenging in New World countries which do not have the strict quality regulations found in many fine wine regions of Europe. For example in Burgundy, Grand Cru vineyards are regulated not only by the type of grape they can grow, but also on viticulture practices, such as no irrigation, hectaliters per hectare that can be harvested and winemaking practices. These types of regulations, which can be onerous at times, can also help to protect the high-quality perception of a wine region and the "territorial wine brand."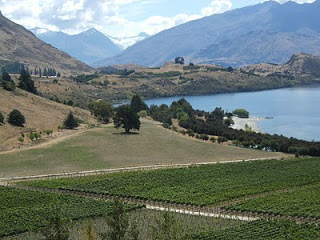 Rippon Vineyards in Central Otago Near Lake
Photo Credit: L. Thach
by Dr. Liz Thach, MW
About the Author: Dr. Liz Thach, MW is the Distinguished Professor of Wine at Sonoma State University in California. She can be contacted at Liz@lizthach.com