The Story of Storybook Mountain Winery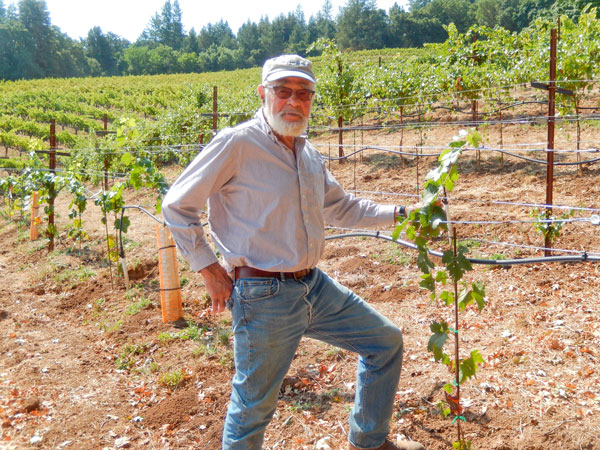 Calistoga is one of those magic and iconic wine towns in the Napa Valley. While its visitor friendly residents enjoy sounding off, especially about politics, one of its locals, vintner Jerry Seps, who is nothing short of a wine icon, himself, remains quiet and unassuming. He chooses, instead, to let his exceptional wines and beautifully kept vineyards speak very, very loudly for him.
Seps and his wife, Sigrid, own the fairytale, Storybook Mountain Winery, north of town, where they have been producing remarkable Zinfandel and Bordeaux red blends at their 100 acre winery and vineyard for the past 40 years. Renowned wine critic Robert M. Parker, Jr. gives their wines 90 plus ratings and declares Storybook Zin as one of the world's six best Zinfandels. For the past 13 years, according to Seps, Storybook has been picked as among the top 100 wineries in the world by Wines and Spirits Magazine.
Storybook is located on the Mayacamus range, at the top of the Valley and "a few blocks" from the Sonoma line. The hillside vineyards not only receive all the climatic and soil benefits that the famed Napa Valley has to offer, they also receive the cooling benefits of the Chalk Hill gap and the Russian River influence. These help mitigate the occassional heat waves that spark the upper valley. The site also stands, majestically, eye ball to eye ball with iconic Mt. Saint Helena. Combined with the visual beauty of the Calistoga area, it is no suprise that Parker, Jr. lists the estate as one of the most picturesque vineyards in California.
Seps reached his Storybook winery and Calistoga by a circuitous route. While raised in Southern California, it was his entrance to UC Berkeley that brought him close to wine country, and his summer job in Yosemite National Park that afforded him the opportunity to indulge the wine scene. "Back then," he recalled, "I worked 7-day shifts at the Ahwanee Hotel, and then got three days off. And I would spend my time up here, visiting the wineries."
The lure of the valley and its great wine remained a constant for him. Forty years ago, Seps was a tenured university professor of history, married and with four children, when the lure of the Napa Valley finally overwhelmed him. With a PhD from UC Berkeley, and a teaching career, first for four years at Stanford and then another nine at CalState University at Domingos Hills, he resigned his position, determined to reestablish the historic 1883 winery he had discovered hidden in the weeds, brush, and rubble.
In 1973, Seps and his wife were scouting Calistoga and bought the property because "it was a better place to raise our kids." The 100 acre parcel was part of a ghost winery that stood wild and abandoned--closed by prohibition, and destroyed by the 1964 Hanely fire which burned across the property and over into Sonoma County. "It was pretty desolate, but the views were exceptional," Seps said, recalling his first impression of the site. "All the buildings were gone." All that remained were the century old wine caves, which had been dug out by Chinese laborers.
While the caves attracted their attention, according to Seps, they were equally enchanted by the hills, and the fact that the winery had been established by two brothers who had emigrated from Germany. Their names were Adam and Jacob Grimm--the brothers Grimm. Since Sigrid had, herself, immigrated to America from Franken, a wine region of Germany noted for its beautiful hillside vineyards and their exceptional wines, the Karma was obvious; and so would be the name of their new winery--Storybook Mountain.
While a wine enthusiast, Seps now realized that he had to learn winegrowing and wine making skills. "I believe in listening to the land, letting it speak to us," he said. "I didn't really come to plant anything in particular. Found this beautiful piece of land. In Europe they plant the right grape to the right soil. We wanted to do that."
Seps said his decision to plant Zinfandel, was because he believed that was, historically, the best grape for his hillside estate and its red clay soils. He added that his vineyards are between 600 and 1200 feet above the valley floor. This along with the ocean influence equates the site to a region 2.5, according to the UCDavis system. He also consulted with Andre Tschelistcheff, who was a leading winemaker, and authority on site and varietal selection. He confirmed Zinfandel to the region.
Next, Seps set out to learn all about his chosen grape. For this he offered his time and labor, free of charge to the ultimate purveyor of the Zinfandel grape, Joseph Swan. Without pay, he worked a season with Swan at his small winery in Sonoma, gathering the nuances of balance, of flavor and aroma, mouth feel, finish. His many awards and status over the past 40 years shows that Storybook Mountain Zinfandel compares to the best. Its aging ability second to none.
Despite the laurels he has received, which include having his wines served in the White House by the present and past administrations, Seps does not rest on them. He, in fact, retrenches his committment to his winegrowing by ripping out at least one or two acres of his vineyard every year to seek greater quality.
"Zinfandel is a much more difficult grape to grow than Cabernet Sauvignon, so you must be more alert with your vineyard practices," he said. "It has thin skin, and produces large clusters. The bunches also ripen unevenly, so we are always looking for a better site, or an improvement with the site. Sometimes we will replant, or prune to a different level to allow better circulation. We may change rootstock depending of water needs, or row direction for sun exposure." He never stops revisiting his site.
Seps was one of the founders of ZAP, Zinfandel Advocates and Producers, an organization that educates people about this unique grape. He served as it president for six years. He was also one of the first to help research the source of Zinfandel, which for well over a century was known only as the "California grape." The search was first begun in earnest by wine historian, Charles L. Sullivan who indicated its probable introduction to America through an Austro-Hungarian link.
When in 1967 Zinfandel was found to be identical to the grape called Primativo from Puglia, an Italian province along the Adriatic, Sullivan surmised, in his 1978 study, that the grape, with its Austrian connection and Adriatic location may well have come the short, hundred miles across the sea, through Yugoslavia and to the Coatian coast, an area prolific in grapes.
In 2001, UCDavis Professor Carole Meridith, through DNA testing traced Zinfandel to a little used grape found amidst a vineyard in a coastal, Croatian village called Kastela Stari. While research is ongoing to determine if the root of the grape really began in this region, the Zinfandel has finally found its home. Its DNA is identical to Crljenak Kasteljanski --the red grape from Kastela.
To remain cutting edge, Seps has planted several rows of the Crljenak Kasteljansk, which he imported from Croatia. He is following its progress and will test its fruit for comparison with his own California stock. "I always believe that our next vintage will be our best vintage because we are continually working to improve," he said. "I think it gives people the reassurance to continue to try our wines."
Storybook offers five styles of Zinfandel, based on their vineyard site or blend components. While 75 per cent of the site is planted to Zinfandel, Seps has also planted Cabernet Sauvignon and other Bordeaux varietals, which he turns into a well balanced, hillside-intense Estate proprietary wine. He also produces a barrel fermented Viognier white, an extremely aromatic and flavorful Rhone varietal that loves the hillsides.
Even with 40 years behind him, he still remains excited about his winery experience. While Sigrid has "retired," he says, he now has as his associate, his daughter, Colleen Wilson. She has worked at the winery for 26 years, says Seps, and is Vice-president of operations; while her husband, Richard, is head of sales and distribution. "I guess I suffer from founder's syndrome. I guess I can't let go," Seps says with a gleeful smile. He still tends his vines, rides his tractor, and pays the bills.
Seps is an organic farmer who cares for his soil, his workers and his environment. He has worked with Calistoga resident, Moises Ayala and his sons and relatives since the winery was re-established 40 years ago. "When you have children playing, and workers in your vineyards, why would you want to subject them to chemicals?" he asked. "The Ayala family has helped us build this vineyard for the past 40 years, and, I'm happy to see they are still healthy and strong."
The Seps family has had a positive relationship with their parcel which shows their love and gratitude for what their piece of land has given them. For the bread they receive from it, they keep it environmentally safe and esthetically awesome. Even their office facility is an eye-pleasing piece of archetectural art. All Premier class. A property any neighbor would be happy to be near.
Theirs is a labor of love, not just of economic remuneration. The beautiful stands of Redwoods still stand; an imposing century old oak tree spreds itself awesomely and unemcumbered, living symbiotically with its new neighbors, the vines. While removing these classics of this region would give them addtional usable acres, and extra grape tonnage, The Seps are not bean counters. They are willing to protect both the lion and the lamb.
The story of Storybook Mountain is a textbook example of how the Napa Valley should be. It could be the model for all wineries and commercial facilities to follow. Sustainable, neighborly, profitable. To not just take from the land, but to return something back. To improve, not just plunder, so that the Napa Valley will keep its magic forever. The Napa Valley, afterall, is the real "old timer": 50 million years. The Seps family is cognizant of it, appreciative of it, and obligated by it.
Calistoga offers a beauty unsurpassed by any other wine region of California or the world, and Storybook Mountain Winery presents a winery and winemaker to capture and complement that beauty.
For those wanting a brief visit to Europe while enjoying a visit to world class wine country; to see a hardworking, unassuming, former university prof doth on his wine, his vineyard, and his mountain, then come visit historic Calistoga. Come visit Storybook Mountain Winery. There's magic there... "and the wine is bottled poetry."