Celebrating Scottish Winemaking (Yes, There Are Five or So…)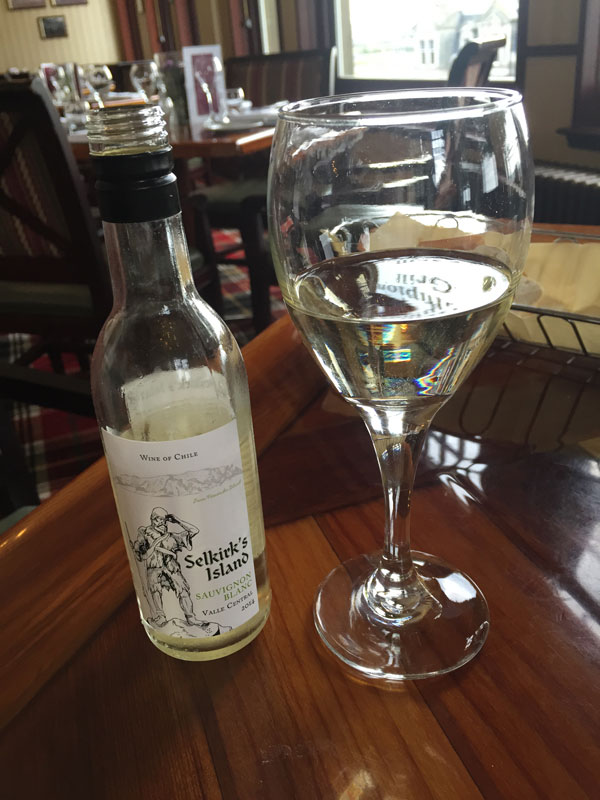 Selkirk's Island Wine (Photo credit: Liz Thach)

"Isn't it too cold to grow wine grapes in Scotland?" That is the most frequently asked question American consumers have when the topic of Scottish wines comes up, especially because finding a bottle on the supermarket shelf is not a common occurrence. However, there are wineries in Scotland—of a sort—and it is possible that as the Earth continues to warm, more Scots will take advantage of the better growing conditions global warming provides. For now, we can take a look at the five major types of wineries in Scotland:
1) The Start-up: Chateau Largo - First Wine Released in 2015
Probably the most famous grape winery in Scotland is Chateau Largo, located in the Fife region just north of Edinburgh. Fife is a warmer region close to the sea with rolling green hills. It is also home to the University of St. Andrews and many famous golf courses.
Chateau Largo is the brainchild of Christopher Trotter, a local chef and food writer who had a dream to start a winery in Scotland. After much research, he planted 200 hybrid grapevines, such as Siegerrebe, that could withstand a cooler climate. His first vintage was available in 2015, but deemed "undrinkable," by some critics, due primarily to some winemaking issues. However, Trotter was pleased, because he was able to prove that winegrapes can be grown in Scotland and used to produce wine. He plans to continue in his efforts to produce a solid-quality Scottish wine.
Given the predictions about global warming, Trotter may be proven to be correct in the future. This is because experts suggest that the warming earth may make it possible to grow winegrapes in currently cooler climates, such as Scotland. Southern England already has more than 100 wineries that are very successful in producing delicious sparkling wines.
2) The Specialist: Château Hebrides – Specializing in Black Muscat Wine
Another daring Scottish wine venture has popped up on an island in the Outer Hebrides, where Donald Hope has made wine from 20 Black Muscat vines he planted. Though only sold at local farmer's markets to date, it has been reputed to be quite tasty.
3) The Non-Scottish Scottish Winery: Selkirk's Island Winery (from Chile)
At a restaurant in St. Andrews, when I asked if there were any local Scottish wineries, the waitress immediately flashed me a sunny smile and said "Yes, Selkirk's Island." She then dashed off, but quickly returned with three mini bottles of its wine—a Sauvignon Blanc, Merlot and a Rosé.
The bottles had an attractive label with a warrior Scotsman on the front, but also said quite clearly that it was a "Wine of Chile." The back label explained that the wine was bottled in the UK for St. Andrew's Distillers. Apparently the Selkirk's Island brand name was created in honor of a daring Scottish adventurer who was marooned on an island off the coast of Chile. Despite the fact that it really wasn't made in Scotland, the wine still created some local pride.
4) The Non-Winegrape Wineries
Scotland's fruit and mead wineries have been creating delicious wines far longer than the newer grape-based wineries. Following are three such wineries that are well advertised in Scotland:
• Cairn O'Mohr Winery – specializing in fruit and plant-based wines
• Highland Winery – specializing in mead and fruit-based wines. Originally started at Moniack Castle, the winery has now been merged with a firm in the UK.
• Orkney Wine Company – specializing in fruit and vegetable wines, some of which are laced with whiskey
5) The Distillery
There are more than 120 Scotch whiskey distillers in Scotland, and they have some similarities to wineries. These include the fact that the product goes through a fermentation process and barrel aging. Scotch whiskey also has distinctive terroirs, can be blended or produced as a single malt, like a single-varietal wine, and incorporates a similar five-step tasting process.
by Liz Thach, MW
About the Author: Dr. Liz Thach, MW is the Distinguished Professor of Wine at Sonoma State University in California where she teaches and conducts research in the Wine Business Institute. She can be contacted at Liz@lizthach.com.