Panther Creek Cellars Celebrates 30 Years of Vineyard Discovery In Oregon's Willamette Valley
Tony Rynders Previews Panther's 2014 Single Vineyard Designate Wines
June 22, 2016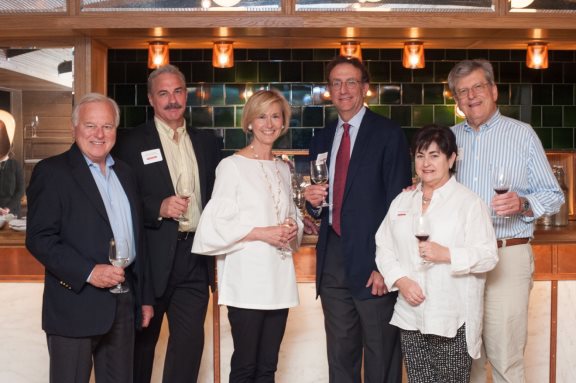 (L-R) Arthur Kalita, Tony Rynders, Sherry Kalita, Sam Bronfman, Janet Schindler, Robert Schindler
Dundee, Oregon, June 22, 2016 --- Panther Creek Cellars, one of the first Oregon wineries recognized for its exceptional regional blends and single vineyard designates, especially Pinot Noir, Pinot Gris and Chardonnay, celebrated its 30th anniversary with a preview single vineyard tasting at Upland restaurant in New York City. Founded in 1986 by legendary winemaker Ken Wright, Panther's winemaker today, Tony Rynders, continues to craft unique and age-worthy wines. Renowned for his ability to interpret individual plots of land, Rynders shared three preview releases at the event: 2014 Lazy River Vineyard Pinot Noir, 2014 Kalita Vineyard Pinot Noir and 2014 Schindler Vineyard Pinot Noir, as well as his 2013 Winemaker's Cuvée and 2014 Pinot Gris. Vineyard owners, Arthur and Sherry Kalita of Kalita Vineyard and Robert and Janet Schindler of Schindler Vineyard were on hand, joined by Peter Kaufman and Sam Bronfman, Cofounders and Managing Partners of Bacchus Capital.
"Panther Creek was a pioneer of single vineyard Pinot Noir offerings in Oregon," noted Tony Rynders. "I relish the opportunity to pay homage to the past while shining a light on the future. The wine we are creating today builds on Ken and the winery's legacy, while showcasing some of the best fruit the state has to offer."
"What's particularly unique about Oregon is the sense of history and the specificity of place," added Sam Bronfman. "Vineyard-designate bottlings are the foundation of Panther Creek. We're all proud to recognize Tony's imprint on this iconic brand as we celebrate a major milestone. We're looking forward to the next 30 years."
Panther Creek Cellars – 30 Years of Vineyard Discovery in the Willamette Valley
Single Vineyard Tasting and Small Bites at Upland in NYC, June 14th
The New York 30th anniversary tasting included small bites prepared by Chef Justin Smillie: crispy duck wings with yuzu kosho; grilled spare ribs romesco; crispy maitake, cloumage; gambas, pancetta, pepato; beef tartare with black trumpet mushrooms.
About the Wines
In addition to the Lazy River, Kalita and Schindler Pinot Noirs, the current Panther Creek single vineyard portfolio includes: 2013 French Creek Vineyard Chardonnay, 2013 DePonte Vineyard Pinot Noir, and 2013 Carter Vineyard, all of which are available at the brand's Dundee tasting room. 2014 French Creek Chardonnay and 2014 Carter Vineyard Pinot Noir, and more, will be added to the line-up this fall.
About Panther Creek Cellars
Located in the heart of the Willamette Valley, Panther Creek Cellars has been producing signature Pinot Noir, Pinot Gris and Chardonnay wines since 1986. Founded by the renowned winemaker Ken Wright, Panther Creek has been recognized for its signature blends as well as single vineyard designate wines. The winery has been credited by Robert Parker as "producing some of Oregon's most concentrated and age worthy wines." From 2013 onward, the Panther Creek wines have been made by the highly acclaimed Tony Rynders, who continues to discover new vineyards while producing wines expressing purity of fruit. Complexity, and place of origin.
Panther Creek is a portfolio company of Bacchus Capital Management.
For more information, visit www.panthercreekcellars.com