Total Wine & More Primed to Open Multiple Stores in the Bay Area
One of the nation's top chains makes its entry into the San Francisco market
As one of the largest national chains, with continued plans for expansion, the Bethesda, Maryland-based, 130-unit chain Total Wine & More has been changing the way customers purchase wines. With its average 25,000-square-foot stores—and a significant presence in high-profile states—the destination-location chain has been able to able to offer an enormous wine selection in dozens of states.
The chain has also done an impressive job mixing esoteric wines with standard selections and the usual winery-direct selections, such as a handful of Bulgarian offerings. The marketing team also works directly with some of Napa's top wine producers to bring in iconic labels like Caymus and Silver Oak at lower prices.
The chain had made its initial foray into the into the Bay Area with a handful of locations outside of Sacramento—and also in Southern California—but is ready to open at least another two stores close to San Francisco in 2016. The first will be in Fremont, in the East Bay, slated to open in the first quarter of 2016, according to vice president of wine buying and pricing Melissa Devore. Another location, in Silicon Valley's Mountain View, is in the works for later in the year. These stores will both be large-format and feature extensive parking.
New Ideas
The chain, according to Devore, intends to focus on competitive pricing and extensive staff training in the Bay Area. The number of wine SKUs will be in the standard 8,000 range, but may, as has been the trend in the group's Sacramento stores, offer a 60-to-40 percent domestic-to-imported skew. The non-California stores, she said, tend to feature a 50-50 ratio.
Pricing, Devore noted, will remain the same despite the higher corporate operating costs. The bulk of the winery-direct imports and domestic partnerships will be part of the lineup. There will be a large private tasting room in all the new locations and hopefully an opportunity for more key winemakers to visit given their proximity to the new locations, said Devore.
The jumbo footprints of the stores, and large parking lots, have posed a challenge for entry into urban areas. When the chain eventually lands in the city of San Francisco, according to Devore, it may seek out an anchor location in a shopping center.
Executives have been seeking the right location in Washington D.C. and there have been murmurs about an eventual move into New York City. The challenge in New York remains the fact that stores can only have one license per person, limiting the chain's expansion. Total Wine & More currently has a handful of locations in Connecticut, one as close as Norwalk—an hour outside New York City.
"We are a destination store and have to make it worth the drive to see us," confirmed Devore about finding the right real estate with suitable parking options. The "Urban Concept," she said, is something "we are looking at in terms of a long-term offering." The chain just opened an urban prototype in South Miami Beach in October.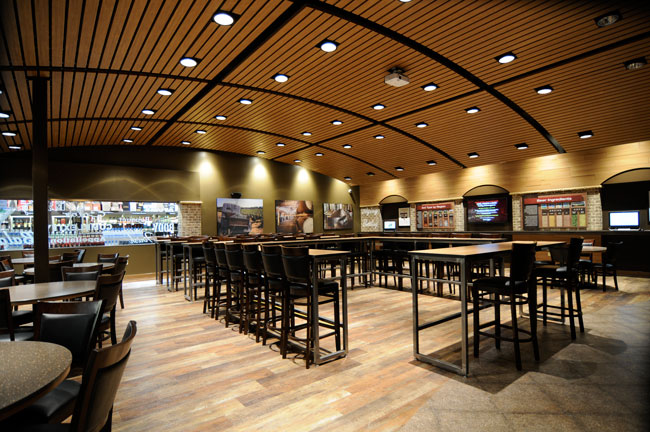 Most of Total's stores average 25,000 square feet. Devore said that two new Bay Area locations are slated to open in 2016.
Structure
At present, the Nevada-based manager, Matthew Lilley, will be the district manager (DM) of all of the new stores. Most of Total's DMs oversee 10 to 15 stores, according to Devore.
The Fremont store is slated to be 21,000 square feet, which is on the smaller side for the majority of Total's stores. Most average 25,000 square feet, said Devore, with showplace destinations such as the suburban Seattle-Bellevue coming in at 30,000 square feet. Most of the stores also carry wine accessories, spirits and beer.
The Bay Area mix will be a bit different than in other Total locations. Devore knows that 1.5-liter bottles don't sell well in the Bay Area, be they bulk or large-format bottles. She's hoping to promote more Magnums of high-end Napa wines and Champagne and focus a bit more on local California regions including Lodi, Monterey, Paso Robles, Sierra Foothills, Napa, Sonoma and Mendocino, among others. The Bay Area stores will also offer its usual high-end meat and gourmet food offerings. She thinks the Fremont store may offer an extensive selection of sweet wines.
Devore also bets that Total's pricing is likely to compete with local chains. Whether is it Bevmo! or Safeway, she shared her belief that the buying team can provide better value proposition than its competition across price points. As an example of the range the Fremont store carry includes Pacific Peak line for $1.97 for a 750-ml bottle and a Bordeaux vertical priced at $18,000.
The chain's biggest competitor across the Bay Area is likely to be the high-end and well-established K&L Wine Merchants, which has locations in Mountain View, San Francisco and Los Angles. The store just moved into a second San Francisco on Harrison Street in the South of Market area that is close to 25,000 square feet according to co-owner Clyde Beffa. He says that K&L's point of distinction will remain be niche wines with less of a focus on private label business than Total.