Winery Profitability Expected to Increase -- Grape Supply Tightens: Financial Symposium Survey
Wineries seen focusing on higher quality -- higher profit wines
August 25, 2015
Expectations of a relatively light 2015 harvest are pointing toward an inflection point in terms of grape supply with sales growth expected to ease, yet wineries expect to be more profitable in 2016 and 2017, results of the 2015 Wine Industry Financial Symposium Industry Trends Survey show.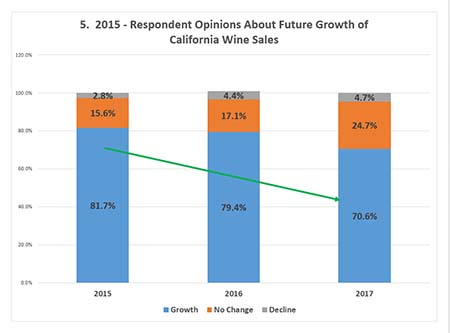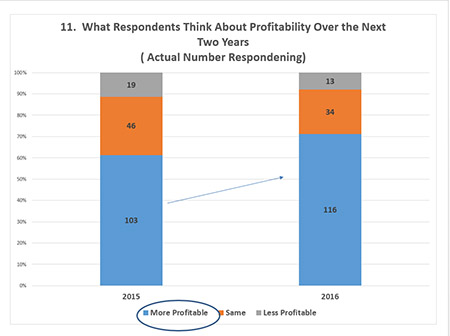 "I think it's the product mix. Consumers are trading up," Silverado Premium Properties chairman David Freed told winebusiness.com. "The higher the price of the wine, the higher the profit margin, because basic costs: your grapes, bottles, and barrel costs, are sort of fixed. As you go up price-points, you get a higher percentage profit margin and a higher profit. The mix is changing."

"Why does Gallo buy J Winery?" Freed asked. "Why does the Wine Group buy Benzigner? They want to get into higher price-points. Why does Constellation buy Meiomi? To have more representation in market over $10 or over $14, or whatever number you choose."

Grape Prices on the Rise

The survey, partly multiple-choice based, and a measure of industry optimism, asked about the most dramatic changes the industry has seen this year. While California's historic legislation mandating ground water regulation was cited most often, the second notable change identified by survey respondents – two thirds of them from Napa or Sonoma - was higher grape prices, particularly for California's north coast.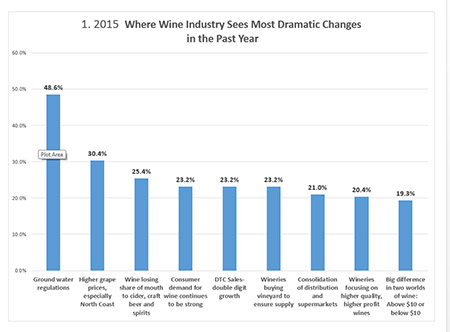 Grape supply has consolidated to an extent, as well, with wineries buying vineyards in an attempt to control supply and to control price through ownership – E&J Gallo's recent purchase of vineyards in Napa being just one example.

"As a grower, I can attest that grape prices, especially for Napa Cabernet, and Cabernet Sauvignon in general, seem to be on an upward march," Freed said. "We're not planting a whole lot more acreage net in the coastal regions of California so what you see is what you've got."

More than 81 percent of respondents said they expect North Coast grape prices to continue to increase. More than 83 percent said vines can sustain their current production levels, and nearly 74 percent said they're changing their portfolios to focus more on the "premium" segment.

Among other things, the survey asked how business plans are changing. Wineries overwhelmingly said they are focusing on trying to raise prices and on consumer direct sales. Nearly 75 percent said they are investing in more technology.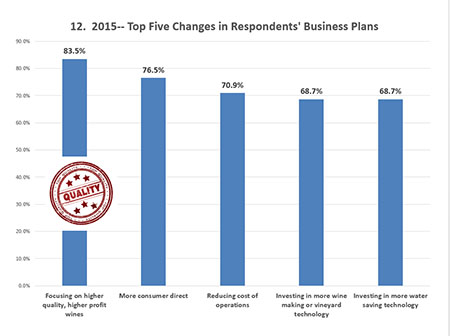 The Emerging Labor Shortage is Here Now

While the survey does gauge optimism, it also asks about what industry executives see as possibly having a negative effect on future sales. While water availability was cited most often as a possible restriction, a probable labor shortage was close behind.

"That's really right on the cutting edge because what's going on now is that we're not accessing the same quantity of labor as we have in the prior couple of years – and it's really starting to be a problem," Freed said. "People are going into construction, into trucking, and into better jobs. The pool of possible labor coming in – migrant labor – is being stretched. This is something I just started hearing in the last three or four months. It may be a sign of where we're heading."

Results of the survey, compiled with the U.C. Davis Graduate School of Management, will be presented during the Wine Industry Financial Symposium on September 21 & 22 in Napa, California.