St. Francis Winery Founder Joe Martin Dies
Never a follower of conventional wisdom, Joe was one of a handful of vintners in the 1980s who saw something magical in the aging Zinfandel vineyards throughout Sonoma County
February 27, 2015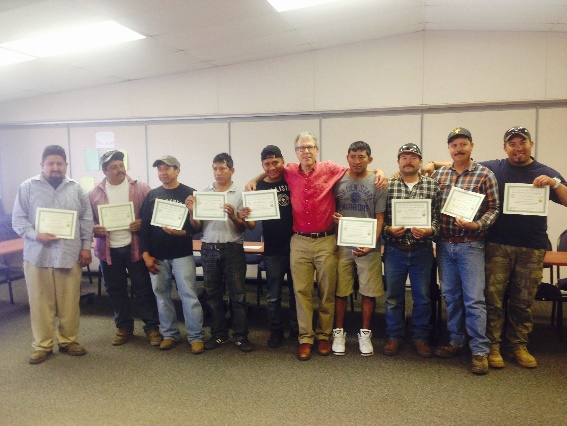 JOSEPH THOMAS MARTIN
1934-2015
It is with profound sadness that we announce the passing this morning of St. Francis Winery Founder Joe Martin after a long illness. On his terms, Joe was at his home in Sonoma Valley on a breezy, sunny morning, with the sounds of the bird sanctuary just outside his window.
Joe was a wonderful man, and also a great man, not only because he dared to do big things, but because he gave much and taught all of us by his example about life and faith and respect for others.
We will miss him dearly.
Joseph Thomas Martin was born in the Central Valley of California to a family of dairy farmers on June 19, 1934. Up early each morning to feed and mile the cows, Joe worked throughout his childhood and adolescent years on the dairy ranch. As a young man he relocated to San Francisco, where he worked to acquire Modern House Furniture Store in the City.
1971: SONOMA VALLEY, 100 ACRES, AND A DREAM
San Francisco businessman Joe Martin sold this furniture business in 1971 to purchase what, at the time, was a funky, hundred acre orchard from the Behler family in the tiny village of Kenwood here in Sonoma Valley. Joe had visited the area many times and saw great promise in Sonoma Valley's cool mornings and warm afternoons as ideal growing conditions for a number of grape varietals, particularly the temperamental Merlot grape. In the midst of what he often jokingly referred to as a "mid-life crisis," Joe sold his home, one of his two cars, and Modern House (his furniture store), and moved with wife Emma into the old farm house on the Behler Ranch. Because Joe and Emma came from San Francisco and were devoted to St. Francis of Assisi, the patron saint and protector of animals and ecology, they chose the name St. Francis Vineyard. Several people suggested he name it Joseph Martin Vineyard or something bearing his own name. Joe didn't like that idea because, as anyone who knew Joe will tell you, he never wanted it to be about him.
For the next six years, Emma continued her job of 20 years as secretary to the president of the Electricians' Union in San Francisco, all the while Joe was taking night classes on viticulture at UC Davis some 65 miles away, as they gradually planted the Behler Vineyard (where we continue to grow some of our best Merlot and Chardonnay grapes). Joe and Emma sold their grapes to other local wineries during the 1970s.
Though Joe originally intended to be a grape grower, he watched wineries garner numerous awards on wines made with St. Francis grapes, and decided it was time to start making wine as well. Joe and business partner Lloyd Canton built a winery in 1979, adjacent to the same vineyard, and became St. Francis Winery & Vineyards in 1979. Joe said the focus should always be on quality, as everything else is secondary. Such became our Winery culture and remains so today. Winemaker Tom Mackey was hired in 1983, and this small but dynamic team made moves that would forever impact the California wine industry. Joe passionately focused on Merlot as a higher end, stand alone varietal, contrary to its then-common use as a blending grape for Cabernet Sauvignon. Many vintners saw Joe's vision for an untested category like Merlot as risky and ill advised. But the Winery moved forward, and Merlot became our signature varietal wine in the 1980s (numerous wine writers would later refer to Joe as the "Father of Merlot Madness"). In 2008, St. Francis Sonoma County Merlot remains our best selling wine nationally, with a consistently loyal audience.
Never a follower of conventional wisdom, Joe was one of a handful of vintners in the 1980s who saw something magical in the aging Zinfandel vineyards throughout Sonoma County. He convinced a number of local farmers to sell their Zinfandel grapes to him instead of bulk producers, and St. Francis released its first "Old Vines" Zinfandel in the traditional, old world style by the end of that decade. St. Francis wines made with grapes from the then-100 year Pagani Zinfandel Ranch would follow, as would "Number One Zinfandel in the World" awards for a number of our Zins. Recognition as a premier producer of dry farmed, "Old Vines" Zinfandel soon took hold.
Then came a national reputation for high quality wines from Sonoma County grapes, which coincided with the search by Kobrand, the national wine distributor, for a "high quality, Sonoma wine brand" to add to its California portfolio of wines including Cakebread and Sequoia Grove Wineries. By the late 1980s—upon the recommendation by wine critic Robert Parker, who saw "great promise" in St. Francis—Kobrand met with Joe Martin and his business partner Lloyd Canton and in 1989 Kobrand began nationally distributing St. Francis wines. Joe was particularly proud of the Winery's relationship with Kobrand, and Joe quickly became one of Kobrand's most requested suppliers on visits to cities throughout the country. The Kopf Family, who owns Kobrand, soon entered into a partnership with Joe and Lloyd, and by 2004 the Kopf Family owned all of St. Francis Winery and Vineyards, as it does today. Lloyd retired in 2003 and Joe stayed on as a full time consultant with St. Francis until he retired to devote more time to his charitable causes in 2008….and the rest is history.
For nearly 45 years, Joe Martin inspired so many of us by making it about Sonoma County and wine and about quality and above all about the people he so enjoyed and admired. He was a farmer who grew up on a dairy ranch in the Central Valley of California. When our Board wanted to honor Joe by naming our original vineyard after him, Joe politely refused and instead asked that it be named to honor the Behler family who first lived here, because he never wanted it to be about him. Joe succeeded but he did not change, nor did his friends or his values change.
COMMUNITY ACTIVISM
His recognized community activism on behalf of his faith and of children and the sick and the less fortunate of Sonoma County were noteworthy: he served for many years on the board of Catholic Charities, on the board of the Santa Rosa Memorial Hospital Foundation, as a key donor and participant at Kids' Street Learning Center (where he would donate turkeys each Thanksgiving and personally cook and serve them to the children at the Center), and as a Founder who helped build Star of the Valley Catholic Church, among other causes. Joe was emotionally moved by the plight of those—particularly children—who were suffering, and it motivated him to help them. Among his good friends was the late Henry Trione, whom Joe admired for his generosity to the needy and with whom Joe collaborated on a number of charitable projects.
Joe Martin's generosity and good deeds, most of which he preferred go unnoticed, continued to the end of his life. Joe very much enjoyed family, particularly nieces, nephews, grand-children and great grandchildren, and is survived by his wife Nancy, a longtime friend and local businesswoman who once ran sales and marketing for St. Francis Winery, and whom Joe married in 2004 following his first wife Emma's passing in 2001. Joe and Nancy have continued to devote considerable time and resources to local charitable causes, particularly those focused on children.
LEGACY
In the second half of his 80 years of life, Joe planted a vineyard, founded a nationally recognized Winery that sells wine in all 50 states, built a church, and gave countlessly of his time, energy, and financial resources to at-risk children, local charities, and so many others in need. Just this month he was honored by Santa Rosa Junior College for "his highly consequential and distinguished career, his key role in the success of the Sonoma County wine industry, and his lifetime of service to others."
Joseph Thomas Martin accomplished all of this with a deep sense of humility, kindness, and faith, and always without trying to draw attention to himself.
Because he never wanted it to be about him.