3 Secrets of Successful Wine Social Media
Social media has been adopted by many types of consumer product businesses to varying degrees of success. Some have reported increases in sales revenues, whereas others have achieved higher brand awareness and more positive customer engagement.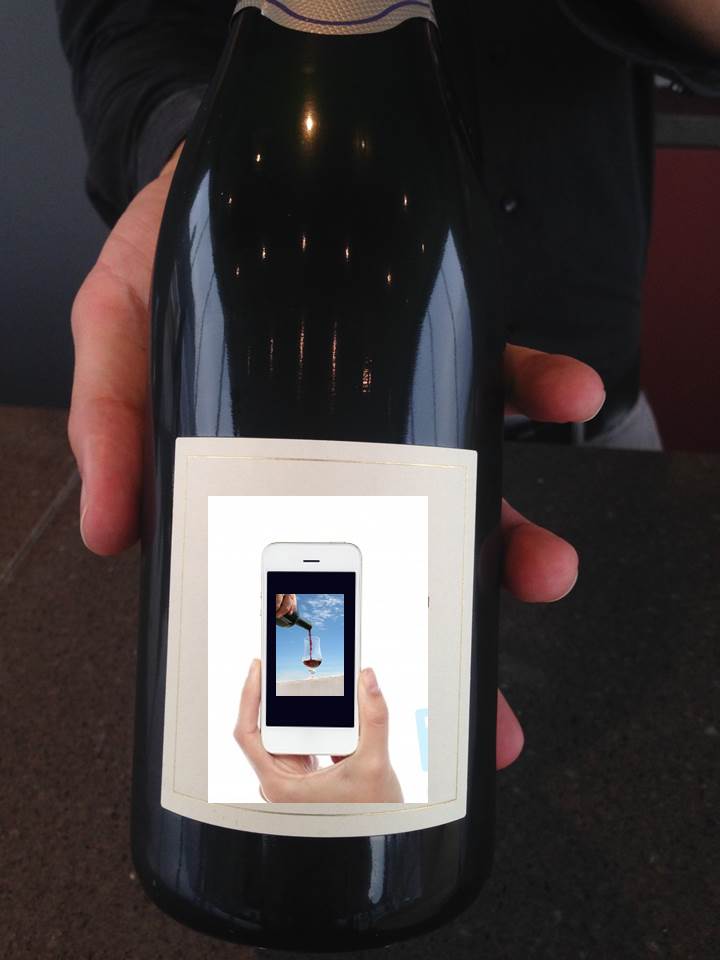 Many wineries in the US have also implemented social media practices, but until recently, it has been difficult to determine which practices are most effective. However, a new study conducted by researchers at Sonoma State University in the Wine Business Institute, in partnership with Geisenheim University in Germany, highlights three social media activities that appear to positively impact wine sales.
About the Study
An online survey was completed by 375 US wineries, with 63% from California and the remaining 37% from other states. The total sample represented 110 AVAs, and 69% of the wineries produced less than 10,000 cases. Survey questions focused on social media activities and motivations. The main purpose of the study was to investigate which social media practices positively impacted wine sales as perceived by winery owners and general managers.
Social media was defined as user generated content delivered via the web and mobile based technologies, allowing customers to communicate with others, including business owners. Common applications include Facebook, Twitter, Tripadvisor, Pinterest, and many other platforms.
Impact of Social Media on Wine Sales
In order to measure wine sales, wineries were asked the following question: "In general, how much impact do you believe your social media efforts have on wine sales?" Possible answers could be: 0%, 5%, 10%, 15%, 20%, 25%, 30%, 35%, 40%, 45%, 50%, More than 50%.
The results show that 87% of wineries in the sample report a perceived increase in wine sales due to social media practices. Of these, 67 wineries reported achieving 30% or more increase in wine sales (High Impact), 107 wineries reported an increase of 10 – 29% (Moderate Impact), and 153 wineries reported a 5 – 10% (Low Impact) increase in wine sales. These groupings were then correlated against practices, goals, and who at the winery was implementing the social media practices.
Social Media Practices Used Most Frequently for High Impact Wine Sales
For those wineries reporting a 30% or more increase in wine sales due to social media, it appears that Facebook is the gateway platform, followed by Twitter (Table 1). Interestingly these wineries also reported the highest use of customer response to websites such as TripAdvisor and Yelp. Probably, more importantly, the analysis showed that wineries reporting highest sales were using multiple social media platforms, rather than just focusing on a couple of them.
Table 1: Major Social Media Practices for High Impact Wine Sales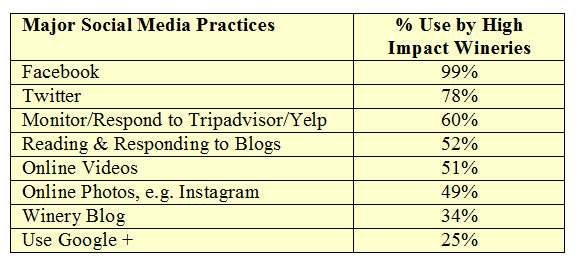 Goals for Using Social Media
In terms of goals for using social media (Table 2), wineries achieving High Impact sales were clearer about their reasons than those wineries reporting lower sales. Communicating with customers, recruiting new customers and advertising were the top three reasons cited by High Impact wineries. Not surprisingly, wineries that were not clear idea on their purposes for using social media were less likely to see a strong impact on their wine sales.
Table 2: Goals for Social Media for High Impact Wine Sales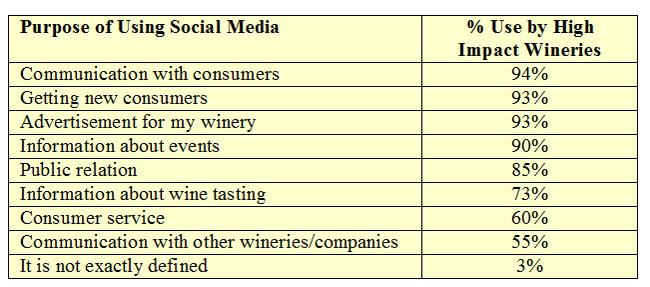 Who Implements Social Media Efforts at the Winery?
A third analysis examined who was implementing social media efforts within the winery (Table 3). The good news for winery owners is that the effectiveness of using social media does not seem to depend on expertise in that field. The bad news is that social media seems to be most effective when the owner is the one responsible for maintaining the social media accounts and keeping the information current. Benefiting from social media requires an investment of time, and often it is the owner's time that has the greatest impact on wine sales.
Table 3: Who's Doing Social Media for High Impact Wine Sales?

Conclusion: 3 Secrets of Successful Wine Social Media
This study highlights "3 secrets" of using social media to assist in achieving higher wine sales:
1) Use multiple platforms, but with an emphasis on Facebook, Twitter, and monitoring/responding to customer review sites such as Tripadvisor and Yelp. Reading and responding to blogs, and posting online videos and photos are also useful activities.
2) Identify clear goals for using social media, with an emphasis on communicating with customers, recruiting new customers, and advertising.
3) Involve winery owner/winemaker in some of social media communication with customers. In order to achieve the authentic communication that many wine consumers crave, it is important for key winery personalities to participate in social media activities.
About the Authors: This study was conducted by Dr. Liz Thach, MW and Dr. Terry Lease of Sonoma State University Wine Business Institute, and Dr. Gergely Szolnoki and Carsten Hoffmann (thesis student) of Geisenhem University in Germany. For a copy of the academic research paper, please contact Liz@lizthach.com, Tery.Lease@sonoma.edu or gergely.szolnoki@hs-gm.de.
Photo Credit: Liz Thach and Freedigitalphotos.com