Putah Creek Winery Opens Davis Tasting Room
Putah Creek Winery, based in Davis, Calif., opened the only downtown Davis wine tasting room on May 2 with a ribbon-cutting ceremony attended by local dignitaries, winery friends and wine club members. The tasting room will highlight the winery's commitment to producing quality local wines from local grapes in a city long associated with wine, but without a regular presence (until now) of commercially available local wines. Putah Creek Winery believes the University of California, Davis' (UCD) global reputation in enology and viticulture education makes downtown Davis a natural location for a new tasting room. The tasting room is located at 110 F Street in a street level storefront within the Hallmark Inn building complex.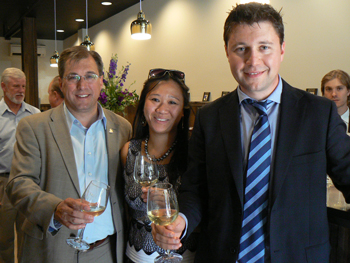 (L-R) Davis Mayor Joe Krovoza celebrates the opening of Putah Creek Winery's new tasting room in downtown Davis with winery managing partners Jessica Chin Foo and Diego Barison.
Putah Creek Winery was founded in 2006 by winegrape growers Gene and Cathy Glaeser, who farm a 40-acre vineyard on the now dry North Fork of Putah Creek on the southern edge of Davis just within Solano County, where the winery is also located. The winery was acquired in February by Garba Wine Company, LLC, a partnership led by managing partners Diego Barison and Jessica Chin Foo. The Glaesers continue to manage the vineyard and supply grapes for Putah Creek's estate wines.
Attending the opening ceremony were Davis Mayor Joe Krovoza, Yolo County Supervisor Don Saylor, and staff representatives for Congressman John Garamendi and State Senator Lois Wolk. Krovoza welcomed the new business and highlighted its contribution to downtown Davis and its importance to the local economy by supporting the area's urban/rural connection. Krovoza also explained, "The Glaesers and Garba are the keepers of one of our most precious local brands here in Davis—Putah Creek—which is one of our local treasures, and we thank you for keeping the legacy and history of that brand."
Garba Wine Company's managing partners come from agricultural and entrepreneurial backgrounds, but they are relative newcomers to Davis. Diego Barison came to Davis eight years ago, a native of Piemonte, Italy, where his family has a long history in the grapevine nursery business and in producing grapes and wine. Barison and Gene Glaeser are also connected through Novavine Grapevine Nursery of Santa Rosa where they work together as sales representatives.
Jessica Chin Foo is from Tahiti French Polynesia where her family has been in farming and coconut oil production, and in the banking and travel industries. In her introductory remarks at the grand opening, Chin Foo said, "We (Garba Wine) are young entrepreneurs and immigrants and very proud to be part of the Yolo and Solano County economy. And as a UCD Aggie alumnus, I want to show we have great wines here in Davis." She added, "We look forward to introducing Putah Creek Winery's concept of quality wine coming from quality local grapes, and we're thrilled to offer the Davis community a fun and educational new wine tasting experience."
Current wine releases available at the tasting room include Chardonnay, Sauvignon Blanc, Barbera, Cabernet Sauvignon, Syrah and Tannat. Tasting room hours are 11 am to 6 pm Wednesday through Sunday. Andi Carr serves as marketing and events manager for Putah Creek Winery and the tasting room.
Garba Wine Company plans to introduce three additional wine brands this year, including one with a focus on Italian varieties. However, the Davis tasting room will be dedicated exclusively to tasting and sales of Putah Creek wines.