Red Blotch Designated as Winegrape Pest by PD/GWSS Board
Board Also Designates Vine Mealybug and Brown Marmorated Stink Bug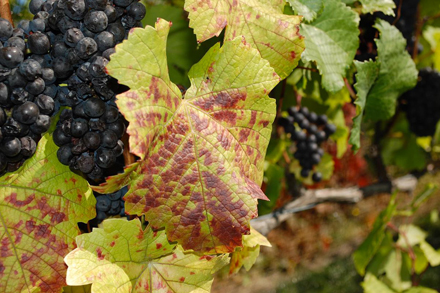 The California Department of Food and Agriculture (CDFA) Pierce's Disease (PD)/Glassy-Winged Sharpshooter (GWSS) Board designated grapevine red blotch-associated virus (GRBaV), the vine mealybug (VMB), and the brown marmorated stink bug (BMSB), as pests of winegrapes for possible allocation of Board funds for outreach and research at an April 28 meeting in Sacramento.

Although designation by itself does not obligate the Board to fund activities related to these pests, it does position the Board to quickly respond to specific outbreaks or finds with education and outreach efforts, and it allows the Board to target research projects for longer-term control efforts.

The PD/GWSS Board received authorization following 2009 legislation and a 2010 grower referendum (to renew the Board) to use industry assessment funds for research and outreach on other serious pests and diseases of winegrapes, as long as such funding does not substantially diminish PD/GWSS research and control efforts. The European Grapevine Moth (EGVM) had been the only other pest to receive designation by the Board. In that case, the Board allocated funds for outreach that assisted with successful control efforts. No funds are currently budgeted for EGVM.

All three newly designated pests received unanimous approval of Board members present at this week's meeting, representing a shift in the Board's recent handling of such designations. The Board had previously considered the VMB, but no designation occurred. On June 21, 2013, the Board evaluated red blotch, but a 6 to 6 tie vote of members present resulted in no action. That outcome prompted the Board to evaluate and improve the designation process, and it has taken steps that include: adding more members to the "Other Pest or Disease Designation Committee" and including pest experts at Committee meetings, improving the pest designation checklist and process, and providing more background information to all Board members about pests and diseases considered for designation. Letters from regional grower groups also played roles in the designation of each of the three pests.

Red Blotch
A January 9, 2014 letter to the PD Board from Napa County grower Jim Frisinger, of Frisinger Vineyard, on behalf of the Napa County Winegrape Pest and Disease Control District Board of Directors, requested the Board designate red blotch a serious pest of winegrapes due to the direct impacts on fruit quality and grapevine health.

GRBaV, also known as red blotch disease, can cause a significant reduction in sugar accumulation in grapes of up to 5 degrees Brix, and it can negatively impact vine health. Like other viruses, it has no cure. Its transmission is not well understood, although it is believed one or more insect vectors may be involved. Red blotch concerns have caused delays in vine replanting and new vineyard development. Grapevine nurseries have spent millions of dollars in lab testing of plant material in recent years, and have experienced significant rejections of previously ordered plant material by wary growers.

As stated in the Board's checklist for recommending designation: "A cursory estimate of the economic impact of red blotch at a premier wine estate in the Napa Valley indicates losses ranging from $200,000 to $400,000 per acre based on lost productivity (unripe fruit unacceptable for quality wine), cost of replanting, and opportunity cost of four lost years of production. This potential suggests billion dollar losses at the state level."

VMB
The San Joaquin Valley Winegrowers Association wrote a letter to the Board February 17, 2014 requesting designation of the VMB, noting that severe infestations can cause reduced vine growth, bunch rot, defoliation, spur and cane necrosis, and the VMB is a vector for leaf roll diseases. VMB feeding produces sugary excretions that support the growth of sooty mold. Infested clusters can become contaminated, resulting in unmarketable grapes and rejected loads by grape buyers. Current VMB suppression methods to prevent damage can be costly, and eradication is difficult to impossible once established. The VMB has been found in at least 17 California counties, all life stages may be present year-round, and it can have four to seven generations per year depending on location and temperature.

BMSB
The Lake County Winegrape Commission (LCWC) sent a letter to CDFA dated December 2, 2013 asking the PD Board to give high priority to research proposals related to the management of the BMSB. The LCWC expressed concerns about large numbers of the BMSB in Sacramento, and in the cities of Chico and Yuba City. The BMSB has known reproducing populations in Sacramento, Butte and Los Angeles Counties, and isolated finds have been recorded in 18 other counties in recent years.

The BMSB has a large host range of numerous fruit, vegetable and flowering crops; it has no known U.S. predators; currently available pesticides have not been effective against it; and it overwinters in large numbers within homes and buildings. For the wine industry, it has potential threats as both a vineyard pest causing fruit damage, and for tainting grape loads to cause wine quality/sensory problems. Dr. Deborah Golino, director of UC Davis Foundation Plant Services, who is familiar with BMSB problems in other U.S. states told the PD Board at this week's meeting: "The BMSB is difficult to kill, it reproduces rapidly, and I think it will turn out to be a serious pest in California, for other ag commodities as well as winegrapes. By designating the BMSB as a pest of winegrapes, it positions the Board to leverage funding for research with other commodity groups."

Napa County Ag Commissioner Greg Clark, who attended this week's meeting, thanked the PD Board on behalf of Napa County agriculture for its actions in designating the pests, and also noted, "These pests have significance statewide, that's the reason red blotch and the others were able to come forward and be recognized." He also said, "The BMSB is of significant concern to Napa wineries for its potential for tainting and reducing wine quality." He said the county is starting base level trapping for the BMSB for early monitoring and detection. The Lodi Winegrape Commission is also funding BMSB trapping in the northern part of the Lodi appellation closest to Sacramento, and is holding a BMSB educational meeting for growers in Lodi May 29.