Texas Wine & Grape Growers Association Conference: A Summary
Highlights from the conference
Despite late programming announcements, the absence of familiar faces Lew Bright and Dacota Haselwood due to their having relinquished their legal and lobbying posts in the past year, and unusually restrictive wine consumption requirements imposed by the site location, the Texas Wine & Grape Growers Association's 14th annual conference was a successful one.
Held just north of Dallas in Frisco, executive director Debbie Reynolds opened by emphasizing attendees support and patronize TWGGA's 30 sponsors and in-kind alliances including the Fort Worth-based BRIT organization which works with Texas wineries in achieving sustainability goals. Lost Oak Winery's Roxanne Myers continued by addressing the great efforts being made with winery staff in promoting the free TX Wine Passport app—60 Texas wineries have signed up for the TWP program with 124 listed on the app, 3,382 winery codes entered into the system by users of the app, and 1,104 persons entering data into the system annually.
Gabe Parker encouraged schools to acquire a Texas winery permit allowing them to sell wines. TWGGA's treasurer used Fresno State as a model as "the wine program supports its athletic program so individuals don't have to go out of the state to learn how to make wine. We need legal support for our organizations, and we need a single point of contact to provide a window into them," in order to determine areas of interest and expertise.
"Marketing Your Vineyard" with Nick Frey
Nick Frey of Sonoma County Winegrowers pointed out his county's 60,000 acres of vines constitute only 8 percent of California's 546,000 total, though its worth surpasses that, and his organization was founded in 1986 to promote Sonoma County and its growers. Eighty percent of members' vineyards are less than 100 acres, 40 percent have less than 20 acres, which keeps the cost of production high leading him to state that "if you're going for top dollar you ought to look to sell to wineries positioned in the higher segments,"—a salient point as compared to California, Texas fruit has a high value due to the overwhelming in-state demand for Texas wines coupled with the low level of annual vines in production.
Frey also took pains to point out that California's annual Grape Crush Report (whereas Texas's is published only every second or third year) allows him to more easily understand the vagaries of pricing, positioning, promoting and product alongside the average price per ton for any grape produced in Sonoma County. This enables him to pursue the best prices when assisting growers with contract pricing.
For good and ill, with the Texas wine business in some ways akin to where California was in the 1970s, Frey tried to show the attendees the way forward. In pointing out the difference between short- and long-term relationships, or that of transactions versus partnerships, he said that "it doesn't matter as long as you've sorted out the right steps in knowing business objectives in how to market one's vineyards." He uses crush reports (by multiplying tonnage by bottle prices) to determine the prices based on the quality of harvested fruit he'll seek.
"In approaching wineries the grower should look to provide its specific varieties/clones/rootstocks, trellis system, production history, a vineyard map, other wineries purchasing your grapes, available tonnage, length of contract sought, and price expectations," he said. He suggested using web-based postings of salable grapes, such as is done on the Sonoma County Winegrowers Grape Marketplace, and the mapping and grape marketing website Everyvine.com. He addressed the establishment of good business by saying that "once a contract is agreed upon then communication with the winery client throughout the season helps the ongoing relationship. Remember to ask the client for tastes of wines they make from your grapes, and be responsive in meeting their requests for improving quality and quantity."
He encouraged inviting wine writers into vineyards for research and pleasure, developing communication outlets, such as websites, and hosting tasting/dining events for growers groups to help build alliances and to share stories. "Gain your relationships with wineries by knowing their business objectives and yours are aligned," Frey said. "It's not about what you produce, it's about what you sell."
Cork Forest Conservation
Not long ago, Patrick Spencer was employed by Willamette Valley Vineyards. The Oregonian (featured in a recent TED Talk) is now the founder and the driving force behind the Cork Forest Conservation Alliance, a nonprofit organization entrusted with the responsibility of sharing the story of cork 'from bark to bottle.'
"Quercus suber is the only tree which can have all its bark, all dead material, removed with no harm done to the tree itself," a circumstance akin to shearing a sheep," he said. "The seven countries growing the world's 7 million acres of cork help keep the Mediterranean basin from becoming a desert,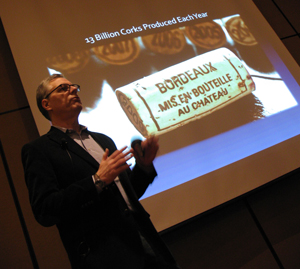 Patrick Spencer
one which has the world's second largest forest biodiversity." Spencer touched upon the worker-friendly aspect in claiming cork harvesters as Europe's best paid agricultural workers. He argued that "from beginning to end, by the time a winery receives any of the 13 billion corks made annually, that it's passed through the hands of 20 different humans," and that "a typical tree yields enough bark to produce 25,000 wine corks—once harvested of its bark the tree then absorbs 10 times more CO2 than a tree that is un-harvested. Cork forests absorb 20 million tons of CO2 annually."
Spencer criticized the aluminum industry's level of pollution adding that although aluminum is technically recyclable, something which is done in good measure in France, none currently are actively being recycled in the U.S. Furthering supporting his argument he cited Penfold's as a large wine company in transition to going back to full usage of corks over other closures. He joked, "sealing a bottle of wine with a screw cap or plastic plug is like packaging a vegan burger in a leather bag."
He likened the cork industry's position 15 years ago to a restaurant located in the desert as "not needing to make good food, but only to be open. The wine industry needed corks, but when alternate closures were made available they quickly lost 40 percent of their business." The response of the cork industry was to no longer allow the 18 inches of bark lowest to the ground—which is most likely to be water-logged—to be used other than for wine stopper manufacturing, and that water is now changed more often in the washing process limiting TCA spread, and there are more laboratories in Portugal now which resemble "NASA's clean rooms." He argued that 'mom & pop' operations were bought out by companies like Amorim, brought into the bigger companies, thereby vertically integrating cork manufacturing so as to make it more effective and clean. Adding to his position he asserted that, "independent testing labs have shown that 15 percent of French-made barrels contain TCA without ever having been exposed to cork."
Understanding Labels, Consumer Preferences and Texas Wines
In his first appearance on the TWGGA stage, Whole Foods Market (WFM)'s Master Sommelier Devon Broglie spoke of the need for wine packaging to accurately reflect what's in the bottle. In coordinating the programming for its 275 stores, 21 in the company's home of Texas, he's a key figure in U.S. wine retailing. WFM's associate global beverage buyer oversees the sale of its 2,400 cases of Texas winery-produced bottles sold annually from 33 wineries at an average of $13.81/bottle, significantly higher than total average bottle price of $11.40, from 158 unique UPCs of which the top 20 comprised nearly half of all its Texas wine sales. "People say 'I just buy my wines from the label' with a sense of shame for their process in doing so. Labels and packaging shouldn't just be what's the most eye-catching thing…it should speak to what's in the wine," continuing by expressing the need for authenticity and connection in marketing and selling wines, "it does matter where grapes come from. Value is relative."
When asked of WFM's sales of Texas wine sold outside the state, he replied that the company sold no Texas wines otherwise "because non-Texans don't understand or appreciate Texas wines." Concerning the disparity between wines bottled in Texas made with or without Texas fruit he skirted what's become an in-state controversy by saying, "I believe in transparency and giving customers a choice."
Dr. Chris Taylor of Houston's Hilton College characterized 'The Somm Effect' as being "good, bad, and ugly for the hospitality business in that they set themselves apart from other parts of the wine business by doing something different from other restaurants." He sees locally-made craft beers in restaurants as short-term competition to wines though of little concern in the long-term, "but I think it's sad that at an upscale Houston restaurant beverage list you'll find a Texas craft beer far more often than a Texas wine."
Taylor views consumers paying to learn about wines and how to be a better consumer of them, something befitting the American mentality of wishing to be seen as at least competent and familiar with the subject matter if not expertly versed with it, as a boon that most retail operators don't enjoy. He emphasized that with an increase in sales other than cellar door that hospitality in the form of education, tourism, and online outreach has grown in importance.
New Products for Texas Winemakers
New products on the exhibition hall floor included Key Keg, a creation of six European packaging companies trying to overcome issues concerning contamination, weight and return in relation to supply chains. Manufactured in the Netherlands with its distribution partner in Chicago as Lightweight Containers, Key Keg arrived in the U.S. last September. Currently available in 20- and 30-liter sizes, it's being targeted to breweries though local representative Daniel Kelada of Vinovium Partners said that "the keg wine category allows Texas producers to be tasted without fear of waste or spoilage, lessening fears retailers may have in bringing in Texas wines."
Flat Creek Estate's winemaker Tim Drake moonlights working with Leroi Barrels of California and France with its 'vinification barrel' with a 6-inch hole cut in the head to easily get whole berries in and out without popping out the head. Installed in the head is a plastic ring holding in place a 2-foot filter tube assembly allowing barrels to be rotated for balanced extraction. "Once you're done with fermentation the valve assembly drains the wine, separating it from the berries then easily removes the berries from the barrel," said Drake. When the barrel's retired the apparatus can be installed in a replacement barrel. Drake sees the integration of oak and oxygen early in its process as a boon to color stabilization which an ongoing problem for Texas reds.
Della Toffola showed images of their smaller-scale ceramic 'lees-cross-flow', set for a May trial in New York before being marketed to other small-production dominated states such as Texas. "This machine is very heavy duty for such a small version," proudly stated Della Toffola USA's CEO Maria Angela Guarienti.