Brown Marmorated Stink Bug Spreads in Sacramento County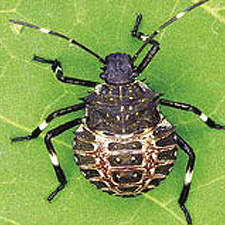 New finds of brown marmorated stink bugs (BMSB) (Halyomorpha halys) in Sacramento County have been reported by UC Cooperative Extension (UCCE) Sacramento County viticulture and pomology farm advisor Chuck Ingels. Finds were confirmed at two residential properties in Citrus Heights in the northeast county in October 2013, and one was confirmed in December 2013 at an Elk Grove residence in the southern part of the county—within the northern boundary of the Lodi American Viticultural Area.
Ingels previously reported in September 2013 that a well-established population of BMSB exists in a residential and light commercial area in midtown Sacramento covering 42 city blocks that may have been there for one to two years. This is the first known reproducing BMSB population in California outside of Los Angeles County. The recent outlying finds in Sacramento County are on residential properties of people who work in, or frequently visit, midtown or downtown Sacramento. "Anyone who visited this area in summer or fall 2013 (or earlier) may have inadvertently spread BMSB to other regions," Ingels said in his January 2014 "Tree and Vine Newsletter," posted at http://cesacramento.ucanr.edu/news/Tree_-_Vine_News/.
The bugs can travel long distances by hitching rides in vehicles, and as stowaways when furniture is moved. As a result, new infestations are commonly found in urban areas. BMSB seeks winter shelter, and large numbers can congregate on outside walls or inside homes. BMSBs migrate seasonally as populations grow and weather warms, most commonly in summer and fall. They are strong fliers, capable of traveling more than one mile a day, with some studies measuring flights of 20 miles and more in one day.
With the Unified Wine & Grape Symposium and trade show scheduled to bring in thousands of wine industry professionals and grape growers to downtown Sacramento next week, Ingels was asked about the possible threat of BMSB spread via individuals who park their cars in the downtown area. "It's not an issue this time of year, because the bugs are dormant and not moving," Ingels said. "In summer and fall when the bugs are migrating is when the main threat for spread exists," he added.
The main Sacramento infestation is bounded by O and V Streets and 11th and 17th Streets. However, 14 other finds of one or more bugs were recorded during Fall 2013 in the downtown/midtown area north or east of the area described above, and one find in Old Sacramento. A map and a list of recorded finds can be accessed through the UCCE Sacramento County website at http://cesacramento.ucanr.edu.
Another infestation was confirmed in fall 2013 in Yuba City in Sutter County (40 miles north of Sacramento) in several commercial buildings, and one or more bugs in the Northern California counties of Butte, Glenn, and Siskiyou. Individual BMSBs were found in Davis in Yolo County in 2012.
Threat to Numerous Crops and Host Plants
BMSB can feed on several dozen commercial crops grown in Northern California, including wine grapes, apples, pears, cherries, peaches, melons, berries, corn, tomatoes, soybeans, peppers, eggplants and sunflowers. It is also found on ornamentals such as English holly, Catalpa, tree of heaven, southern magnolia, and redbud. Ingels said the list of host plants will likely grow as the BMSB spreads to new regions, noting that Chinese pistache was not previously on the list, but all BMSB stages were found on these trees in Sacramento in 2013. Ingels summarized, "It appears it will feed on anything with a fruit, pod or seed."
Native to eastern Asia, the BMSB has been in the US since the late 1990s and was first documented in Pennsylvania. In 2010, the BMSB caused $37 million in damage to orchards in the Mid-Atlantic states, where it has done the most crop damage to date. The BMSB has been detected in 40 states, including Washington and Oregon. It is also a serious nuisance pest, as it seeks out lights at night and aggregates in droves in sheltered areas during the winter.
Studies in eastern US vineyards show that both adults and nymphs can damage grape berries, and two nymphs per cluster can cause serious damage with aborted berries, turgor loss, necrosis and bunch rot. The bug has a strong unpleasant odor when disturbed, a concern for the wine grape industry if bugs find their way into harvest bins. Studies done in Maryland to evaluate BMSB aroma taints in wine grape juice showed that the bugs can add smell described as "crushed cilantro," "skunky," "citrusy," and "piney."
In his January newsletter article, Ingels also provides updated information on monitoring traps using pheromone lures, and insecticides for possible control options. To date, Ingels has had mixed results using available traps, saying they were not very effective except when population levels were high. He's planning a more extensive trap placement program this year beginning in March.
Identification, Reporting Needed for Control
BMSB finds should be reported to the county agricultural commissioner, or a local UCCE farm advisor. Ingels advised, "It is crucial to train management and farmworkers how to identify BMSB so outbreaks can be kept to a minimum, and to have a plan for managing the pest."
For more information:
--A national web page, www.stopbmsb.org
--The UC IPM web page, with photos, life cycle information, and identification video, www.ipm.ucdavis.edu/pestalert/pabrownmarmorated.html