Five Examples of Social Media ROI in the Wine Industry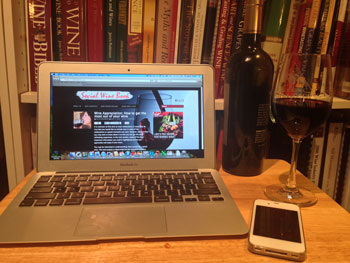 Wine social media
Photo by Liz Thach
Since its advent in the mid 2000's social media has created much interest and controversy as a new means of advertising products and services. Though some consumer product industries rapidly integrated social media into their marketing mix, many wine businesses have been skeptical about return on investment (ROI). In the last few years though, there have been an increasing number of wineries with documented success of how social media has helped them increase brand awareness and revenues.
Defining Social Media and Its Applications
Though there are different definitions for social media, one of the most concise is user generated content delivered via the web and mobile based technologies which allows people to communicate, discuss, recommend, and co-create content. Common social media applications include:
1. Social Networking Sites such as Facebook, Twitter and Tripadvisor.
2. Blogs and Social News Sites that allow users to publish or comment on stories, such as Vinography and Digg.
3. Online Images such as Flickr, Pinterest and Instagram.
4. Online Videos (also called vlogs) such as YouTube and Vimeo.
5. Mobile/Geographic devices and apps that allow users to "check-in" and let others know where they are, as well as to gather information or use coupons in their current location. Examples include Foursquare, Foodspotting, RedLaser and Shopkick.
6. Collaborative Projects that allow users to jointly create content, such as Wikipedia, Google Documents, and DropBox.
Why Wine is a Good Pairing With Social Media
Researchers describe wine as an "experienced good," in that consumers usually need to taste it in order to know if they like it. Since there are more than 10,000 labels on the market, wine can be especially confusing, and therefore consumers often rely on experts and friends to help them determine which wine to purchase. In the past, they consulted books, magazines and newsletters, but more increasingly they have turned to social media to seek advice from friends and experts in order to reduce the risk of buying a dissatisfying wine. Indeed, statistics from Google search engines shows that "wine" is one of the keywords that appear at a higher level than many other consumer products (Rosenberg, 2012).
Growth in Wine Social Media
Recent statistics on wine social media show a marked increase in usage. Newman (2010) found that 700,000 people view wine-related videos every month, there are over 7,000 wine tweets per day and more than 300 iPhone apps for wine. It is estimated that 90% of wine drinkers use Facebook 6.2 hours per week (Breslin, 2013), and Google Analytics (2012) shows that wineries are the third most popular subject on Pinterest. The number of wine blogs has grown dramatically in the past decade, with diverse viewpoints from an estimated 1300 wine bloggers around the world, with the 20 top wine bloggers having a combined audience larger than the successful wine magazine 'Wine Spectator' online (Quint, 2012).
Five Wine Businesses Showing Positive Social Media ROI
Though both small and large wineries around the world are known to be using social media (SM) strategies, there are only a few documented success stories showing ROI.
1. Stormhoeck Winery – One concrete example of a successful SM campaign is the case of the South African winery, Stormhoeck. They contacted wine bloggers over 21 years of age and with at least three months of blogging experience and asked if they wanted to receive a bottle of wine to taste. There was no requirement that the bloggers had to write about the wine. However, six months later over 100 bloggers published tasting notes and mentioned the wine on blogs all over the world. Stormhoeck then hosted a series of wine dinners in the UK, Spain, and the US to encourage personal interaction with the bloggers and prospective customers. The result was that wine sales increased from 50,000 cases a year to 300,000. In addition, Microsoft contracted with Stormhoek to create a special wine for its 79,000 employees in 102 countries (Resnick, 2008).
2. Constellation Wines - As one of the largest wine companies in the world, Constellation is taking social media very seriously and has established a digital marketing division as part of their global marketing efforts, and over the last few years have strategically placed their wines brands on different social media platforms. For example, they now have 27 brands on Facebook alone, and have received 3.3 million "likes" which they equate to a $41 million increase in incremental retail value. In addition they have implemented many online promotions and mobile coupons. For example, a recent online promotion for the Woodbridge brand resulted in an increase in retail sales by 127%. Another example is a partnership with the app "ShopKick" that consumers accessed while in a store. This resulted in 214,000 consumers reviewing the ad, with 12.5% making purchases, and $222,000 in projected revenue. The cost of the app ad was approximately $70,000, realizing a positive ROI (Breslin, 2013).
3. Pacific Rim Winery - Located in Oregon, Pacific Rim Winery invested almost $10,000 in a social media campaign to educate Millennials about Riesling. They invited consumers to visit the rieslingrules.com website to obtain a free copy of the "Riesling Rules Book." This was a 30-page book with facts, tasting notes, and other information, which was given to those who "liked" the Facebook page. This resulted in 11,000 "likes" in the first two weeks and 300 comments. This was followed up with a contest where consumers had to state why they love Riesling, which generated 15,000 more "likes" on Facebook. In terms of ROI, results show that the campaign increased traffic by 7000% to the Pacific Rim website, and achieved a 15% increase in revenue with a 73% increase in transactions (Moore, 2012, Emerson, 2012).
4. Murphy-Goode – An older, though well-documented example, of social media ROI is Murphy-Goode Winery in Sonoma County, which launched a 6-month campaign to obtain 880 million media displays, leading to a 130% growth in sales revenue and a 70% rise in tasting room traffic (Kakaviatos, 2011).
5. St. Supery – Located in the Napa Valley, St. Supery hired a Director of Social Media who instituted several tweet-up campaigns on Twitter and launched online wine videos. The results increased St. Supery's Facebook fan page to one of the largest in the industry at over 5300, and in one case allowed them to sell 390 cases of wine in 72 hours (Bakas, 2010).
Tips on Launching a Wine Social Media Strategy
Small wineries should consider starting with an Informal SM Strategy, which involves encouraging employees to come up with ideas to interact positively and authentically with consumers via a variety of social media platforms. This is more of an "experimental" effort to see what works but also includes documentation of results. Examples can be establishing a Facebook page and Twitter updates with regular monitoring and posting; creating intriguing online videos, writing humorous blogs, encouraging customers to post photos, and launching online coupons, promotions, and contests. This calls for a team effort and at least one person taking a leadership role to document results, though it may not be part of their formal job description.
A Targeted SM Strategy is another approach where funding is committed either to launch a social media campaign, such as the case of Pacific Rim and Stormhoeck, and/or to hire someone in at least a half-time role to implement and measure SM. With this strategy, clear objectives are set with a documented plan detailing which social media applications will be used and the desired results. Common methods to track social media in addition to sales are measuring website traffic, number of fans/followers, number of mentions, share of voice and tracking sentiment (Now, 2012).
A Formal SM Strategy involves hiring a full-time social media expert and/or establishing a department, as Constellation did with the Digital Marketing Group. Social media becomes part of the marketing mix and receives funding with clear accountability for results. Professionals in these types of roles have training and experience in launching and measuring social media campaigns and work as a full partner with marketing, sales and PR. For an interesting example of how this type of strategy can be implemented see Constellation's Digital Marketing video at http://www.youtube.com/watch?v=FCvB7krtZdc

References
• Bakas, R. (2010). The ROI of Social Media in the Wine Industry, Part 2. Bakas Media Blog Industry Thoughts.
• Breslin, K. (2013). Presentation on Constellation Digital Marketing in 2013is Manager at Kellen Europe (Global Association Management Company) and. San Francisco, CA, November 2013.
• Emerson, M., F. (2012) "Using Social Media to Promote an Underdog Wine".
• Google Analytics (2012). Mobile Analytics Statistics.
• Kakaviatos, P. (2011) "Wine and Web 2: Social marketing: what wineries need to do and what bloggers are already doing".
• Moore, B. (2012) "Facebook marketing case study: Pacific Rim Riesling Wine".
• Newman, K. (2010) "How Wine Lovers Use Social Media: Wine and social media have created an incredible force within the industry".
• Nielsen (2011) "State of the Media: The Social Media Report."
• Now (2012). Social Media Guide to Show ROI.
• Quint, B. R. (2010). Wine Education Network - Market Enablers - Information Overload.
• Resnick, E. (2008) "Wine Brands, Success Strategies for New Markets, New Consumers and New Trends", Palgrave MacMillan.
• Rosenberg, J. (2011). Presentation on Social Media and Wine Tourism. Wine Tourism Conference, Napa, CA, Summer 2011.
• Wilson, D.; Quinton, S. (2012) "Let's talk about wine: does Twitter have value?" International Journal of Wine Business Research, Vol. 24 (4), 271 – 286.
About the Authors: Dr. Liz Thach, MW is the Korbel Professor of Wine Business at Sonoma State University Wine Business Institute. Ms. Dani Kolb is a manager at Kellen Europe (Global Association Management Company) and is candidate in the Bordeaux Wine & Spirits MBA and completing her dissertation on Social Media and Wine 2.0 Practices in German Wineries. They can be contacted at Liz@lizthach.com and dkolb@kelleneurope.com.