Zelma Long's Journey from Winemaker to Winegrower
Acclaimed Winemaker Delivers Walt Klenz Lecture at UC Davis
Zelma Long reflected upon her 43-year career in the wine business during a lecture at UC Davis (UCD) last week, not only as a woman breaking barriers, but also her commitment to learning and research, and her evolution from winemaker to winegrower. Acknowledging the importance of the vineyard and site conditions, Long said, "Winegrowing is at the core of what's been enlightening and critical for me."

Long's talk was part of the Walt Klenz Lectureship Series, sponsored by Treasury Wine Estates, and named in honor of former Beringer Blass CEO Walt Klenz, who introduced Long. Begun in 2006, the series is presented by UCD's Robert Mondavi Institute and the Department of Viticulture and Enology to feature wine business leaders who share their insight and experiences with students, faculty, and industry attendees.

A recipient of UCD's Distinguished Alumni Award in 2009, Long studied viticulture and enology from 1968-1970. "I meant to get a master's degree, but it got interrupted by a job as an enologist at Robert Mondavi Winery," she explained. She moved up to chief enologist at Mondavi before taking the job of winemaker at Simi Winery in Healdsburg in 1979. In 1989 she was named CEO at Simi, one of the first women to hold an executive position at a winery. She later served as VP of Chandon Estates, before starting her consulting business in 1999.

She has been a winemaker/consultant in Argentina, Israel, Germany, Italy, Bordeaux, Provence, South Africa, California, Washington and Oregon. She is currently winemaker and partner at Vilafonte Wines in South Africa. Long's honors include inductions into the Culinary Institute of America's Vintners Hall of Fame and the James Beard Hall of Fame. She received a Merit Award from the American Society for Enology and Viticulture (ASEV).

She thanked and recognized colleagues, some in the audience, such as Sonoma County friend and colleague MaryAnn Graf, UCD's first female graduate in viticulture and enology and Long's predecessor as winemaker at Simi. Long also recognized Professor Emeritus Dr. Ann Noble, the department's first female professor, and Professor Dr. Linda Bisson, the department's first female chair. "I extend a nod to all the women winemakers around the world today who did not exist when I started my career," Long said.

40+ Years of Industry Change and Innovation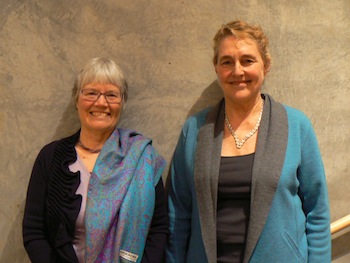 Winemaker and UC Davis alumnus Zelma Long (R) was the featured speaker Nov. 7 in the Walt Klenz Lecture Series at UCD, attended by her fellow alumnus MaryAnn Graf (L), UCD's first female graduate in viticulture and enology.
Long discussed what she considers the major changes, innovations and trends in wine production since 1970.
--Wine quality enhancement: Long highlighted how far the American wine industry had come since 1968, when an indication of quality on a domestic wine label was "100% California red wine." She cited the 1976 Judgment of Paris as "a tipping point for California and non-European winemaking," a recognition that quality wines could be made outside of Europe. She also cited the role of information and education from institutions such as UCD, and the interchange of winemaking knowledge around the world.

--Winegrowing: When Long began at Simi, she realized she did not know much about viticulture, but she knew it had a big influence on wine. She hired Diane Kenworthy to manage Simi's viticulture and to learn from her. Realizing the need for research, Long was a founder of the American Vineyard Foundation, and worked with industry professionals to fund projects, noting "We began to talk about winegrowing, not just winemaking." She discussed an early project on the effects of water and irrigation on grape and wine quality, comparing Cabernet Franc wines made from four different treatments in the same vineyard. Long summarized, "The differences in the wines were extraordinary—the most watered grapes produced a lighter Beaujolais style wine, and the grapes with the least water produced black fruit and intense character."
--Management of red wine fermentation: Fermentation involves managing two key areas. "Extraction management through mixing, time and temperature is a locus of great finesse among winemakers today," Long said. The other area is managing the microbiological system, making decisions on the yeasts to use, keeping them healthy with nutrition management, and using them to manage aromatics and achieve good wine balance.

--Harvest decisions in relation to wine style: When she started, wines were commonly made with 12% alcohol and emphasized red fruit. With the trend toward picking at higher Brix, wines tend to show black fruit. Harvest decisions influence differences in red fruit vs. black fruit, freshness vs. richness, and impacts on texture. "These are decisions we're now better at making, and we're more thoughtful about their stylistic impact," Long said.

--The world of wine and wine knowledge: "Whatever new is discovered here at UCD will travel around the world," she said. She observed, "Winemaking knowledge travels quickly, but winegrowing knowledge does not travel so quickly." Noting that enology students sometimes have multiple work experiences in different countries, she said this is less so with viticulture students, who usually work a full season or a year in a vineyard. "I would like to see more viticulture students spending more time in different places before they settle into full-time work in California," she advised.

--New excitement about old varieties: "If I was starting from scratch today, I would go with Grenache, it can provide incredible freshness and cherry aromas," Long observed. She advised good clonal selection, using clones suited for high-end wines.

--Importance of small wineries and hands-on wines: Long said technology has enabled larger wineries to take grapes and wine from many regions and put them together to make good wines at favorable prices for many consumers. "That's important, but my interest is in making wines from a particular site," she said. "Smaller-scale wines can be simple, they have soul, they are made in a hands-on style and can be a work of art," she explained. Noting that both types of wines and methods have their place, she said the wines of place create more opportunities for exploration by both winemakers and consumers.

Future Issues
Looking to the future, Long said interest in sustainable practices and issues will continue to be important for the industry. Other continuing trends will be the exploration of new and more grape varieties, and expansion of vineyards in new locations. Long also said, "I see more use of data and technology, with computers at every step in the process." On the cautionary side, she said water will increasingly be a big concern, and pests and diseases will continue to be issues.

Vilafonte, South African Wine Project
As an indication her career is far from over, Long discussed her current project as winemaking partner and co-owner of Vilafonte Wines in South Africa. Long and her husband, viticulture consultant Phil Freese, visited South Africa in 1990 as speakers at an educational meeting. With subsequent trips, they became attracted to the area and its wine production potential. In 1997, they were approached by their South African partner, Michael Ratcliffe, to invest in a new project. Long observed, "We thought it would be fun to make wine somewhere else, and we wanted to build a vineyard and winery from scratch."

Vilafonte is a 100-acre estate in the Paarl-Simonsberg Region of the western Cape with a Mediterranean climate and maritime influence from both the Atlantic and Indian Oceans. It is named after the property's Vilafontes soils, one of the oldest known soil types in the world, estimated at 750,000 to 1.5 million years.

About 50 acres are planted to Bordeaux varieties Cabernet Sauvignon, Cabernet Franc, Merlot, and Malbec, with high density planting of 2,110 vines per acre. The first vintage was 2003. Just two wines are made, based on distinct styles from the vineyard. Vilafonte has demonstrated that high-end Bordeaux variety wines can be produced in South Africa. Annual production is 2,000-3,000 cases, and the wines are priced at $65-$80/bottle USD. About two-thirds is sold in South Africa, and small amounts in the United Kingdom, Germany, Switzerland, China and the U.S.