Bacchus Capital Management Starting Sales and Marketing Company
Representing Sbragia Family Vineyards, DeLille Cellars and Madrigal Family Winery
Bacchus Capital Management, the private equity firm, has announced the launch of BCM Wineworks, a new sales and marketing company that will represent Sbragia Family Vineyards, DeLille Cellars and Madrigal Family Winery, three of its portfolio brands.

BCM Wineworks will directly represent these three wineries.

Putting the three together is seen as a more personal way to take the wines to market than using a third-party sales and marketing company would be. "We think that with these three great artisanal brands and their iconic winemakers, they represent a strong portfolio in the marketplace, so we can talk directly to our wholesalers, consumers, retailers, restaurateurs in a way that we couldn't when they were all disparate," Sam Bronfman II, Co-founder and Managing Partner of Bacchus Capital Management told winebusiness.com.

Bronfman will serve as Chairman, Steve Cousins as President and Jay Soloff as the Vice President of National Sales. Bill Piersol will be Senior Advisor of Marketing and Planning.

Sbragia Family Vineyards has long been represented by Treasury Wine Estates, an outgrowth of Ed Sbragia's career at Beringer. Bronfman noted that DeLille and Sbragia are well represented throughout the country and said he expects Madrigal to benefit, as it will be flanked by other strong brands.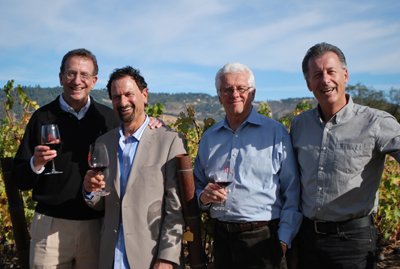 BCM Wineworks Management Team (L-R) Sam Bronfman, Chairman; Jay Soloff, Vice President of National Sales; Bill Piersol, Senior Advisor of Marketing & Planning, Steve Cousins, President.
The idea of putting the sales and marketing entity together started during a best-practices seminar last summer.

The new unit will officially start business in January with an administrative office located at DeLille. One of the first orders of business is to fill a couple sales management positions.

Bacchus co-founder and managing director Peter Kaufman said the new sales and marketing entity could serve other wineries at some point or could possibly continue beyond Bacchus' current investors. "The way we approach the investing and everything we do is to be flexible, nimble, and look at opportunities and try to create them," he said. "This is one we like today."

Additional Bacchus portfolio companies include: Andretti Winery; Maritime Wine Trading Collective; Panther Creek Cellars; as well as Wine by Joe/Dobbes Family Estate.

Bacchus previously had finance deals with Cameron Hughes Wine and Qupé.