New Release: Read All About It: Introducing Paper Boy!
Truett-Hurst Inc. transcends "green clutter" with first paper wine bottle
November 05, 2013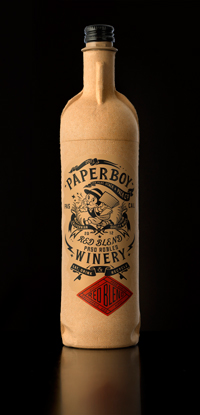 Wine industry leader in innovation Truett-Hurst (TH) wine company of Healdsburg, California, says no to marketing green-washing. The release of the first paper wine bottle in the U.S. from Truett-Hurst Inc. is the real thing. The paper wine bottle, branded Paper Boy, is a molded outer shell in the shape of a wine bottle, made from recycled cardboard with a plastic liner. The entire package is 85 percent lighter than a glass bottle and is easily recyclable. From production to shipping to recycling, Paper Boy proves the wine business can operate with a significantly reduced carbon footprint.

Pleasanton, California–based Safeway Inc. will partner with TH in the initial release of Paper Boy nationwide.

Paper Boy contains appellation–based, super-premium wines sourced from the Mendocino and Paso Robles growing regions and crafted by winemaker Virginia Marie Lambrix, also the winemaker for VML. Introductory Paper Boy wines are a 2012 Paso Robles Red Blend ($14.99) and a 2012 Mendocino Chardonnay ($13.99). Lambrix is passionate about innovation. She says, "We at Truett-Hurst believe that if the quality of the wine exceeds a customer's expectation, then new, cutting-edge packaging will become more mainstream."
Truett Hurst Incentive
On its quest to change the way people think about and buy wine, Truett-Hurst is responding to lifestyle choices—to eco-conscious wine lovers on the go. Paper Boy provides a responsible way to carry wine outdoors. Campers, hikers, and fishermen can carry this lightweight package—only 1.9 lbs filled—and enjoy premium wine from a 750ml bottle almost anywhere, collapsing it when finished for return to a recycling site. "We're thrilled to be a pioneer of this earth-friendly, high-quality, innovative package. It could create an entirely new category in wine," says TH president and CEO Phil Hurst.
About the Design
Truett-Hurst Inc. worked with Green Bottle, a UK-based paper bottle manufacturer, to develop this groundbreaking package. Extensive testing has proven the Paper Boy bottle to be superior to a traditional glass bottle. It insulates better, recycles more readily, and is lighter and more transportable, yet it looks and acts like a traditional glass bottle.
Environmental Impact
Packaging waste is a huge and growing problem in modern society, particularly in the wine industry. According wrap.org.uk, 17.5 billion bottles of wine are consumed annually around the globe, producing 8.75 billion tons of glass waste—more packaging waste than any other product in the food or drink sector.

Paper Boy offers a better alternative. The bottle's cardboard outer can go into mainstream recycling streams, which are used to produce other cardboard products. The cap and neck assembly pieces are also recyclable, and the plastic liner is suitable for "waste to energy" programs. In total, the overall carbon footprint of Paper Boy, from production to shipping to recycling, is significantly lower than glass. Even the 12-pack cartons are produced from recycled paper. Each Paper Boy bottle comes with instructions for how to break the bottle down for disposal. As a winemaker, Virginia Lambrix admires the economic practicality of Paper Boy. She says, "Wines that will be consumed almost immediately do not need a heavy, environmentally and economically expensive glass bottle and cork. We would rather apply the savings that Paper Boy affords toward more expensive, better-crafted wine so that both the customer and the environment win."

Transportation Savings
Case weight for normal glass bottles with liquid is 36 lbs, versus the paper bottle at 23.6 lbs. A pallet of 56 cases prepared for shipping is reduced from 2,000 lbs to 1,322 lbs—a weight reduction of 34 percent and a savings of more than 7 tons per truckload of wine shipped.

About Truett-Hurst Inc.
Truett-Hurst Inc. (NASDAQ: THST) is an innovative and growing super-premium and ultra-premium wine sales, marketing, and production company based in the acclaimed Dry Creek and Russian River valleys of Sonoma County, California. Our corporate website is www.truetthurstinc.com. Our principal executive offices are located at 4035 Westside Road, Healdsburg, California 95448. Our telephone number is 707-431-4423. We are an "emerging growth company" as defined in the Jumpstart Our Business Startups Act (JOBS Act), enacted on April 5, 2012. We are a small reporting company as defined by Section 15(d) of the Exchange Act and a controlled company as defined by the corporate governance rules of NASDAQ.